A new hotel development in the heart of Dallas, Texas required an innovative, dramatic and eye-catching cladding solution
For a state that experiences temperatures of over 100 degrees at least five months a year, infrastructure that stays cool isn't a luxury but a necessity.
Texas, the second largest state in the US in terms of both area and population, requires architecture that can withstand pollution, heat, and heavy footfall—all of which are major considerations for hotels in particular.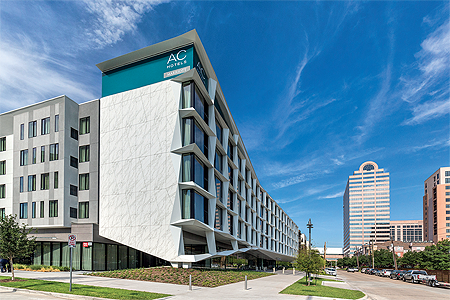 In response to a need for exterior cladding that is both eye-catching and resilient, Neolith, a leading brand of Sintered Stone, was specified for the AC Hotel and Residence Inn Dallas by the Galleria in Texas.
When it comes to beautiful façades, the dual-branded Marriott isn't Neolith's first, but it's certainly one of its most prominent; the hotel sits at the center of a brand new, $4 billion mixed-use development in bustling Dallas Midtown, an area dubbed a 'city within a city' and which has seen a revitalization set to transform the urban landscape of the sprawling Texan metropolis.
A flare for façades
To reflect the neighborhood's resurgence, award-winning, Dallas-based architecture firm 5G Studio Collaborative sought an outside the box, contemporary design to match the timelessness, comfort and authenticity of the Marriott brand. The firm crafted an engaging aesthetic that embraces AC Hotels' signature Spanish architectural heritage and European flair, while also incorporating Dallas' modern architectural style with fabricated metal rainscreens.
Creating a memorable first impression for guests, the hotel's striking 5000-square-foot entrance façade also features thoughtfully designed trapezoid-shaped Neolith Sintered Stone slabs carefully put together by local fabricator and installer Holland Marble.
Speaking on the design, Lauren Cadieux, Associate and Designer at 5G Studio Collaborative, commented: "The client requested a natural-looking material for this project, however genuine rock such as marble is susceptible to staining and breakage. We suggested Neolith because not only is it classic and elegant, but it is strong and long-lasting.
"The design journey was an enjoyable one as we were able to maintain the initial concept right from the beginning stages until completion. We are very happy with the end result: a seemingly 'floating' façade that transitions effortlessly across the front, west, and east sides of the exterior, and which also has a welcoming effect—an aspect vital to a commercial space such as a hotel."
Battling the elements
While marble is not amenable to exterior applications due to its delicate composition, Neolith stands up against the elements, making it ideal for exterior cladding in a busy urban environment.
Calacatta—the color used for the project—recreates the look of white Italian marble and is characterized by a uniform grey vein with hints of gold, bringing vitality to the exterior. A light-colored façade is not only essential in a state like Texas because it reflects heat, but it is very much on-trend.
"While Neolith is well known for its application in kitchens and bathrooms, architects are increasingly specifying the brand for exterior cladding projects, truly showcasing its versatility and durability," noted Zuzana Holland, Commercial Sales Manager at Holland Marble.
"The project required a classic color with a modern feel that could not only withstand the Texan heat, but that would also emit a welcoming aura to both hotel guests and passersby. Having just completed another commercial façade project with 5G Studio using Neolith, we knew it would be the perfect material for this stunning piece of architecture, and that it would stand the test of time," she added.
The stronger the better
In addition to the slab design, Neolith provided installation and technical support to the project through implementation of its StrongFix system.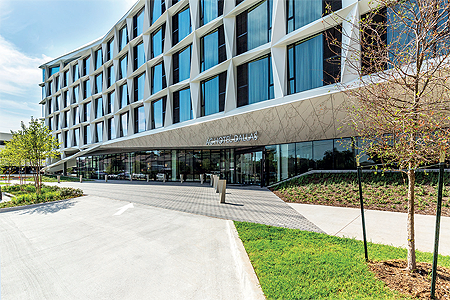 The system is tailored specifically for each installation offering a complete package the slabs, anchoring system, cutting and assembling services, and consulting all stem from a single source.
Innovative infrastructure
In a bustling metropolis, the requirements for a hotel to be successful are abundant. It takes a combination of imagination and dedication to create a concept that will work, not only in terms of the hotel's level of service, but its overall aesthetic.
Together with 5G Studio Collaborative and Holland Marble, Neolith has helped bring to life the vision of this hotel brand while setting the standard for future architecture of Dallas Midtown.
Founded in 2009, Neolith, the market-leading brand of Sintered Stone, is a revolutionary product category which has become a material of choice for architects, designers, specifiers and fabricators. This pioneering material can be specified for the most demanding interior and exterior building projects. Combining high-definition detailed decoration with high-performance qualities, Neolith offers the triple reassurance of strength, beauty and longevity.
www.neolith.com
What is Sintered Stone?
Sintered Stone is a 100 per cent natural material based on granite minerals, glass minerals and natural oxides:
1. Granite Materials: Giving hardness and strength to the surface
2. Glass minerals: Which ensures chemical stability
3. Natural oxides: Which deliver chromatic properties
How is Sintered Stone produced?
Neolith is produced using the very latest in sintering technology, replicating the thousands of years' process by which natural stone is formed in a matter of hours.
The raw materials which form the slab are first subjected to extremely high pressure, going through a pressing machine where a weight of 400 bars is applied. In the second phase of the process, the slab goes through a kiln where temperatures reach more than 1200°C (2200°F).
This process of ultra-compaction creates full-body surfaces with unique technical features.
Decoration
Neolith has always been at the forefront of sustainable approaches within all of its manufacturing processes. A 100 per cent natural composition requires an equally ecological production method.
Building on pioneering Neolith Digital Design (NDD), Neolith has aimed to incorporate organic practice into the way it prints its slabs.
Hydro-NDD 2.0 takes the technology to the next level. Using a water-based ink, as opposed to the industry standard solvent base, Neolith has succeeded in offering a sustainable surface which never compromises on the quality expected from its Sintered Stone. All its slabs maintain the same definition and detail of pattern and design.
Performance
Tried, tested and trusted, Neolith's combination of realism, high performance and versatile formats make it a go-to material for architects, designers, specifiers and fabricators.
Applications
Neolith is the optimum surfacing material for both indoor and outdoor applications. From a skyscraper façade to a kitchen worktop, Neolith's physical and mechanical characteristics deliver ultimate performance, unmatched beauty and long-term value.