Why managing workflow and optimizing digital operations are crucial. By Stephane Bensoussan
In the construction industry, multiple resources must be managed to ensure a smoothly running system. Construction organizations tend to be fragmented, comprising various projects and stakeholders – each facing unique challenges.
The pace of change is immense due to internal factors, including labor shortages and material costs, and external factors, such as Brexit, supply chain issues and economic uncertainties. Alongside the boom in digital transformation, construction firms are operating in a climate of rapid change, which requires a multifaceted, holistic approach to operations management.
The current landscape
Construction organizations across the board have had to adapt and make challenging operational decisions. Recent data by Credit Safe found that 15 UK construction firms went into administration in January 2023. As economic and geopolitical uncertainty lingers, experts predict that two in five UK SMEs are likely to close in 2023.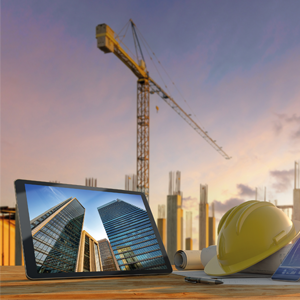 Everyone in the construction value chain is impacted by the uncertainty of supply chain issues – disrupted by the pandemic and political unrest, including the war in Ukraine. The resulting depletion of stock, coupled with rising material costs, has created the perfect storm for suppliers, distributors, builders, and clients. Most construction organizations also face an increase in labor costs and ongoing skills shortages, which further affect their operations and ability to deliver value for money. The looming risk of recession across Europe makes it difficult to plan investments, too, for buyers and builders.
Construction businesses need more resources and skilled experts at multiple project phases. Often organizations pay premium prices for labor costs and materials due to a lack of pre-planning. When issues arise outside of one specific project, there's no wide-lens view of resources. This leads to snap decisions – often driven by intuition compensating for tangible data. When you operate a business on a project-by-project basis, without a holistic view of the entire organization, initial problems turn into more significant issues that create a disorganized business landscape.
A more intelligent approach would be investing in advanced technology that provides an overarching view of resources and ensures that all issues are swiftly resolved with an optimized, data-driven solution.
Prioritizing investment into operational technology
One of the main barriers to adopting new technologies is the cost – as budgets tighten, investing in new systems becomes a riskier prospect. While cutting back might alleviate budgets in the short term, it diverts the attention away from addressing key operational issues that a gradual introduction of digital tools could resolve.
If you take reducing costs as an example, optimizing resources through a multi-resource planning algorithm will allow construction firms to manage output, assign skilled technicians and optimize workflow. This will ultimately attract more customers and lead to higher profit margins in the long term.
The average Planisy customer found that when resource management is optimized, you can see a decrease of 30 percent in your resources. This translates into higher operational efficiency without the increased cost of additional resources. So despite the initial investment, utilizing technology in turbulent times is a powerful tool that allows firms to gain a holistic view of resources and build resilience in the face of economic pressure.
Saying goodbye to legacy systems
According to Procore Technologies' latest industry analysis, nearly 40 percent of specialty contractors report primarily using spreadsheets, whiteboards or paper-based processes as opposed to construction tech platforms. This is inefficient and time-consuming when resources are already limited. By remaining rigid in legacy procedures, construction firms cannot obtain a wide-lens view of multiple sites and projects – which is crucial for optimizing business operations.
Whilst many industry leaders assume introducing a younger generation to construction sites through apprenticeships and entry-level schemes will create a noticeable shift towards adopting new technologies, we find this isn't the case. Digital transformation is most impactful when instilled from higher up the value chain. Only then will it ripple down to employees and transform processes and improve operational efficiency.
When management teams utilize innovative technologies, scheduling becomes a truly dynamic activity. Potential conflict of resources can be projected and avoided. Therefore in future, contractors from all generations will become integrated into an interactive ecosystem that resolves issues in real-time.
A new model of operating – in 2023 and beyond
As always happens, some of the most complex challenges in business create the best opportunities to innovate and excel. To capitalize on these opportunities, the construction industry needs to drastically innovate to increase its operational efficiency. Even within simple projects, resources must be optimized to account for highly skilled and expensive personnel as well as tools and machinery.
Digitizing the entire planning process means that managers can instantaneously react to the unexpected, collaboratively plan ahead, and optimize resource usage within one interactive software application. No matter the project's size, this will impact business profitability and set the foundation for long-term growth and success in a climate of rapid change.
For a list of the sources used in this article, please contact the editor.
Stephane Bensoussan is the Head of Operations at dizmo and the product owner of Planisy, a multi-type resource allocation and scheduling application based on dizmo's patented interactive workspace. Unlike other workplace planning software, it uniquely understands the dependencies between the multiple types of resources, drastically reducing scheduling burden, resource misallocation and enhancing capacity planning. Dizmo is the Interface of ThingsTM, a composite front-end software platform that solves the problems of microservices integration and transforms the way we interact with data.