Two ways the construction industry can adapt to preserve its future, according to John Meibers
Inflation is on everyone's mind, and for the construction industry, its impact is taking shape in several ways. One is through stagflation, the state in which sales remain constant, while costs continue to rise. To share more on this topic, we speak with John Meibers, Vice President & General Manager of Deltek ComputerEase. "I have been in the construction industry for nearly 35 years," John begins. "During the first decade, I worked for a large contractor, and since then, I have been running the ComputerEase team."
John expresses his knowledge on the current state of the construction industry, and cautions companies against the aftermath of the Covid-19 pandemic, and the ways in which it is impacting the construction industry. "Often, in times of economic fluctuation, construction doesn't always follow the rest of the world. We tend to fall slightly behind in everything, from feeling the impact, to a downturn in the economy. Certainly, some of what we are facing in 2023, in addition to the backlog, is that sales remain consistent, but the cost of materials is increasing, which means we are making less profit on the same work."
Best outcomes
It is true that some businesses fall prey to the assumption that a long backlog of work means the company's future is secure. However, in the instance where materials costs rise, projects that have already been allocated a price point may be subjected to surprise adjustments, making budgets unpredictable. "We need to look at the profitability of that backlog, otherwise rising costs can turn it into unprofitable or break-even work," he says.
For many contractors, the most devastating time in construction in recent history was the Great Recession in 2008, which instilled the mentality that if leaders had work, they would be fine. "Even if they weren't making money, they believed that plenty of projects in the pipeline was a good scenario, which was a recipe for disaster. People found out the hard way that keeping the doors open doesn't translate to profitability. This time around, everyone is a lot smarter about that."
This new outlook on business is forcing companies to reconsider their approach to projects to ensure the best, and most profitable, outcome. "Many of us are more meticulous about looking at the profitability of that backlog. In some cases, having a smaller backlog and less work can be more advantageous. We have had a wild couple of years regarding the rise and fall in cost. Last year, we had some unbelievable price increases across the board.
"When 2023 came around, suddenly we still had some small rises in costs. However, in some areas they have come back down, so it forces contractors to dig into the details of that."
Proactive processes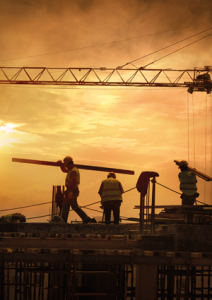 Another issue to take into consideration is the cost of labor. "We are also facing a rising cost in construction labor. Because we have fewer people, there is a higher premium to pay; tradespeople are requesting more. It's unfortunate but sometimes that aspect goes unnoticed, and it can be devastating to a labor-intensive contractor in the instance when they don't have a handle on their rising labor cost, bidding work at a traditional labor rate, without realizing their cost has gone up four to five dollars an hour."
The combination of these factors has resulted in what John describes as stagflation. "Rising costs is probably the biggest contributor. Contract prices are fixed at the start, yet cost goes up throughout the duration of the contract."
This will inevitably impact certain aspects of projects, such as the supply chain. John advises that businesses should consider ways to quash price escalations in order for cost increases to come as less of a surprise to customers. "In this way, we are not stuck burying costs. I think it is going to lead to contractors being more proactive in securing the materials up front.
"Obviously the longer the project takes, the more you are at risk of materials changing during the life of the contract. We may have more people looking to secure material prices as a result, and earlier rather than later, so they are protected from a price increase. I know contractors who played the price market. Copper is a great example of this. When copper prices were all over the board, if you were a contractor who depended heavily on copper pipes and fittings, you needed to know how to manage that demand. I know many contractors who were very successful in making money in that fluctuation in price during the contract by playing the market."
John agrees that companies need to have a better understanding of their cost structure in order to prevent drastic changes to set contract prices. "Everything from material to labor is constantly moving, and we can't assume that we have a good handle on that. We have to have a good process in place. We have to be forward looking and proactive, rather than reactive. I think the best-in-class contractors do a much better job at knowing where they are today and where they are going to be before the job is completed. Then, they share that information with the owner of the project, and make sure that they don't run into schedule delays. If they go over budget, it impacts everybody, not only the company and the internal team, but also the ability to finish the job on time, and it can snowball from there."
Future workforce
The industry has an opportunity to learn from the last two years, and set a higher and more secure standard for the engineers and contractors of tomorrow. "I am from the baby boomer generation," John shares, "so I know what it was like in my day when people were getting into the construction industry. Unfortunately, we didn't do a very good job with the millennials. We must realize what today's worker wants. So, I think the opportunity to do that and provide an unbelievable career path for people is critical. I am optimistic that we can, and if we do the right thing, we will get a lot of good people in the industry, which will keep us moving forward."
In bringing the conversation to a close, John highlights that the number one goal going forward is to get young people more excited about the industry. "We have to not only get to the younger generation, but we need to get them excited about this work. We must diversify the labor in the industry as well. Construction historically has been a predominantly white, male-dominated industry. We have to get more women involved, and more underrepresented minorities. If we do that, that gives me the biggest hope that we will see a different work force in the future, and I think it is going to be really exciting," he concludes.