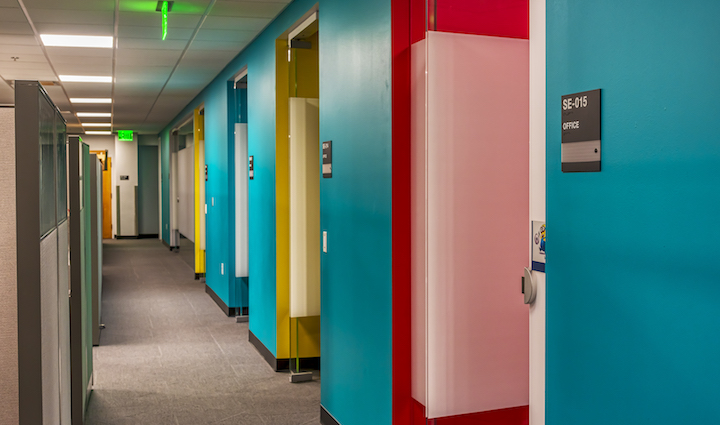 Vertix Builders' mission is to bring service back to the construction industry and is doing so on every one of its multimillion-dollar healthcare projects.
Vertix Builders understands the construction industry is very much a people business. Although the company specializes in building $10 million to $40 million projects, primarily for the healthcare industry, it remains a small and nimble general contracting firm to deliver personalized service to every client.
"The companies that typically do the size projects we take on are larger regional or national contractors, but that comes with hierarchies and corporate structures," Vice President Ted Laszlo says. "Vertix Builders is a culture-focused company, stressing the importance of people and relationships over corporate structure and process. Decisions can be made quickly and there is not a layered chain of command to go through."
Based in Frederick, Colo., Vertix Builders was founded in 2014 with a goal to bring service back to construction and to make the process fun. "We believed what was missing was that level of service on these larger size projects," Laszlo says. "As we hired project teams and set up the company's processes and systems up, we intentionally set them up to handle larger projects and brought in people who had expertise in that area. We also work really closely with our bonding company and insurance company to make sure we have structured the company to be financially stable, and provide the same protections for a developer and owner that the larger companies offer."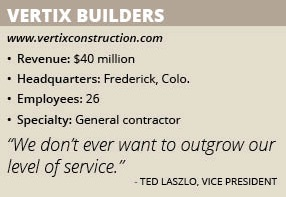 Vertix Builders recently established a 10 point "culture code" for the company and its employees. The code is posted at the company's job sites and serves not only as a reminder, but as a way for employees to feel empowered to make sure all aspects of the job are being done correctly and running smoothly.
"Our culture has become a defining element of our company, and lets our employees know that they have the power and the freedom to state what's on their mind and ensure an effective and safe work environment," President Ryan Bonner says. "We work hard to assemble great teams and believe if we focus on our employees and finding the right people, it will make a great work environment which will facilitate great relationships with trade partners, clients and consultants, and the result will be great projects."
As part of its culture, Vertix Builders is organized to focus solely on construction. The company has 26 employees, all of whom have building roles. Back office functions such as IT and accounting are farmed out to third-party providers, freeing Vertix Builders up to invest only in staff members who have a direct role in growing its business.
In addition, Vertix Builders adequately equips itself to handle larger projects by developing and maintaining long-term relationships with local trades. The company prides itself on putting together a great team and rarely hard bids out to a large number of trades. "We have a select few subs in each trade we know are capable and we work with them to put the right plan and pricing together and approach every project as a team; not just as a construction manager who is holding 30 different subcontracts," Laszlo says.
Healthcare Experts
Vertix Builders' biggest market is healthcare, working both on the development and hospital sides. The company decided on this niche by leaning on the experience of its founders.
Twenty years ago, when Laszlo and Bonner started in the industry, Bonner was placed on a few new hospital construction projects and Laszlo found himself doing sensitive medical remodeling work. When the two joined to form Vertix Builders, they realized that healthcare was a natural fit for a service-first model in construction.
Vertix Builders has since completed about 120 projects, ranging from small remodels to multimillion-dollar ground-up medical buildings. In March, the company completed the new robotics operating room and support spaces at the Swedish Medical Center birthing unit. The company was selected to retrofit existing spaces to accommodate the new operating room, support spaces, pre-op and recovery areas.
"There are a number of unique challenges associated with the integration of modern equipment into existing hospitals, including increased weight loading, existing building constraints and the fact that very little is standardized with newly released equipment," Laszlo says. "Our team has a long history of working in critical care areas, so we have the experience and training necessary to handle these types of projects. We are pleased to have delivered another successful project."
In 2017, Vertix Builders was chosen by its long-term client, Development Solutions Group, as the design/build firm for the new Dry Creek medical office building in the Denver Tech Center. "We've had a longstanding and highly successful relationship with Development Solutions Group, providing the healthcare industry with highly efficient and modern facilities," Bonner says. "The new Dry Creek medical office building will provide the people who live and work in the Denver Tech Center with a superior facility that will meet their healthcare needs."
The medical office building includes 53,000 square feet of tenant space with a 10,000-square-foot, lower level parking garage. The four-story facility sites on four acres.
Recently, Vertix Builders was awarded new pharmacy upgrades at Swedish Medical Center, The Medical Center of Aurora, Presbyterian St. Luke's and Melissa Memorial Hospital in Holyoke. "These projects are all designed to upgrade the pharmacies to the latest USP 800 guidelines and include substantial changes and equipment enhancements to provide even better functioning pharmacies at these hospitals," Laszlo says. "Having completed similar pharmacy work in the past, and with our company's substantial hospital experience, we look forward to creating successful projects in these challenging environments."
Staying Constant
Vertix Builder's goal for the foreseeable future is to continue to grow in a controlled, sustainable manner. Construction is a service business and the company does not see a benefit in increasing its volume at the risk of decreasing its level of service.
"Starting your own company allows you to control the culture and that's so much more important than the money," Laszlo says. "More revenue can lead to more profit and help quiet an ego, but at the of the day those things matter so much less than enjoying where you work and the people you work with. For us, the goal for us is to grow over the next couple of years to about $50 million in revenue and at some point, stop growing to maintain that small company atmosphere. We don't ever want to outgrow our level of service."