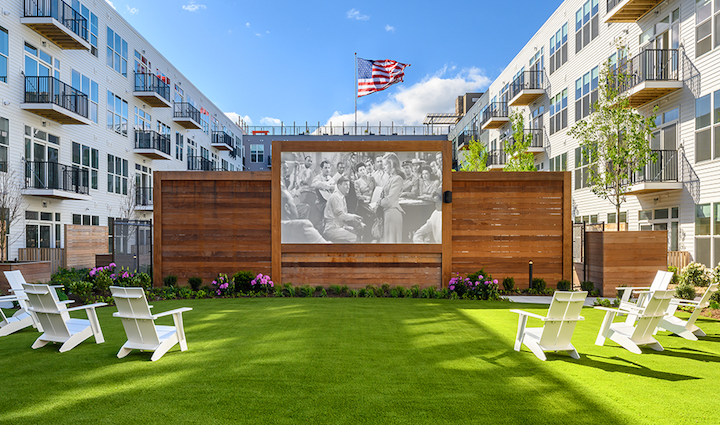 Plumb House Inc. has become a premier general contractor in its region with a dedication to working closely with clients and delivering quality.
Plumb House Inc. is a successful builder of high-quality multifamily projects with an extensive list of repeat clients. Yes, clients enjoy Plumb House's execution of projects and dedication to delivering work on time and within budget, but Plumb House also works closely with clients to ensure each job is successful. This level of focus has made Plumb House a premier general contractor on the East Coast.
"We have a strong base of repeat clients, which is great," Project Executive Michael Hartnett explains. "Our clients go out and find potential investment deals, and then we work with them on feasibility. We are not huge on chasing a lot of bid work – we focus on negotiated work, so we're not out there chasing every job on the market. We focus on building with the right people because we see our clients as part of our team. We work for them, not against them, and if they succeed, we succeed."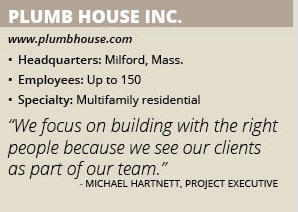 Based in Milford, Mass., Plumb House is a full-service, open-shop general contractor specializing in wood-frame and cast-in-place multifamily housing projects throughout Massachusetts and Connecticut. Founded in 1973, Plumb House has worked with military, municipal, private and nonprofit owners to create more than 20,000 apartment units. The company delivers a high level of quality with "comprehensive general contracting," which involves a thorough preconstruction process and self-performing the critical trades to ensure the work is done to its standards.
"This company has been in business for more than 40 years, and it is second-generation family owned by President John Anderson and his family," Hartnett says. "We are among the highest-quality multifamily contractor in our area. Not only is it the highest quality, but our work is done on time. We have a total commitment to finishing each job on time.
"We are a general contractor, but we are big into self-performance," he adds. "We have between 100 and 150 people on our labor force in areas like carpentry, concrete, building envelope and more, and there are about 30 people in project management. This helps us to control quality, the schedule and gives us a pricing advantage. It also gives us the flexibility to choose projects we want because we have our own people in-house to perform the way we like."
Smart Growth
In addition to large apartment buildings, Plumb House also has considerable experience in constructing assisted living facilities, hotels, continuing care and retirement communities, military housing and student housing. Hartnett – who has 14 years of experience with the company – says he takes pride in every project Plumb House delivers because of the quality and teamwork involved, and every job has its own unique twists.
Some of the company's recently completed projects include:
Beach House – Revere, Mass. – This structure had five levels of wood-frame construction over a two-level tiered, cast-in-place post-tension parking garage. It has 234 oceanfront apartments and 10,000 square feet of amenity space and a clubhouse. It was developed by Baystone Development and the architect was Icon Architecture.
Union Point, phase 3 – Weymouth, Mass. – This project involved 265 apartment units in two buildings, as well as 13 townhouses. The apartments were in three- and four-level buildings of wood-frame construction over cast-in-place podium parking garages. Union Point also had 25,000 square feet of commercial and retail space, and was developed by JM Corcoran while Utile was the architect.
Heirloom Flats – Bloomfield, Conn. – Plumb House's work on this project involved construction of 215 apartment units in four buildings, as well as four stand-alone carports. The development's amenity space featured a pool, landscaped courtyard, outdoor protection screen, fitness center, golf simulator and yoga studio. Post Road Residential was the developer and Beinfield Architecture was the architect.
"It really comes down to getting the right construction number on every project," Hartnett explains. "That is getting harder with taxes, labor pricing and material costs, but we are figuring it out. We've tightened our schedules to save throughout the duration of the project, and we're doing more prefabrication and lean construction to help the schedule as well as reduce the cost of materials."
Plumb House continues to enhance its operations and is "always looking to stay on the front end" of the industry, Hartnett notes. This involves ensuring its people have the right technology for their jobs and can maintain ongoing communication. For example, if a project starts without complete plans, Plumb House uses technology and iPads to ensure the people in the field have the latest information. Hartnett says this streamlines the flow of information, keeps everyone on task and helps projects finish successfully. A continued focus on quality in every aspect of its work, he says, will ensure the company's growth.
"Our main focus is always in multifamily," Hartnett says. "We are expanding into more structural steel structures, and we will continue to provide that option. There is a lot of product that fits within our multifamily focus, so we will continue to have smart, sustained growth.
"It is really because of our people," he adds. "We have the best people in this market across the board. There's no fat in the machine and everyone's home grown – we've all come up through the Plumb House system. John Anderson and his family are the nicest people, and that is the reason why people stay here. They care about their people and provide constant challenges to learn. It makes me very proud of the team and the work we do."