How to eliminate risk when working from height
Working at height is one of the biggest causes of injuries in the workplace. If an operative incurs a bone fracture, shoulder dislocation or worse in a place of work where there are inadequate safety measures, companies can be held liable.
As the saying goes, 'prevention is better than cure', which is why construction and infrastructure companies would do well to eliminate any risk of falls from the design and engineering stages through to installation. High-performance scaffolding supplied by the likes of leading temporary access provider, HAKI, remain the best solution to assuring safety onsite. This feature outlines the main hazards of working from height, addressing the reasons why sophisticated scaffolding pays dividends when it comes to maintaining safety onsite.
What are the risks?
Working from a height anywhere aboveground can be a risky business if correct precautions are not taken. According to figures from the UK Health and Safety Executive, falls from height were the most frequent cause of fatal accidents in 2017. The common dangers which can pose a threat to operatives working from height are mostly as a result of either human error or the elements: windy weather conditions, trips and falls, and dropped objects. Unfortunately, accidents can and will occur at any height sometimes without explanation, which is why it is essential to take a proactive approach to preventing the likelihood of them ever happening.
Scaffolding or temporary access are prominent features of any construction project or maintenance work, providing elevation and support onsite, and enabling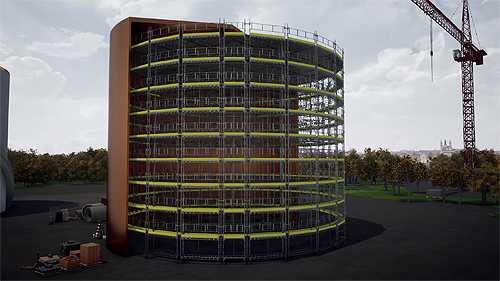 workers to conduct their duties as safely as possible. But in order to assure scaffolding functions at its best, it is vital to get the design, engineering and installation right.
It's all in the design
As well as increasing productivity, digital tools such as BIM can control risk ahead of time, as any hazards can be identified and removed within a 3D model. This kind of transparency instils confidence ahead of schedule, giving clients, contractors and owners a better sense of certainty as to what they are going to be doing and how they will do it.
When translating safety to a site, attention to detail is fundamental. On complex scaffolding structures, the use of advanced guardrail tools offered by the likes of HAKI keep workers secure behind handrails, never exposing them to the risk of fall on a project.
Furthermore, installation times should be kept to a minimum. This is not achieved through workers operating quicker, rather the opposite; through simple 'hook-on' mechanisms which do not require lengthy hammer action. On the subject of installation, it is always worth stressing that operatives must design to authorized specifications, otherwise they expose themselves and others to risks.
Evacuating a workstation from a significant height is a hidden hazard which can often be overlooked. How can workers depart safely? What about if it is a rescue operation? When designing scaffold, it is important to look holistically at all eventualities. For this reason, stair towers can work in conjunction with the scaffold system to provide access and egress when required.
Case Study
HAKI's birdcage scaffold and stair towers were used on the maintenance works of a 132ft vertical vessel in Shell Canada's base in Fort Saskatchewan, Alberta. Due to the project's requirements, it was crucial for leading North American contractor Park Derochie to select a scaffold system which would perform to the highest standard; boosting productivity and improving safety.
Part of HAKI's Universal range, the birdcage scaffold is ideal for projects where high-level access is necessary. The system's simple 'hook-on' and spring-lock catch mechanism – present in all HAKI Universal products – means there are no loose or small fittings and minimal moving parts to the structure. This swift installation reduces the assembly time, meaning operatives expend less energy working from height. On installation, the product also lowers the risk of component displacement and falling materials, protecting workers and the wider public from injury.
The HAKI Stair Tower worked in conjunction with the birdcage scaffold to provide crucial ingress and egress. With a 4kN/m2 loading class, and the same unique 'hook-on' method as the birdcage scaffold, the stair towers ensure safety, adaptability and speed in temporary access, and also offers flush landings to reduce trip and head injuries.
Commenting on how HAKI's products assured onsite safety, Dan Mackell, from Park Derochie, said: "Our comparison to the alternative system showed HAKI's products reduced exposure to dropped objects by 29 per cent. Furthermore, the solutions also meant working at height could be performed safely, as hammer swings and repetitive motions were reduced by 93 per cent. And if this wasn't enough, exposure to falls was reduced by approximately 60 per cent."
On this project, the use of HAKI's pioneering temporary access solutions ensured working from height could be completed efficiently, safely and securely; enabling the annual maintenance works to Shell Canada's base in Fort Saskatchewan were undertaken seamlessly, without any disruption.
Maintaining the highest onsite health and safety standards remains essential to workers' long-term physical and mental wellbeing. Working from height can be risky business, yet with the right temporary access systems, risk can be kept completely at bay. Workers' safety is and should always be the priority. Be sure to select a solution which puts them first.
HAKI designs, develops and supplies safe, fast, and ergonomic temporary access and modular scaffolding solutions.
As an established name in the scaffolding industry for more than 60 years, HAKI has invaluable knowledge and experience. A scaffolding system is a place of work. At HAKI, safety, ergonomics and demands for better working environments are at the heart of everything it does.
www.haki.com