Covid-19: How the construction industry can recover from its impact. By Dave Bennett
The construction industry has faced numerous challenges over the years that have forced us to adapt – from the skills shortage and aging infrastructure to low productivity levels and safety requirements. Now, in the wake of the Covid-19 outbreak, we're coming to terms with a completely new way of life, and we're needing to tackle challenges that we could never have dreamt of before.
Across the world, communities, economies and companies have been impacted by the pandemic. In the UK specifically, construction projects have fallen behind schedule as lockdown measures were introduced and activity levels dropped, with many sites completely shutting down. Most sites are now allowed to reopen; however, Government experts predict that an economic recession is inevitable, meaning we must look at how we can ensure the construction sector recovers and starts to thrive again over the coming months.
To jump start the economy and accelerate the rate of the industry's recovery, we need to consider more than just social distancing.
Recovering from a distance
Like many others, the construction industry now needs to adapt to the 'new normal' way of working and ensuring that human contact is limited as much as possible.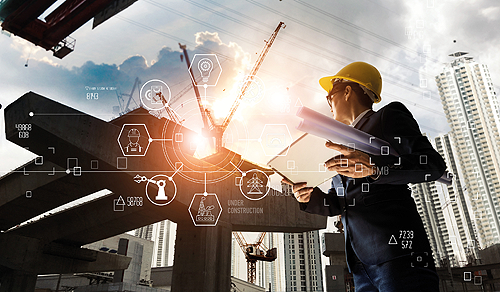 With the increase in remote and socially distanced working, however, comes the risk of silos within companies or projects, meaning communication is vital.
To improve the level of efficiency on-site, we must be communicating with all of the teams involved in a project at the same time, to ensure everybody is working to the same plans and timelines throughout. Some businesses are so used to working in an old silo structure that it may be hard for them to break away from this, but technology is available to vastly improve the experience. From surveyors and engineers to machine operators and their machines, modern day technologies exist to allow all stakeholders in a project to be updated instantly and simultaneously when changes are made.
Likewise, developments in machinery and instruments mean that they can be operated by one person, and even accessed and supported remotely using innovative software, allowing operators to work in line with social distancing measures.
Investing in technology
If we look at enhancing performance, positioning and automation technologies are enabling improved productivity, efficiency and safety through more streamlined workflows on projects across the UK. It is true that you'd be hard pressed to find companies working with string and stakes in the ground now, but there are many more efficiencies that technology offers beyond surveying.
For example, software has been designed to work in tandem with equipment such as laser scanners to provide incredible detail and enhanced data management capabilities, while combined instruments are allowing professionals to identify issues before potential errors lead to remedial costs. By uncovering issues early in the construction process, extra costs are eliminated as the problems are addressed sooner and the 'domino effect' of errors is removed. Ultimately, digital tools and innovations are saving money and helping to keep projects on schedule – both are vital in ensuring the recovery of the industry.
There's no denying that adopting technology can mean upfront investments Our industry is constantly looking for a return on that investment, but when we're talking about technology that will help to avoid mistakes, work quicker, more accurately and safely, where is the return? There is no longer a need to spend time on incorrect parts of the projects because technology helps to avoid the mistakes, and we don't see timelines get extended as the technology allows for efficient working. In short, instead of a return on investment, we're gaining productivity through investment – and we need to switch to this way of thinking to really reap the benefits of technology.
Investing in people
Looking beyond digital tools and innovations, investing in people is investing in the success of a business. By doing this, we can we focus on driving the skills of our teams through planned and strategic skills development pathways, and they can start to educate us on outside investments – new software, new machinery and tools. Our people are our driving force and, especially with the skills gap continuing to impact the industry, it makes business sense to get our teams up to speed with the latest tools, technologies and practices to ensure we're ready for future challenges.
Improving speed, accuracy and efficiency will be key in accelerating the rate of recovery, and the adoption of technology that enables remote working and support will undoubtedly allow works to gain momentum without being impacted by social distancing. In fact, as the digitalization of construction continues to develop, perhaps in spite of the pandemic, those who do not adopt the technology that will keep them working safer, faster and more accurately will simply not be able to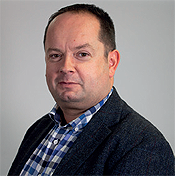 compete.
Dave Bennett is managing director of Topcon Positioning Great Britain. Topcon Positioning Group, always one step ahead in technology and customer benefits, is an industry leading designer, manufacturer and distributor of precision measurement and workflow solutions for the global construction, geospatial and agriculture markets. Topcon Positioning Group is headquartered in Livermore, California, US.
www.topconpositioning.com