Curtis Dubay shares some analysis of the U.S. commercial construction sector
The pandemic is having an uneven impact on industries, sectors, and workers. Depending on where you sit in the Covid economy, your business could be booming, or you could be struggling to stay afloat. Sectors like technology and online retail are in full recovery (or even expansion mode), while sectors like food service, entertainment, and travel are just trying to survive.
For the commercial construction industry, there is no doubt this year has been difficult. The loss of new projects and revenue due to coronavirus-related shutdowns has been severe. This year, the U.S. Chamber of Commerce Commercial Construction Index (CCI) captured this drama.
In the first quarter, just before the pandemic-related shutdowns, the Index reached a score of 74, near the all-time high. Key indicators like contractors' confidence in new business and work backlogs ticked higher. The second quarter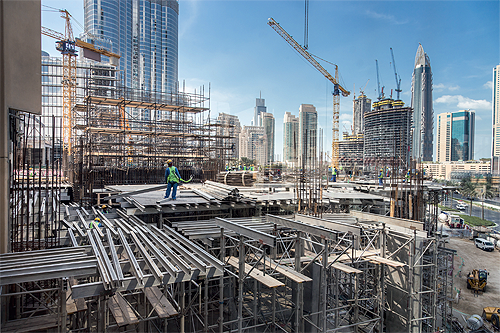 (just after the pandemic struck) was a different story. The Index plunged to 56, its lowest on record. The indicators for confidence in new business and revenue expectations both fell 26 points, to 50 and 44, respectively, revealing the severe impact of the pandemic on commercial construction. Q3 brought some stabilization. The Index remained steady, rising one point to 57, with confidence in new business and revenue expectations ticking up, while backlog fell.
Commercial construction has struggled compared to residential construction which is one of those sectors experiencing a relative boom. This has been seen especially in the construction of single family homes, where privately-owned housing starts increased 11 per cent in September from the same time last 8year, according to the U.S. Census Bureau.
How do we reconcile a boom in residential construction with a slowdown in commercial construction?
It all goes back to the uneven recovery. Long gone is the notion that we'll have a V-Shaped Recovery—a deep economic decline followed quickly by sharp rebound. Instead, what we're looking at is an uneven recovery that will be vigorous for some sectors while others remain unable to operate at full capacity, or at all.
It's not yet fully clear where commercial construction will end up on this divide. But our survey findings indicate the industry is in for a positive, yet lengthy, period of readjustment and recovery.
Turning the corner
In fact, in commercial construction we may have already turned the corner. The CCI's Q3 score showed several signs that recovery is underway. In Q3 confidence in new business rose to 56, from 50 in Q2, while revenue expectations increased to 48 in Q3, from 44 in Q2. The third indicator, backlog, dropped five points from 73 in Q2 to 68 in Q3 as contractors work through backlog during a slowdown in new projects.
In addition, contractors expressed more optimism that they have sufficient work for the coming year. In Q3, 82 per cent of contractors said they have moderate to high confidence that the U.S. market will provide sufficient new business opportunities in the next 12 months (up seven points from 75 per cent in Q2). The majority (60 per cent) of contractors also expect their revenues to remain about the same in the next 12 months, and 22 per cent expect an increase.
Contractors are reporting improvement in project delays—and expect this trend to continue. Although nearly all contractors (85 per cent) are still experiencing delays due to the pandemic, with 71 per cent expecting delays will remain through early 2021, the average amount of delays decreased sharply as 2020 went on. In July, contractors reported an average share of 26 per cent of their projects were delayed, down from 40 per cent in April.
Another encouraging statistic: contractors are hiring. In the midst of record unemployment numbers as other industries have been forced to lay off workers, one in three commercial construction contractors (32 per cent) plan to hire in the next six months. More than half (57 per cent) expect to keep the same number of workers, and only seven per cent expect to reduce staffing.
The path to a brighter future
While many of the findings from the CCI point to growing optimism for the future of commercial construction, we are living in uncertain times. Almost all economic data has shown that the nation's broader economic recovery will continue to mirror the prevalence of the virus—when there is a surge in cases, the economy takes a dip, and when case numbers fall, the economy rises.
As contractors work through backlog and begin to express optimism for the future, many of the longer-term prospects of the industry will depend on people having growing confidence to return in similar numbers to retail stores, restaurants, and other businesses
So, it's vital that we all do our part to make sure this virus stays in check.
Contractors should continue to emphasize worker safety. Our poll found that the commercial construction industry is a leader here: Nearly all contractors (97 per cent) reported making changes in response to Covid-19, including providing items like masks and sanitizer (82 per cent), changing work procedures to increase social distancing (75 per cent), and allowing remote work for office employees (67 per cent).
Citizens should get the flu vaccine, wear masks, and abide by appropriate social distancing based on the advice of national and local health experts—and governments should be encouraging these behaviors.
That way, instead of having an uneven recovery, we could have one where all industries are on the upswing, including the construction industry. Working together, it's something we can achieve.
Curtis Dubay is senior economist in the Economic Policy Division at the U.S. Chamber of Commerce. He tracks the condition of the economy, analyzes the impact of public policy on economic growth, and runs the Chamber's Chief Economists Committee.
The U.S. Chamber of Commerce Commercial Construction Index (CCI) is a quarterly economic index designed to gauge the outlook for, and resulting confidence in, the commercial construction industry. Visit www.commercialconstructionindex.com for more information, full findings, and shareable graphics. The Q4 2020 CCI results will be released in mid-December