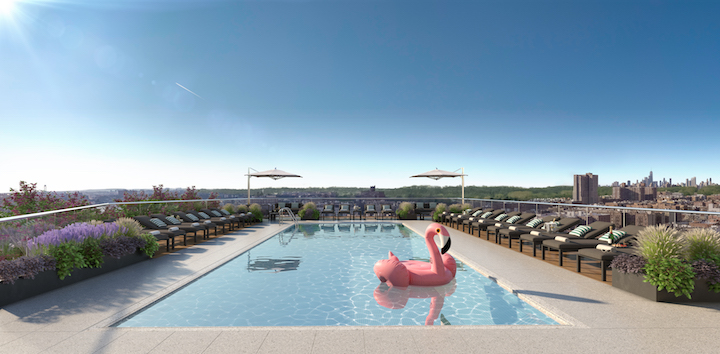 The Moinian Group continues to seize real estate opportunities on New York City's West Side, identifying developments in up-and-coming neighborhoods.
For nearly 40 years, The Moinian Group has specialized in forging new neighborhoods and spearheading the transformation and enhancement of property values and environments. Led by visionary New York City real estate developer, investor and owner Joseph Moinian, the family-owned company remains prominent and aggressive with three new developments underway on the West Side of Manhattan.
Known for his superb investment, development and management strategies, Moinian recognized long ago that the largest and greatest potential for prosperity lied in the transformation and invigoration of the underserved neighborhoods of New York City. Today, The Moinian Group boasts one of the largest private portfolios of property. The company is one of the only national real estate entities to develop, own and operate properties across every asset category, including office, hotel, retail and residential.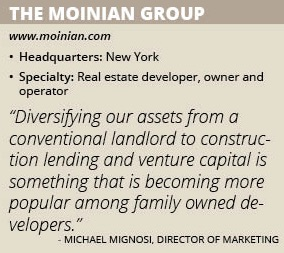 The Moinian Group expanded its services in 2016 with Currency M, its venture capital division that funds and forms strategic partnerships with early-stage companies, providing them with the access, guidance and distribution that empowers world-class entrepreneurs to build, grow and scale their business. One year later, the company further expanded with the launch of Moinian Capital Partners, a lending division that provides commercial real estate loans.
"On the construction side we are more active than ever before," Director of Marketing Michael Mignosi says. "Diversifying our assets from a conventional landlord to construction lending and venture capital is something that is becoming more popular among family owned developers and it's been interesting."
State-of-the-Art Developments
The Moinian Group's property acquisitions on New York's West Side have positioned it for extensive growth in a new, exciting chapter of the city's future. 3 Hudson Boulevard and 220 11th Avenue are the company's newest commercial developments in Manhattan's Hudson Yards and West Chelsea neighborhoods.
Situated in the heart of the dynamic Hudson Yards District, directly across from the Javits Convention Center, 3 Hudson Boulevard will be a gateway for Manhattan's new West Side and an icon for firms committed to sector leadership, The Moinian Group says. A joint venture with Boston Properties, 3 Hudson Boulevard will be a 56-story office tower with 1.9 million square feet of Class A office space.
"This flagship commercial building will be a premier offering and state-of-the-art modern office tower with one of the best locations in New York City," says Aron Kirsch, senior vice president of development. "For firms looking to retain talent and expand into a new neighborhood, this is the place to be."
3 Hudson Boulevard sits on top of a lushly appointed park with direct access to the 7 subway train station and will be LEED Gold and WiredScore Platinum certified.
Designed by FX Collaborative, the podium floor plates will be 50,000 square feet with clear spans of 40 feet or more. Office tower floor plates will be from 25,000 to 40,000 square feet with ceilings of at least 14 feet tall and a five-foot window module taking full advantage of the views. The Moinian Group expects tenants to be occupying 3 Hudson Boulevard in first quarter 2024 and is currently looking for an anchor tenant.
In Manhattan's West Chelsea neighborhood, The Moinian Group is developing 220 11th Avenue, a ground-up development that will include 200,000 square feet of Class A commercial space. Designed by Studios Architects, the building will feature open, virtually column-free floor plates of approximately 18,000 square feet, greater than 14-foot ceilings and 11,000 square feet of outdoor space, including a rooftop spanning the block from West 25th to West 26th streets. "The open floors and floor-to-ceiling windows will provide an open air feeling and offer serene views of the Hudson River," Mignosi says.
The Moinian Group will break ground on 220 11th Avenue later this year and is expected to be completed in 2022.
Brooklyn Living
The Moinian Group's residential assets are high-profile and grand in scope, redefining luxurious urban living. Most recently, Moinian Capital provided financing to Bushburg Properties for a new residential development at 123 Linden Boulevard in Brooklyn's Prospect Lefferts Gardens. The new 26-story tower, known as PLG, offers unobstructed views of Downtown Brooklyn, Manhattan and the Verrazano Bridge.
Designed by Hill West Architects and Whitehall Interiors, the building features 467 studio, one-, two- and three-bedroom units. About 30 percent of the units will be below-market-rate housing. "This is an area that is just starting to see rapid gentrification and is in the pipeline to be Brooklyn's hippest neighborhood," Mignosi says.
PLG will feature more than 50,000 square feet of amenities that Mignosi says is not typically seen in this part of Brooklyn. The building features indoor and rooftop pools, lounges, fitness centers with sauna, steam and whirlpool, playgrounds, a dog run, game room, outdoor basketball court, co-working lounge, cinema room and a golf simulator, to name a few.
Standing at 317 feet tall, the tower is made of interlocking glass and precast concrete. "PLG is a momentous project and we are confident this building will break all price records this fall," Mignosi adds.
Moving forward, The Moinian Group will continue focus primarily on commercial, office and hotel developments in New York City, with additional expansion nationwide.