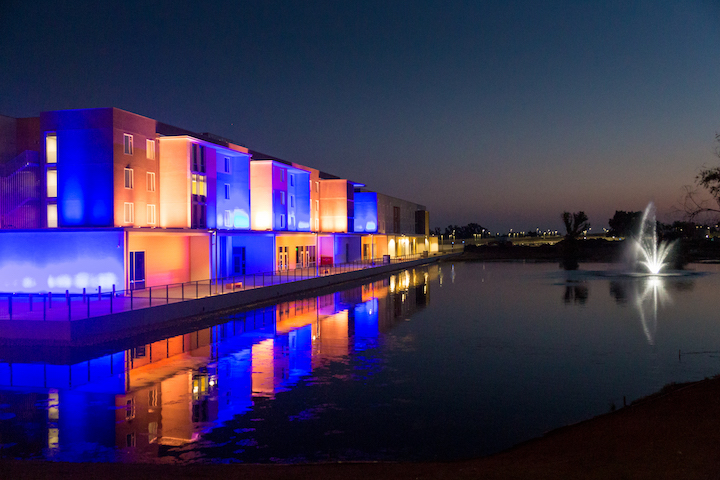 University of California, Merced
University of California's Merced campus expansion required financial wizardry to spring to life.
While many public universities throughout the United States are having difficulty attaining funding for new construction, the University of California, Merced has found a creative way to fund its campus expansion.
The $1.3 billion Merced 2020 project, which broke ground in 2016, will double the size of the Merced campus by the summer of 2020. Being funded by a public/private partnership, Merced 2020 is adding new classrooms, labs and additional student housing to enhance student life, enable academic and research distinction and expand access.
"We needed to grow the campus dramatically," Vice Chancellor and COO Mike McLeod says. "The project was designed with the target of 10,000 students and we expect to hit that in 2022. This fall, we are just under 9,000."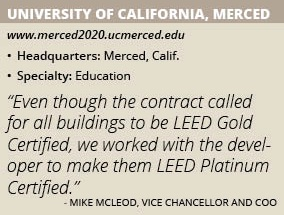 The three-phase project falls under the Design-Build-Finance-Operate-Maintain (DBFOM) umbrella, a project delivery mechanism used by government entities and other taxing bodies to structure the construction of public infrastructure projects.
"One of the advantages is that we only had to come up with half the money and the developer came up with the other half," McLeod adds.
Financing for the project includes a combination of UC Board of Regents-issued revenue bonds, developer funds and UC Merced's own funds.
According to the Merced 2020 website, roughly $600 million of the budget is coming from University of California external financing. Developer Plenary Properties Merced will contribute $590.35 million and UC Merced campus funds will contribute $148.13 million.
Maintenance Included
The university's ability to afford the project was determined based on a holistic, long-range financial model, which includes design and construction costs as well as preventative maintenance lifecycle costs.
"One of the huge problems universities are having is deferred maintenance," McLeod says. "They build buildings, but don't have money to maintain them and now their infrastructure is failing. What makes our project unique is that we have 35 years of operations and maintenance in the contract. It's guaranteed to be maintained."
McLeod says that the project is also unique because the university spent about two years putting together a complete project agreement with technical specifications that would guide the project – as opposed to having a basic idea and hiring a contractor.
"It was all done prior," he says. "We wanted to get stakeholders and consultants to examine what the university needed and the direction it had to go."
After numerous stakeholder meetings, the university filed to qualify for the private/public partnership and then started a bidding process. In the end, developer Plenary Group was awarded the project.
"But we still had to negotiate to the current price because it was out of our price range," McLeod says. "We had a few financial wizards working on it. It was approved in July 2016 and at that point it became real."
Phases of Construction
The three-phase project broke ground in October 2016. The first phase, completed last summer, included a student housing building with 700 new student beds, a 600-seat multipurpose dining facility, new classrooms and 940 new parking spaces.
The second phase, which was completed this summer, included two new laboratory buildings with faculty offices and an outdoor competition and recreation sports field.
"And there are two bridges that connect to the existing campus, 300-bed housing and IT server modular buildings on the edge of campus," McLeod says. "The housing, fields, bridges and server building were scheduled to be delivered in 2020. But those were delivered ahead of schedule. I'm thrilled."
The third phase and final phase, scheduled for completion in summer 2020, will be the big delivery. It includes a large lab building with classrooms and offices, two housing buildings with about 500 beds each, conference center, student wellness and counseling center, student enrollment center, swimming pool, greenhouse and outdoor recreation courts.
Sustainability is Key
Before the expansion, the Merced campus was slightly more than 1 million square feet. Once the expansion is complete, the campus will have an additional 1.2 million square feet.
But the success of the expansion project is not just defined by square footage and the timely delivery of new facilities. It is also measured by whether the facilities meet the long-term academic, social and health-related needs of its students, faculty and staff.
"Sustainability is a huge deal," McLeod says. "Even though the contract called for all buildings to be LEED Gold Certified, we worked with the developer to make them LEED Platinum Certified."
The California Energy Code's Title 24 calls for a collection of energy standards that address the energy efficiency of new homes and commercial buildings.
"We have stretched past Title 24 to what we call plus 20 percent," McLeod says. "That means we are 20 percent better than what is required. It's just good practice. It's a big drive for me personally, but we're finding it is a draw for new students. We score extremely high on national ratings."
This year, the university placed No. 6 in the Sierra Club Cool Schools 2019 rankings, up from No. 50 in 2017. It also placed No. 1 the AASHE Sustainable Campus Index 2019 for sustainable buildings, No. 1 for sustainable research and No. 6 in overall rankings among doctoral institutions. This year, the university received an AASHE STARS Gold rating.