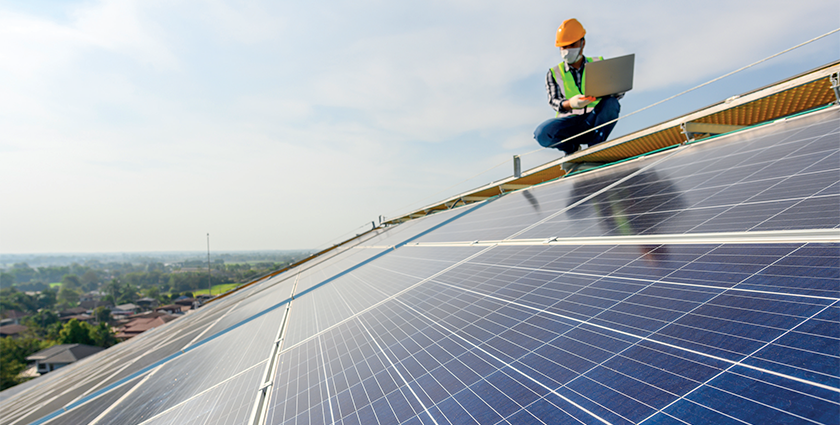 More than 16 billion square feet of industrial property blankets the United States, with another 750 million square feet (msf) on the way. Within these facilities, nearly everything we consume is produced, stored and distributed. The sheer quantity of warehouses makes the greening of the sector an essential component of achieving both community and corporate sustainability goals. Occupying buildings that are designed to be environmentally friendly is one action firms can take to transition to net-zero, which means cutting greenhouse gas emissions to as close to zero as possible. Choosing sites in optimal locations that lower transportation costs can reduce the carbon footprint of supply chains by an even greater amount. According to a report from the World Economic Forum, buildings drive 13 percent of the logistics sector's carbon emissions, while transportation encompasses the remaining 87 percent.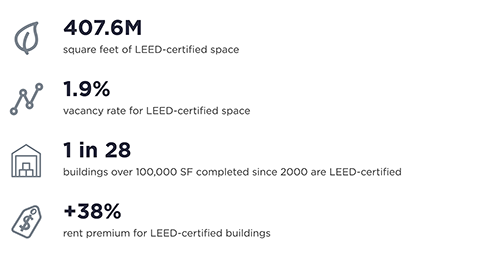 In terms of building design, choosing environmentally-friendly construction materials, lighting and landscaping all impact sustainability. Certain materials are less-polluting, including specialized paints, wood products and sealants. Proper insulation of the building envelope is critical, and should be appropriate for the climate and paired with high-efficiency mechanical systems and appliances. Reflective roof services or planting a green roof work to reduce heat island effect, while minimizing hardscape and incorporating native plants to the site help with stormwater management. Green amenities, such as EV charging stations, can also be added.
While these factors can reduce environmental impact, the activities occurring within facilities will further drive energy consumption to a large degree, with manufacturing having much higher utility demand than distribution. Additionally, with their enormous flat roofs, which can exceed 1.0 msf, warehouses are prime for installing solar arrays. In fact, Amazon and Prologis are among the top ten corporate users of solar. Amazon occupies nearly 400 msf of industrial space, and Prologis owns 609 msf in the United States. Beyond energy usage, water consumption can be reduced both inside and outside the warehouse with efficient plumbing fixtures and drought-resistant landscaping.
LEED certification offers a method of quantifying green warehouse space. Only a relatively small percentage of industrial inventory is currently certified, equating to one out of 28 buildings constructed since 2000. One challenge to implementation has been the LEED standards, which historically were not tailored for industrial properties. It was not until LEED v4 went into effect in December 2013 that industrial buildings had their own standards. Prior to that, warehouses had to adapt LEED models for other property types. It is notable that LEED industrial buildings outperform the broader market by a significant degree, with a 38 percent rent premium and a vacancy rate of 1.9 percent (versus 4.2 percent for the US overall).
Transportation is the biggest polluter of the supply chain. Vehicles comprise 30 percent of greenhouse gas emissions, with trucks making up nearly 25 percent of those transportation-based emissions, according to the EPA. Electrifying truck fleets will help, but electric vehicles currently comprise less than one percent of vehicles on the road in the United States. Location determines the miles that the goods stored inside the warehouse will travel, and choosing sites in proximity to ports and population centers aids in reducing fuel consumption. Additionally, locating near where the labor force resides and where public transportation options exist can minimize the carbon footprint of warehouse worker commutes. Looking at the more than 800 LEED-certified industrial buildings over 100,000 square feet across the US, nearly 30 percent are located within a 30-minute drive of the central business district in the 30 largest metro areas. These properties, which represent green buildings located close to city centers with dense populations of consumers and workers, offer the greatest potential to reduce carbon emissions for logistics operations.
With transportation costs tending to make up 50 percent of total supply chain costs in distribution, reducing transport distance in site selection aligns financial and environmental goals favorably, particularly in light of the recent increases in freight rates and fuel prices. The challenge is the limited supply and premium cost of green buildings in close and commutable locations. Also, new construction is made difficult by the land constraints and community opposition to warehouse development near residential areas. The United States is currently playing catch-up with the rest of the developed world in terms of net-zero warehousing due to fewer regulations and incentives. A 2020 survey by GRESB, an investor-led global ESG benchmarking organization, showed that 25 percent of logistics facilities in Asia are green building certified compared to only seven percent in the US. Meanwhile, developers in the European Union are now faced with sustainability requirements associated with the Energy Efficiency Directive and Energy Performance of Buildings Directive, which aim to halve carbon emissions in Europe by 2030 and achieve net-zero by 2050. To this end, Prologis announced in June its commitment to achieving net-zero emissions across its value chain by 2040.
As corporations and governments look to achieve net-zero, a major focus on the logistics sector warrants careful consideration of environmentally-friendly building design, as well as public and municipal education regarding the benefits of expanded public transportation and infrastructure and locating facilities proximate to population centers.
Sources: ESRI, EPA, World Economic Forum, MWPVL, Prologis, Solar Energy Industry Association, Accenture, GRESB

Mark Russo is Head of Industrial Research at Savills. Savills helps organizations find the right solutions that ensure employee success. Sharply skilled and fiercely dedicated, the firm's integrated teams of consultants and brokers are experts in better real estate. With services in tenant representation, workforce and incentives strategy, workplace strategy and occupant experience, project management, and capital markets, Savills has elevated the potential of workplaces around the corner, and around the world, for 160 years and counting.
www.savills.us