Peckham Industries, Inc., is cementing its Centennial by growing safety, culture and sustainability
Paving the way to success
Although it has been owned and managed by the Peckham family since its foundation in 1924, Brewster, NY-headquartered Peckham Industries, Inc., (Peckham) does not exclude outside talent in its drive to develop and supply roadway construction materials, including hot and warm-mix asphalt, cold-mix asphalt and chip seals.
"My Dad successfully converted Peckham back into a private company and he really was the visionary behind our growth over the past 15 to 20 years," says Gregory Peckham, Senior VP and General Manager. "Now, with Damian Murphy coming on board as CEO, we are looking forward to continued growth but with a different perspective. Working in a family business can be tough; you only know what you know internally – you don't have that outside experience that Damian is bringing."
Peckham can take pride in a low level of staff turnover; most of its senior team has over 35 years' experience with the company.
"We have a culture of Family By Choice, which means many things to us, like getting to know everyone and caring about the community," Gregory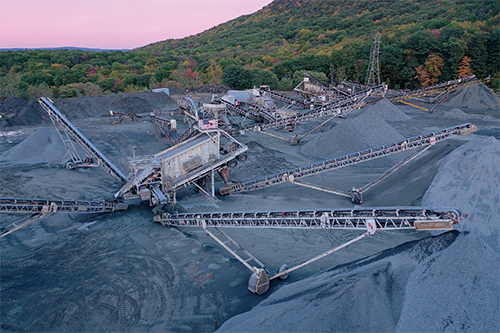 continues. "You work with someone for 35 years, they really are part of the family! We have a fantastic group of younger and energetic talent, also, and when people come into the company they see the relationships that have been built and enjoy being able to share in that."
Peckham started out as a construction company and, over time, evolved into the materials business that remains its primary focus today. Damian Murphy had over a quarter of a century of experience with aggregates and materials supplying companies when he joined in March, 2021. With his appointment, the company is seeking to maintain and build on the qualities that have made it the leading supplier of construction materials in eastern New York State and western New England.
The company sources stone from its own quarries and produces hot mix, warm mix and cold mix asphalts, mixed concrete and construction liquids, mainly for applications in road and highway construction and maintenance, in plants extending as far south as The Bronx, NY, through the Hudson River Valley to Warren County, NY, as well as in Western MA, RI, CT, and southern Vermont. It has around 900 employees and revenues in the region of $500 million. Its latest adoption was of leading aggregate producer JSL Materials, in 2020. Its integration has considerably expanded opportunities for the company in the region.
"We are a materials business, first and foremost. We are looking to grow our resources on aggregates and the hot-mix side of the business as that is where we believe we can add the most value for our customers," he declares. "There are tremendous opportunities where we can supply the right products to people in specialist areas such as sea wall projects, environmental improvement, wind power turbines, and more. There is so much going on in the North-East right now. We are determined to be a supplier of choice to all of that."
'Sustainability' and 'environmental sensitivity' may not be words immediately associated with highway construction, but Peckham is on a mission to change that. It is proud of its commitment to environmental stewardship, which it demonstrated when it joined the Wildlife Habitat Council and pledged to build a set of voluntary conservation activities – but it goes further. Sustainability is becoming embedded in its culture and operations.
It is a leader in developments to boost sustainability in construction and a strong proponent of using recycled materials, primarily (but not exclusively) Reclaimed Asphalt Pavement (RAP) in pavement construction, repair and maintenance.
"Our approach is two-fold," Gregory says, and goes on to explain how. "Part is partnering with the states, Departments of Transport (DOT) and municipalities, to educate on the tremendous resources and opportunities there are out there to use a greater proportion of recycled materials in our products. Currently, New York and Vermont states typically cap recycled material approved for roadways at 20 percent; we have undertaken some experimental projects with municipalities in New York to increase that to 40 to 50 per cent in our hot mixes. We also have some alternative products we are working on that are 'recycling in place'. We offer a very low carbon emissions alternative to hot mix paving, which greatly reduces the trucking resources needed. It's a win-win for everyone and I think we will see that grow throughout the North East and probably across the country."
Focus on family
Peckham has already implemented techniques and technologies that improve the resilience of pavement surfaces and cut the time needed for repair. Being delayed in traffic threading its way through and past repair gangs has to be among the top bug-bears of the travelling public, so every minute saved is to the good.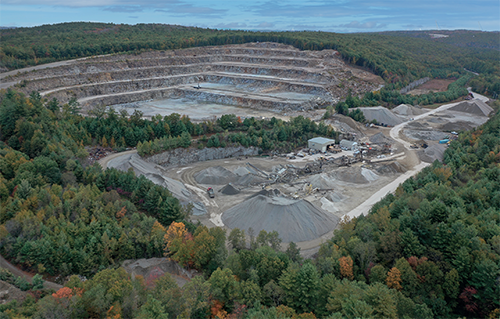 Chip seals are an excellent and economical preventive maintenance and pavement life extension treatment. They consist of water-based asphalt emulsion applied to the roadbed and cover stone, which is placed over the asphalt film. Deposit rates are much higher than conventional hot mix paving, enabling coverage of up to 50,000 square yards a day, at savings approaching 75 percent. The pavement can be rolled and reopened to traffic the same day. Chip seals are a low-temperature, environmentally sensitive process that reduce emissions and fumes, and can be combined with advanced polymers to further increase durability.
Peckham is invested in its community, through various projects from rebuilding a library destroyed in a fire to renewing vital assets like fire houses.
"We try to be a good neighbor, keep things clean, reduce noise and support our communities. An immediate goal is to achieve zero notifiable safety incidents," Gregory says. Peckham believes that its success will be driven first and foremost by its Family By Choice culture. To the business, that means a culture where every member can be themselves without fear of judgement. Everyone is obligated to live Peckham values and maintain a culture of respect and security that distinguishes this Family Business from the rest.
www.peckham.com