No project is too big – the Seach Construction story
Sunny in Florida
The sunshine and beachfront views are a beloved characteristic of Florida. Accordingly, the state is an immediate favourite for holiday-goers and those looking to start a new chapter in a warmer region of the US. This is why Seach Construction has become an expert homebuilder and contractor in the area. The company is on a mission to build the finest residential and commercial spaces. Founded by David Seach, Seach Construction came to be one of the pioneering companies in the construction industry within the US. 0 learns about the level of projects the company has undertaken since its inception, with particular attention to the ones of which the business is most proud.
Seach Construction, which specializes in large scale commercial projects, hosts an extensive catalogue of services, with a particular skill in planning, zoning, permitting, site development and building.
Presently, the business is working on a landmark building in Jupiter, Florida, named Cornerstone. "I'm super excited about this one. We've been planning it for years, and it's such an amazing building in the heart of Jupiter, that I had to buy one," says David Seach, the company President. "It's going to be a Platinum Certified Green with the garage completely covered in tall palm trees and lush landscaping. Roof top amenities include a pool, spa and palm trees with amazing views of the intercoastal waterway and the Atlantic Ocean. There will be 15 residential condominiums, averaging 3,000 square feet, with high ceilings and lots of glass to showcase the beautiful views of the waterway. There will also be 2,500 square feet of retail space on the ground floor. The private elevators open directly into the units. On the ground level, each owner will have two secured garage spaces with electric car charging at each space. There will be a fitness room, social room, conference room, private offices and storage areas," says David.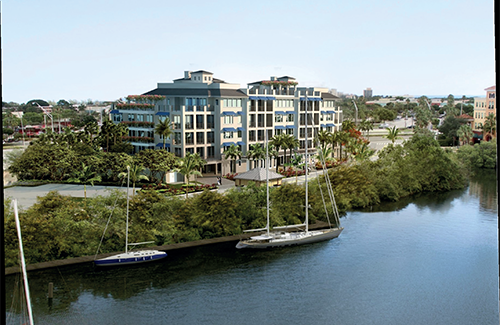 When asked for his thoughts on living in a building with his customers, Seach replies, "I have no reservations. I've met each of the buyers and what a great group of people. It's a pleasure to work hard and do a great job for such nice people. I did it before in 1995 when I built and lived at Jupiter by the Sea for five years. I'm still in touch with some friends that still live there. That project consisted of three eight-story oceanfront condominiums."
Seach Construction has another luxury condominium in Jupiter near the ocean that is currently in the planning stage. Seach will keep the same design team, Robert Swedroe Architects in Miami, RGD Engineers in Jupiter will design the mechanical, electrical, and plumbing, and Jezerinac Group in West Palm Beach will be the structural engineers. About the next project, Seach says, "We'll continue to strive to stay at on the edge of innovation and quality by integrating the latest technology into the luxury lifestyle that we deliver to our buyers."
Other past projects include a 45,000-square-foot commercial office condominium consisting of the construction of two three-story office buildings, site work and utilities. The work for the Airport Professional Centre, located in West Palm Beach Florida, was a great success for the company and showcased its ability to pay attention to the finer details.
There was then Gateway Gardens, located in Palm Beach County, which is a 107-lot subdivision. The development consisted of planning, zoning, permitting, and building. The construction involved excavating lakes, building underground utilities, roads, and site amenities, including a commercial clubhouse and pool, tennis court, site walls, landscaping and parking lots. The project is known as LeChalet MUPD, located in Palm Beach County. Following this, the company successfully completed and sold a mixed-use, six-acre planned commercial development, with 60,000-square-feet of commercial, retail and office space.
Beautiful living spaces
Taking this a step further, the business worked on a townhouse project consisting of four buildings that housed 31 units. It was held as a rental property that was owned and operated by David, later converted to condominiums, and sold. The project is known as Poinciana Place Villas.
The business then went on to develop, build and sell Jupiter by the Sea Condominium, a 36-unit condominium project. The construction process involved building three eight-story oceanfront buildings, underground utilities, road construction, and constructing site amenities, including a commercial clubhouse and pool, tennis courts, site walls, landscaping, and parking lots.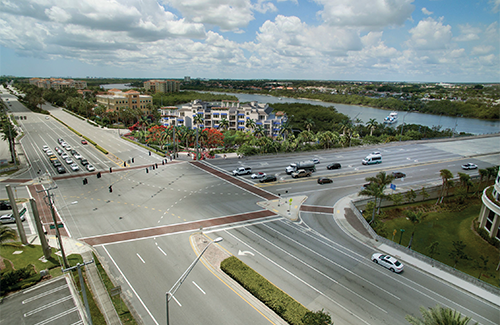 In addition to its extensive condominium home builds, the company is also an expert in multi-family residential projects. Seach also developed and built a 320-unit luxury rental complex, involving 16 three-story buildings containing 20 units each, and involved underground utilities, road construction, and site amenities, including a commercial clubhouse and pool, tennis courts, site walls, landscaping and parking lots. The project was known as Polo Chase in Palm Beach County, and received eight awards for professional achievement in lifestyle and marketing. The name was later changed to Solara.
Extended operations
Another sector for projects that the company has branched into is land development. From what we learn, Seach Construction has developed over 2,000 residential sites for home builders Lennar, Ryan Homes, Mercedes Homes, MI Homes, Royal Professional Builders, Regatta Homes, Crossroads Construction, and others.
To complement the land development aspect, the business has extended its operation further to include property management and real estate brokerage. In this regard, the company's staff of licensed property managers and real estate agents have supported commercial office and retail centres as well as homeowners and condominium associations.
It is clear, from what we've seen, that Seach Construction's extensive experience in construction and property management is what will continue to separate the business from its competitors. Going forward, the company is keen to continue to refine its practices to remain a leader that not only strives to reduce client maintenance and management costs, but also to create beautiful living spaces that showcase thebest aspects of Florida. We look forward to catching up with the company in a few years' time to see how it has remained a leader in the construction industry across the sunny state.
www.seachconst.com