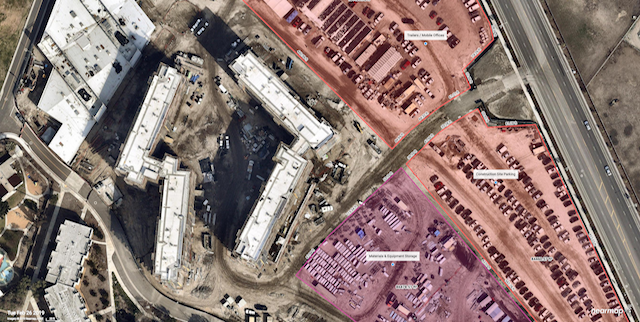 Nearmap's Projects and Nearmap 3D tools streamline clients' operations.
When contractors use satellite photos to plan their projects, they may be relying on imagery that no longer represents the current state of the land. These images "can be a couple years out of date," Natasha Ridley says.
Ridley is the technical product manager for Nearmap, which provides up-to-date, high-resolution aerial imagery for clients in multiple sectors, including construction and real estate. The company makes sure to keep its images current by capturing photos of the land multiple times a year.
This ensures that what Nearmap's clients see on the ground is more accurate to what is actually there. "Customers can be more confident in what they're looking at," Ridley says.
Nearmap, which has its U.S. headquarters in South Jordan, Utah, started operations 10 years ago in Australia, flying planes equipped with special camera systems at altitudes of up to 18,000 feet. Today, it regularly captures photos of some of the largest urban areas of the United States, as well as Australia and New Zealand.
Its imagery, Ridley notes, provides benefits that include making its clients more efficient. "In the competitive bid process, time is often a critical factor, so being able to virtually visit a site or go on a job walk means our customers can quickly get an accurate view of existing conditions on the ground," she explains.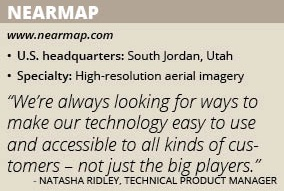 This allows them to save time and costs, since there is minimal need to send staff out to each site when they use Nearmap's services. Clients also can use the company's web interface, MapBrowser, to measure and quickly understand the dimensions of a jobsite.
Some applications, Ridley notes, include measuring access points for equipment and vehicles. "Accurate measurement means better planning upfront and more realistic estimates, which can be done without needing to visit a site multiple times," she says.
An Amazing Tool
One of Nearmap's new offerings is its Projects tool, which allows users to create, manage and save custom projects with aerial imagery. The enhancement, Ridley notes, was created to help customers be more efficient and use its high-resolution imagery more effectively.
"We noticed that a lot of our customers were exporting imagery and using tools like AutoCAD, Photoshop or other apps to create layouts and plan jobs," she recalls. The company also found that many were using it to create simple annotations and markups in the early stages of a project.
After speaking with customers, Nearmap found it could improve their workflow by providing the annotation and mark-up tools itself. Today, Ridley says, all of Projects' features are inspired by user feedback, including the ability to label and tag individual project images.
For example, with the help of Projects, constructors and engineers can plot out staging areas and laydown yards to maximize efficiency. Landscapers also can use it to outline important site features, including driveways, flower beds and trees.
Another important feature, she notes, is the ability to save a project on the image so you can come back and pick up where you left off. "It also means that each job can be tagged and saved so it can be revisited at each stage of the project, or referred to for future projects," Ridley continues, adding that clients have the ability to create unlimited layers of images for organizing objects and annotations.
"You can group things together that allow you to more easily visualize how a product would be built up," she says. One layer of imagery can be used to visualize existing ground work, while another can feature the placement of project equipment.
Those layers also can be easily stacked up upon each other, or be hidden. "The real power is that you can turn on and turn off those layers so you can focus in one aspect of that project at a time," she says.
If Nearmap's clients are communicating information to different sets of trades, they can easily turn off the elements that are not relevant to those contractors. "You also can export a screenshot of that particular image and you can share that with them," she says.
According to Ridley, this has helped make the tool a strong solution for people who are spreading their workflow across multiple design apps. "Projects is also a fantastic new addition for people who use Nearmap's current, high-resolution imagery to create winning presentation materials," she adds.
Nearmap introduced Projects in early February, but already, the tool has won positive feedback from its customers. "They love that it's easy to use, and it's already helping them create better proposals for their own clients," Ridley says.
One satisfied customer is Cameron Ashby, a systems manager for Elite Grounds Landscaping. He noted that Projects has helped his company more accurately bid on projects that were recently built. "This way, we don't have to hire extra personnel just to go out and measure these properties by hand," he says.
"It has easily made me at least 50 percent more efficient, and with the new tools in this last update [to Projects], I will be able to be even more efficient than before," Ashby raves, noting that his favorite features include the high-resolution imagery, as well as the auto sum of layers in the tool.
But Nearmap is not finished with Projects and plans to add more features. "We've already had a number of requests from our customers to help make Projects even more productive for them and their team," Ridley reports.
This includes ways to make it even easier to share Projects amongst team members. "We'll be looking at how we can invite other members of your team to edit that same plan, instead of having to duplicate it or hand it off to different people," Ridley says, noting that this will allow everyone to see what is happening on a project.
Nearmap plans to have this integrated in Projects later this year. "[We're also looking at] allowing customers to import their own icons and objects that make their site plans and layouts even more compelling," she says.
Realistic Views
Another new innovation is Nearmap 3D, which gives customers a wide-scale, 3-D model of views on the ground. So far, Ridley says, the company has made this product available to clients for use in applications such as AutoDesk and Bentley.
"We are already seeing customers in the engineering and construction industry use it for bidding, planning and project visualization," she says. "The big benefit is that you get that realistic view of existing conditions."
This allows clients to reduce risks and have a better understanding of their work environments. With Nearmap 3D, they can model buildings or infrastructure to be built at an existing site.
"It provides you with a cost-effective way to model," she says, noting that it eliminates the need for physical models. "You can use our imagery, or our baseline."
Nearmap offers the 3-D content in several different data formats, including 3D Textured Mesh, which provides a photorealistic rendering of the land. "Essentially, you're looking at a realistic 3-D model," Ridley says.
The format is a seamless set of triangulated surfaces joined together with high-resolution imagery to model the shape and texture of objects, including buildings and other man-made features.
It also is useful for understanding relative size and placement of objects that is not achievable from vertical or "top down" views. But through applications like AutoDesk Infraworks, users can begin modeling and planning additions to their environments, including bridges and roads.
The company also offers its Point Cloud format, which is a collection of data points with a defined spatial location and elevation value. According to Nearmap, Point Cloud is produced from its height resolution aerial imagery and is colorized, which makes it easy to interpret.
"Point Cloud in .LAS format is a useful way to work with 3-D data in a wide variety of applications that may not accept some of the proprietary textured mesh formats," Nearmap says. "The .LAS format has historically supported in many applications, meaning organizations familiar with LIDAR point cloud can more easily adopt Nearmap's Point Cloud product.
"Engineering and construction users can use Point Cloud in civil and infrastructure projects that require digital-ready models throughout all parts of the project lifecycle," it adds.
Delivering Benefits
Ridley is proud of Nearmap and how it continues to deliver innovative tools. "We're always looking for ways to make our technology easy to use and accessible to all kinds of customers – not just the big players," she asserts.
She sees a strong future ahead for the company. "I'm excited to see how we can deliver these benefits to a broader audience by creating easy-to-use tools and more intuitive ways to work with this type of content," she explains.
SIDEBAR – Easy Adjustments
Another portion of Nearmap's client base that can enjoy benefits from Projects includes property and real estate developers. "Projects aids in the scouting, assessing and marketing of properties by letting developers analyze the property's surroundings to allow for more informed investment decisions," the company says.
For example, property developers can use the tool to save parcels under development and make notes about the surrounding areas. "Even properties lacking proper addresses are easy to save and return to in Projects," Nearmap says.
The tool also can provide benefits to pavers. "Projects paves the way for asphalt designers to assess and plan a project site from the convenience of their office," Nearmap says, noting that pavers can use it to adjust plans and designs on the go.
"Designers can return to a project as many times as necessary until the final design is ready," the company says, adding that users also can predict materials requirements. "[Pavers can] measure individual and aggregate areas and distances to determine paving material needs."