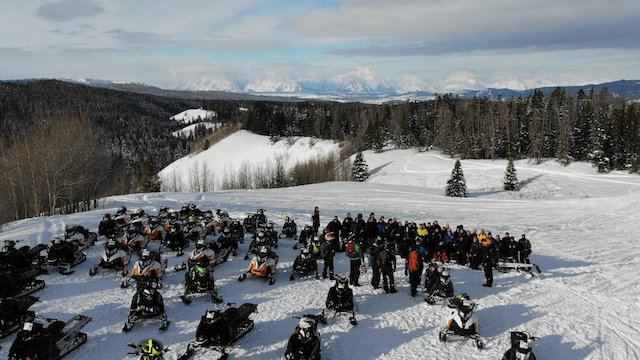 Southland Concrete has been setting the pace in quality concrete the Washington, D.C., metropolitan market since 1973.
About 20 years ago, one of Southland Concrete's rebar suppliers looked at the guys working on a project that day, and said "you guys really set the pace around here," according to President and CEO Randy Green. The team, which works throughout the Washington, D.C., Maryland and Virginia market, really liked that and adopted "Setting the Pace" as its motto from then on out. By living up to that motto, Southland Concrete has become recognized as a leader in concrete subcontracting, demonstrated by ongoing repeat business.
"I've been here for 36 years, and there are still several people I worked for who are still here," Green says. "Their kids are here. The average tenure of our salary people is 17 years,8 for hourly, and that shows what a great company this is. We have a good team that has been together for a long time – we've been through several cycles of construction downturns and we have always stuck together. A lot of people started working here with a shovel, myself included, and have worked their way up through the company. We rarely need to hire anyone off the street for management or the field, instead, we grow our own. That way, everyone has a chance to progress."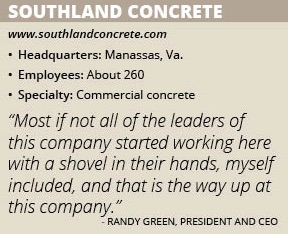 This focus on developing its team is demonstrated in many ways. Southland offers constant training, including classes on ESL, management, engineering and safety. In the winter when work is slower, Green says, the company will host a training session at least once a month. Southland also gets its team together for company picnics, annual fishing tournaments in the Outer Banks of North Carolina, topping-out parties and motorcycle rides. And the team shows its strength, as evidenced by the fact that Southland has been recognized as the Associated Builder and Contractor's Subcontractor of the Year in Virginia and the Metro Washington region six times in the past 10 years. Our safety, quality and performance define who we are, day in and day out.
"That's a big honor because there is a lot of competition in this area," Green says. "But we try take care of our people and they respond. When the company is doing well, everyone gets a bonus – and that means everyone. They also receive great benefits, exceeding most of the industry . We take people on an annual fishing trip, and have just returned from an annual snowmobile trip to Jackson Hole, Wyo., with customers, clients and subcontractors totaling 47 this year, so marketing for this year has begun. It continues to be one of the best marketing tools in the area because it keeps the conversation and pictures going all year – everyone is excited about it. The relationships built in that short four days go on forever."
Strong Relationships
Even with a lot of competition in the area, Southland take pride in the work it does, which includes a lot of memorable projects. Green cites the National Museum of the U.S. Army, the Martin Luther King Jr. Memorial, National Geospatial-Intelligence Agency, Marine Corp Museum and a number of hospitals, parking garages and tilt-wall buildings.
At the end of 2018, Green notes, Southland had been constructing Data Centers for 20 years, performing more than $200 million of work in that sector with one of the first being AOL Dial Data Centers in the nation. By remaining schedule-driven on these mission-critical facilities, Green says the company has completed more than 20 million square feet of data centers, providing foundations, walls, tilt-up design and precast structures.
"We work for the largest contractors there are in the country," Green says. "Turner, Clark, HITT, Holder, Lendlease, Whiting-Turner and DPR Construction are examples, and most of those companies are the top 10 to 15 contractors in the country. When they come to our area to do work, we are always near the top of their list. There is a lot of work around Washington, D.C., and even when the larger concrete contractors in the nation moving into the market, we always have a good shot at the next project."
He explains Southland remains a strong partner because in addition to investing in its people, the company remains up to date with newest technology and procedures. Additionally, "we always build what they design," he says, and Southland gets involved early in a project to ensure designs meet constructability needs and keep costs in line. These are the aspects of the company that help to build relationships, he notes.
"We are all about relationships," Green stresses. "You can have all the trucks and tools you want, but if you don't have the relationships and the people, you can't get the work done. Many times, we find out from owners about projects before they even choose a general contractor, and that says a lot about what we deliver. It's clear on our jobs that everyone works together, our people show up to a job and get it done.
"Our first employee Willy Reese, has been here since day one 1971, and he's still here and he still gets into the ditch on jobs," Green says. "Our people are here, setting the pace all day long, rain or shine. And 2018 being the rainiest year in history, it was our best year ever. We can go to these guys with my expectations, but they have expectations of management as well. I'm really proud of where we are."