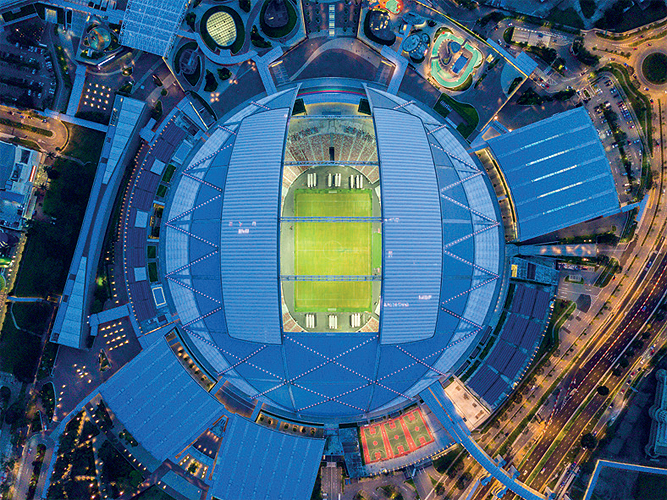 Like with most sectors affected by the pandemic, the world of sport has faced significant pressure to make up for its economic loss over the past year. Under this pressure, governments and delivery authorities may rush decisions and avoid scrutiny as they rapidly organize forthcoming Mega Sport Events (MSEs). This includes for the construction – the stadia, transport, accommodation – needed to deliver the events which could have perennial implications on the quality and shelf life of infrastructure and negative impact on the construction workforce.
Several non-profit and other bodies have been working to address these issues, to improve the accountability, labor rights and integrity of the events and see greater benefits for those involved in the building of the infrastructure as well as the end users of it.
Putting citizens at the heart of accountability
Putting in place measures to improve the accountability of governments and delivery authorities could have a plethora of benefits. Measures as simple as public consultations saw valuable improvements to the construction required for the forthcoming 2022 Birmingham Commonwealth Games in the UK. Citizens were able to amplify their concerns which led to the redesign of a highway project and improved cycling safety. Contrast this to the 2014 Sochi Games where citizens were largely excluded from decisions and where $10 billion was spent on transport infrastructure that has hardly been used since the games.
The non-profit Engineers Against Poverty recently recommended key changes in MSEs that would further accountability. Firstly, sports organizations could look at changing their 'non-profit' status. Many organizations registered in Switzerland enjoy a non-profit status which means they are less subject to scrutiny than if they were registered with a corporate status to mirror the level of profits they make.
Secondly, enabling greater transparency of construction data and information would result in improved accountability. In recent years, restrictions on Freedom to Information requests have been seen in MSEs, such as in the 2000 Sydney Olympic Games when the Cabinet imposed a general ban on Freedom of Information requests on Olympic documents.
Finally, and more broadly, innovative and diverse measures could further involve the public in decisions around MSE construction. This is particularly important considering the direct impact construction has on the everyday lives of residents and the use of public funds. CoST – the Infrastructure Transparency Initiative has seen great value from measures such as multi-stakeholder forums in Thailand and Uganda where communities have raised concerns on project issues which delivery authorities swiftly rectified. Other innovative measures could be to train community groups to monitor infrastructure project delivery and report issues to monitoring bodies who could verify and take the issues forward.
Promoting construction worker rights
In helping to deliver MSEs on time, construction workers are often pressured to work unbearably long hours, on unsafe sites and in inhumane conditions. Migrant construction workers on the Qatar Khalifa Stadium built for FIFA 2022 have been reported to earn just $1.50 an hour for 13-hour shifts, six days a week. Furthermore, the little that workers do earn is often paid late or not at all due to those at the top of the construction supply chain frequently defaulting on payment to workers at the bottom. In the build of at least six stadia for Russia's 2018 World Cup delayed wages has been a core motivation behind strike action.
Whilst the issues are stark, positive actions can be built on. The Olympic Committee and FIFA included new labor standards in their bids for 2024 and 2026 events. More specific moves could include better and regular health and safety monitoring of construction sites, for instance site visits could be carried out by health and safety bodies as well as by labor agencies. Lengthy, expensive and excessively complex claims at judicial courts should also be reviewed so ensure workers have better access to legal safeguards.
Late payment could be mitigated through a construction workers' payment fund. To pay workers on time a 'Wage Protection System' could be deployed, where payment is held in escrow and automatically released to workers when those higher up the chain fail to pay. Workers should also have access to proper grievance mechanisms to deal with disputes. London established a 'Complaint and Grievance Mechanism' for the 2012 Olympics and Tokyo has since followed suit, although with challenges to adequately inform workers. These measures can allow individual and collective rights abuses to be brought to an independent body who mediates and settles the issues without delays.
Avoiding an environment prone to corruption
Corruption is not an issue exclusive to MSE construction and it is increasingly recognized as a key factor to the billions of dollars wasted in the sector each year. Yet the issue appears exacerbated in MSEs. Bid rigging in the 2010 FIFA World Cup in South Africa for example, was reported to cost taxpayers $940 million. According to the Fund for the Fight against Corruption, Sochi venues cost 42 percent more due to nepotism and neopatrimonialism relations.
Reasons why the issue is compounded in MSEs could include more complexity in contracting spanning both national and international horizons. Increased interaction between public and private contractors is another factor which, in the instance of MSEs, has encouraged collusion. And the cyclical nature of MSEs can incentivize corruption, where stakeholders are guaranteed a regular source of income and so past behavior is observed and more likely to be repeated.
Means which ensure transparency on contract and project data could again be key to getting to the heart of this issue. If, for example, legal obligations were in place to publish data points on infrastructure projects red flags would be made public. A standard such as the Open Contracting for Infrastructure Data Standard (OC4IDS) which requires key construction contract and project data to be published on online platforms could be used. Among other things, it has been incorporated into government systems to ensure data comparison across contractors and to help encourage honest bidding. Scoring systems between contractors and clients could also ensure two-way accountability flows and deploying effective whistle-blower mechanisms would further support all of the above in sending a strong signal that decisions will be scrutinized.
In its research into the core issues in MSE construction, Engineers Against Poverty has focused on what has worked elsewhere in the infrastructure sector and what could be realistically applied in complex sports events. Its recommendations include innovative and context-specific ways to encourage greater transparency, participation and accountability and fair conditions for workers. If adopted, these would leave a positive legacy when the whistle blows.
Charlotte Broyd is Senior Communications Manager at Engineers Against Poverty, a UK-based non-profit organization which focusses on improving global infrastructure policy and practice to promote sustainable social, climate and economic impacts that contribute towards the elimination of poverty. Its approach includes producing knowledge products and other tools to work with and influence government, private sector, civil society and international institutions.
ww.engineersagainstpoverty.org