A steely determination
J&M Steel Solutions is a steel erector that – through the work of its dedicated team of experts – strives daily to achieve the best project results possible
Ever since Craig Madsen and Scott Jeppson set up J&M Steel Solutions in April of 2004, the Lehi, Utah-based steel erection company has accumulated over 270 years of experience among its team of specialists and has successfully completed close to 700 projects. Both Craig and Scott had already forged for themselves good careers within the steel erection industry prior to 2004. With Craig having developed experience in overseeing company operations and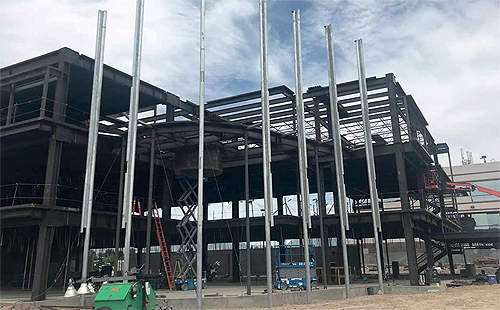 internal/external effectiveness, and Scott being highly effective in managing field crews to deliver maximum output, the pair believed that the gelling of their respective skills would prove fruitful in running a business of their own, and so it has proved to be.
"Scott and I share a vision of a company where hard work, dedication and dependability is appreciated, and we feel like we have accomplished that vision with J&M Steel Solutions," co-owner Craig explains. "Together, we wanted to help transform the image around steel erection and iron work, moving it away from being seen as kind-of a separate entity on job sites, and making it feel a more integral part of a wider team helping to deliver projects. This has been very rewarding, and has helped the business develop trust, and close working relationships, with respected general contractors and owners in the Western States."
The types of project completed by the company range from small compressor buildings to large facilities such as the Nucor Manufacturing Plant in Brigham City, Utah. Indeed, J&M Steel Solutions' handiwork can be seen in a wealth of industries, from gas and energy, and mining, to industrial, aviation, and the commercial/retail sector. "One of the main reasons that contractors and owners use J&M Steel Solutions over and over again, is our ability to build projects quickly, efficiently and safely, whether it be a large airplane hangar, a multi-story office building, a hospital, or a one million square foot warehouse," Craig continues. "As a company, we own all of our work, and our people have the diversity of experience and capabilities to take on virtually any challenge with honesty, integrity and total commitment."
The sheer variety of different projects that the company has shown itself capable of delivering has helped it to weather any economic downturns that have occurred during the last 16 years. J&M Steel Solutions tends to attract interest from those contractors and owners that are tackling larger, more complex projects that require specialized service providers to bring them to fruition.
One of its recently completed undertakings can be found in West Valley, Utah. The Fairbourne office building is a nine-story, 'Class A' building, which required the incorporation of columns and base plates weighing in at an impressive 23,000-to-25,000 pounds. "This was a particularly unique project, not only due to its size, but also for its inclusion of a large solar array on the rooftop, and a 100-foot long pedestrian bridge connecting the building to a parking structure on the opposite side of the road," Craig details. "In recent months, we have also found ourselves tasked with helping in the construction of several temples for The Church of Jesus Christ of Latter-day Saints, one in Pocatello, Idaho, and another which is currently taking shape in Saratoga Springs, Utah. These are truly beautiful buildings, and we have several more in our pipeline that we look forward to working on in the next six-to-nine months."
The ability to deliver the results expected by its customers is at the heart of the company's success, but Craig and Scott know that this simply would not be achievable without the work of J&M Steel Solutions' highly motivated employees. "Simply put," Craig says, "we would not be the successful business that we are today without our people, and we make it a point to remind our teams repeatedly that it is far easier for J&M Steel Solutions to be awarded work as a result of their hard work, their ability to hit construction targets, and to do so safely and responsibly.
"Letting our people know that they are massively valued is such an important thing for Scott and myself, and we have always believed in the positivity of treating people as individuals who matter, as opposed to being just seen as a commodity. We have gone to great lengths to provide our employees with annual bonuses to reflect their work, comprehensive health insurance, 401K retirement plans, and various support structures to aid their personal development, and I think that really sets J&M Steel Solutions apart as an employer of choice."
Collectively, the company's teams have all had to negotiate a year to date that has been defined by the global Covid-19 pandemic, and that Craig accurately refers to as being a 'rollercoaster'. Fortunately for J&M Steel Solutions, in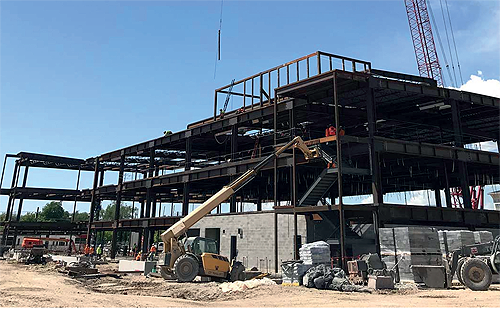 Utah construction was designated early on as being an essential business, meaning that the company could continue working. Nevertheless, adjustments to usual working practices had to be made, from explaining to all site teams that if they were to travel out to a job, they would first need to pre-diagnose themselves as being free of any Covid-19 symptoms, to closing its office down for two months and have the vast majority of its people working from home. At the same time, any staff forced to isolate due to the pandemic were given the peace of mind of knowing that their wages would continue to be paid by the company.
"I have to say, I share with Scott huge admiration for our people who did a fantastic job in navigating the big transformation we had to make during the early months of the pandemic," Craig enthuses. "Now that we are back on a number of job sites, there are also a number of things we have had to adapt to, what with social distancing and mask wearing being required across almost all locations. For those situations that do require our people to be in closer proximity, we have introduced additional PPE and hand sanitizers to reduce the risk of contracting the virus. Again, our guys have been awesome in complying with these new demands, and we absolutely appreciate their continued efforts."
Turning the topic of conversation to the future, Craig is keen to see the company build upon the foundations it has laid to date. To do so, it hopes to enhance its capabilities – by doing things such as taking on the construction of taller, multi-story buildings for one – and take on an increasing number of new projects. "In the last few years," he adds, "we have become more and more involved in what we identify as being 'design-build-works, and we would like to continue with work in that area wherever possible. In the case of such projects, J&M Steel Solutions is brought in early at the design phase and asked to provide its expertise and opinion as to how best to economize key aspects such as materials and labour, before commencing with the work itself.
"Elsewhere, we are hopeful that the oil and gas industry may pick up again in the near future, as this has been somewhere where we have had good success in past years, and we are seeing more movement in the precious metals and mining sectors, where we anticipate extending our reach going forward. In conclusion, we are cautiously optimistic for what the future holds, safe in the knowledge that when the market does return to full strength, we have the right people and the right expertise in place to be awarded the projects that will help J&M Steel Solutions to grow."
J&M Steel Solutions
www.j-msteel.com
Services: Steel erection company