The preferred choice
Drawing on a history stretching back to 1891, today NB Handy is able to service all its customers' needs for metals, HVAC equipment and supplies, commercial roofing products, and machinery
A leading wholesale distributor, NB Handy holds the distinction of being successfully owned and operated by the same family for 130 years. As Bruce Christian, NB Handy's current Chairman explained, the company was founded in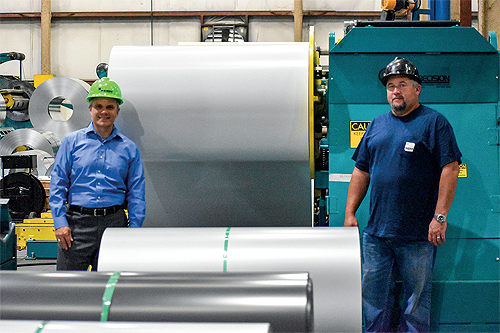 1891, by his great grandfather, Nathan Bryant Handy. "Although the products and industries the company has served since its inception have changed and grown, the core values of excellence and treating employees, vendors and customers like family remain strong," he added.
Nathan Bryant Handy was a highly motivated, ambitious, and charitable person, whose career involved work in the hardware industry and even a spell as a newspaper man. He founded the business on April 1, 1891, and after 38 years of operations he built the 65 10th Street building to house his company, and the building still holds NB Handy's corporate headquarters today. From this location, NB Handy's team manages a market-leading business that supplies and distributes metals and fabricated metal products to both HVAC and architectural metal roofing contractors for use in commercial and residential building applications.
"We serve a broad range of customer profiles from the largest national and regional contractors to small owner/operator service and repair businesses," Tom Mills, the company's Executive Vice President and Chief Financial Officer remarked. "Additional offerings are 'best-in-class' single-ply roofing products primarily for commercial applications and HVAC equipment for both commercial and residential end use. We further support both our HVAC and roofing contractor base with sales and service of fabrication machinery used in their trades. All of our products are used in both new construction as well as repair and replacement applications."
President and CEO, Rosana Chaidez illustrated the wide depth and breadth of the products available from NB Handy, and indeed, it's true to say that over the years of its existence, NB Handy has continuously evolved and adapted to the needs of new markets. "Today we are operating under 18 branches in the mid-Atlantic and southern United States and created distributor partnerships with reputable brands of metal, HVAC and roofing products. We also launched our own brand of metal roofing systems, Sentrigard®, and established a Steel Service Center and Machinery Division to round out the offering, and complemented all this with a full line of roofing and HVAC accessories," Chaidez noted.
The 18 locations that Chaidez referred to are strategically situated along the Eastern Seaboard of the US, and as Ted Poulos, Vice President of Sales pointed out, this spans from Maryland to Florida. "We have plans in place to expand further into targeted areas nearby our current footprint," he added. "Furthermore, we have the most comprehensive delivery capabilities in the business and have geared our fleet around the efficient handling of all things metal."
Tony Bonavita, Vice President Supply Chain, believes that the metal offering from NB Handy is core to its product offering, and is deep seated in its culture, psyche, and vision. "We have a passion for metals," he asserted. "We are energized by our metal programs and value proposition – from purchasing, warehousing, processing and manufacturing, to distributing metal sheets, coils and products to the HVAC and roofing trades. The breadth of our product offering and our service capability to our customers is world-class. Whether an HVAC contractor needs galvanized steel or products for duct fabrication or a roofing contractor is looking for painted metals for a new roof, NB Handy is the choice in the market. When you ask an NB Handy employee what we sell, the response is 'we lead with metals!"'
Poulos continued to highlight what sets NB Handy apart from the competition: "I would not consider the typical NB Handy account manager to be a salesperson, but rather a consultant. How do we achieve this? First, we communicate with the customer from beginning to end while focusing on providing a top-class experience. Excellent customer service from dedicated, loyal Handy people is a key differentiator in our industry. Thus, guiding us to focus on value-add services that enhance the client's bottom line. We also represent NB Handy with transparency and a high level of integrity – further increasing customer lifetime value, which is one of the pillars for a healthy relationship. A relationship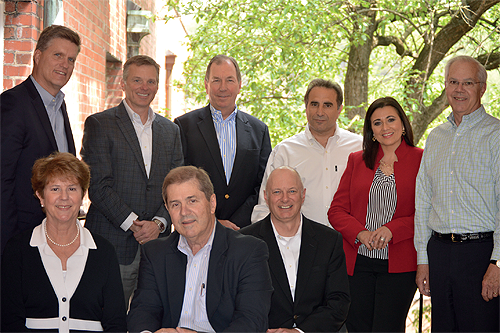 without trust has no value. Finally, we recognize the importance of training and continuing education. Therefore, we have created training programs and career pathing with all the necessary core competencies needed to succeed in a competitive sales environment. Our first choice is not to hire from competitors. It's to develop the skills we want that complement our long-term vision."
Having established NB Handy's credentials and capabilities, John Capen, Senior Vice President of Sales, illustrated how the organization is prepared to adapt to client's needs, with a real-life example. "We were given an opportunity to partner with a long-term client to provide the steel needed to fabricate rectangular ductwork for a ~2 million square foot climate-controlled manufacturing facility. The demand for this project was roughly 1.1 million pounds of galvanized coil steel. With a throughput rate of 50,000 pounds of ductwork per day, we knew that inventory would be critical to our client's success and our reputation. Additionally, due to the volatility of steel coupled with the job's duration, the amount of COGS riskiness had increased substantially for our client. Our commitment objective was to provide the client with a stable price for the job and ensure adequate availability. This resulted in us purchasing all the steel needed for this project in advance and placing half of the inventory in their warehouse and the other half in ours. As a result, our client was able to complete the job with no lead time on steel while not having concerns about steel market volatility."
Poulos followed with another recent contract that highlights NB Handy's expertise in other materials alongside metals. "We had an opportunity to partner with a client on a slate roofing job at a top-ranked university," he said. "NB Handy's portion of this project consisted of 30 truckloads of Vermont slate along with ~80,000 pounds of copper. Due to the uniqueness of natural stone, all the slate had to be procured at one time to avoid inconsistencies. The magnitude of the job presented some storage limitations for the supplier and our client. Consequently, we were able to work with the supplier to secure a location to store the slate – only shipping what would be needed in the immediate future. This resulted in our client providing the university with a uniform product while staying in compliance with job-site storage regulations."
The two case studies go a long way to demonstrating NB Handy's willingness to go the extra mile for its clients. This approach stood the business in good stead in 2020, when confronted with the challenges presented by coronavirus and the global pandemic. Kim Hull, Vice President of Human Resources, shed some light on how the company's operations changed to deal with Covid-19 – as an essential employer, NB Handy has remained opened for business and continued normal operations. "We implemented a Covid-19 Preparedness Plan, which includes all CDC guidelines and state mandates to ensure the safety and well-being of our employees and customers. Several changes were executed to respond to the Covid-19 pandemic such as: telework options as appropriate, curb-side pickup for our customers, installation of sneeze guards at our branch counters, touchless thermometers and masks provided for all locations and implemented measures to reduce expenses according to revised forecasts. All things considered, we did very well. The construction industry remained strong throughout 2020," she stated.
"Our employees come first!" reiterated Chaidez, emphasizing the importance of the right people philosophy. "Our motto is 'culture trumps strategy'. We hire based on our values and we enjoy a family like culture. Mario Puzo said, 'The strength of a family, like the strength of an army, is in the loyalty to the other.' We reward loyalty and want to invest in employees who want to be part of this family."
Chaidez continued with some insight into the shared future vision that runs throughout NB Handy, as the employees at the business play a pivotal role in its ongoing success: "Our vision for growth is aggressive and bold and we feel confident in our success to get it done. The execution of our strategy is dependent on our skilled staff; and focused on the needs of our customers," she stated. "We will continue to lead with high touch relationships, strong product offering, and the best distribution services known in our industry. We will continue to make investments in technology to make it easy for customers and suppliers to partner with NB Handy."
Looking further ahead, Bonavita and Mills expect 2021 to be a somewhat challenging environment as the economic effects of the pandemic continue to be felt but are confident the company can handle what it comes up against. "While the residential segments of our business are expected to boost growth, our commercial side may face some headwinds. However, our opportunities to grow and expand our offerings are much larger than the challenges we face! NB Handy looks forward to another great year of growth in 2021," said Mills.
Undeterred by the challenges of 2020, NB Handy is set to continue to strive for excellence to be the 'Preferred Choice' to its employees, customers, and vendor partners. Crediting its robust longevity to Mr. Handy's founding principles – passion, integrity, innovation, intelligent strategy, adaptability, and accountability, NB Handy has survived and thrived for over a century, and Chaidez shared some final words on the importance of flexibility. "We have cultivated success for 130 years due to our ability to evolve with the demands of the market and our customers," she concluded.
NB Handy Company
www.nbhandy.com
Services: NB Handy is a distributor of metals, HVAC, commercial roofing and machinery products