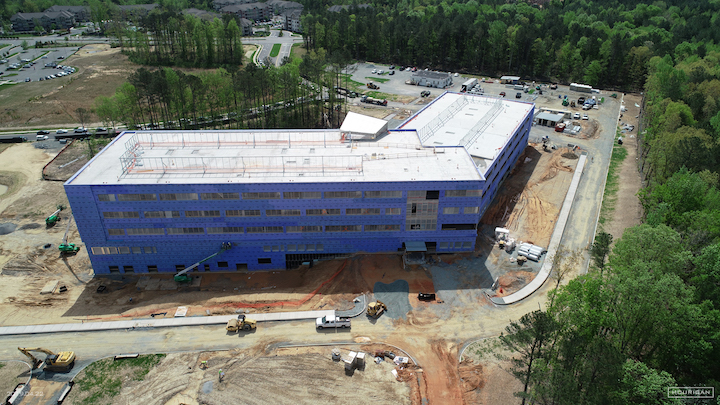 Hourigan – Sheltering Arms Institute
Hourigan maintains its schedule to complete Sheltering Arms Institute in March, delivering a state-of-the-science rehab hospital to Virginia. 
Hourigan, an integrated construction and development firm with offices across Virginia, is overseeing the construction of the Sheltering Arms Institute, a state-of-the-science physical rehabilitation hospital in Goochland, Va. The facility will blend advanced technology, research and evidence-based clinical care to create an innovative, transdisciplinary model of inpatient rehabilitative care, facilitating superior outcomes for patients. "This will be a destination rehab facility and a tremendous asset to the community," Sheltering Arms Institute CEO Alan Lombardo says. "There is not another standalone rehab hospital of this magnitude from Philadelphia to Atlanta and west to the Mississippi River. The potential market goes far beyond the borders of Virginia."
In 2016, Sheltering Arms and VCU Health entered into a joint venture to start the nonprofit, Sheltering Arms Institute. The purpose of developing the new rehab facility is to consolidate 68 inpatient beds at Sheltering Arms and the 46 beds at VCU Health's site, creating 114 inpatient beds at the new hospital. "The joint venture combines an outstanding academic medicine partner in VCU with an excellent rehabilitation entity, Sheltering Arms," Lombardo says.
Sheltering Arms Institute is positioned to be a national leader in the science of rehabilitation, delivering personalized care in an environment that supports recovery and restores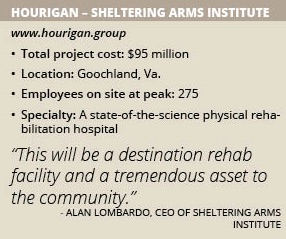 possibility through the integration of collaborative science and research, inter-professional education, community engagement and stewardship. Its vision is to reinvent rehabilitation for life beyond limits with a set of core values that include courage, integrity, positivity, community, discovery and accessibility.
"We have four employees (so far) at Sheltering Arms Institute and are building our culture from the ground up," Lombardo says. "This type of opportunity doesn't happen often, let alone in healthcare. We are combining the best of Sheltering Arms and VCU Health and bringing employees together, and we see that as an opportunity to create a brand new culture and reinvent rehabilitation for a life beyond limits."
The nonprofit says the need continues to increase for high-quality rehabilitative care related to stroke and other injuries and illnesses facing the aging population, which prompted the development of its new hospital.
Sheltering Arms Institute 
Sheltering Arms Institute partnered with Richmond, Va.-based Hourigan in March 2017 to oversee the design and construction of its rehab hospital.
Hourigan was chosen as design-builder of the Sheltering Arms Institute because of its strong record of success in the regional healthcare market. "Hourigan delivers exceptional buildings time and time again by providing superior preconstruction, estimating, scheduling, value management, BIM/virtual construction, and project and construction management services with a talented local team. We're consistently called upon to deliver projects with unique characteristics and timelines, and it's the experience, dedication and passion of our people who make this happen for our clients," Construction Project Executive Mike Siderio says. "I'm truly blessed to be part of a team of great people delivering this project."
Before being chosen as the design/build firm on the project, Hourigan, along with its design partner, HDR, participated in three interviews with Sheltering Arms and VCU Health over the course of three months. Each time, the team presented a more detailed design of the hospital and showcased what it could bring to the project. "We were one of three teams selected to participate in the final interviews and fortunate enough to be selected," Siderio says.
The three-story, 212,000-square-foot, 114-bed rehab hospital will offer a much better environment of care with private rooms. The basement level will be non-patient care and logistical support and supply areas. The first floor will feature gym space and ancillary medicine, including radiology, lab, pharmacy and shared therapy space. The second and third floors will consist of the 114 single patient rooms that will be split into four units: brain injury, spinal cord injury, general rehab and a stroke unit. "The fourth floor is enclosed shell space for future expansion," Lombardo says. "In the future, we could add up to 30 beds on the fourth floor."
Keeping Pace
Hourigan is about 45 percent completed with Sheltering Arms Institute, despite weather challenges. "The weather has absolutely set us back, but the good thing is the subcontractors we have on site have a can-do attitude," Siderio says. "Through communication with everyone, we have looked at ways to get things done on site, and we did that with the subcontractor buy-in."
Siderio notes, "We only invite subcontractors who have passed our prequalification process. What that means is, we have reviewed their capabilities, workload, financials and safety performance records to ensure success." Roughly 80 percent of the subs on the project have previously worked on other Hourigan projects.
Hourigan has a full-time safety manager on site and requires its subcontractors to also have a full-time safety manager for every 25 employees working on site. Currently, the project has three full-time safety managers. The company conducts daily talks every morning to discuss the safety items that may be encountered that day relative to the work being performed.
"For instance, we're building a site retaining wall that's over six feet high, so every day we remind our sub to be careful, be tied off and aware of where they are working," Siderio explains. "As conditions change, we constantly communicate with our subs of those changing conditions. Each morning, Hourigan meets with its subcontractor superintendents to have a daily huddle and open discussion about the state of the project. That gives everyone knowledge of where people are working, the priorities for the day and areas of the job site that people need to avoid. There's a lot of planning and communication that goes on."
Hourigan's expertise in complex and fast-track projects for both new construction and renovations, along with its consultative approach and strong preconstruction services makes it a valued partner at the table for a variety of markets, including the corporate, healthcare, institutional and federal sectors. Hourigan operates throughout the Mid-Atlantic with offices in Charlottesville, Richmond and Hampton Roads, Va.
Future Expansion
"Hourigan has been an outstanding partner," Lombardo says. "They are one of the most innovative, creative and collaborative construction firms I've worked with in over 16 years. They really stand out."
In the future, Sheltering Arms Institute envisions being the epicenter for patients and families who need rehabilitative medicine. Located on 46 acres, the hospital will be the main attraction, but the nonprofit expects in the future to build other structures on site and offices for community partners, such as the United Spinal Association of Virginia.
Richard Bagby co-founded the local chapter of United Spinal Association of Virginia in 2015 based on an expressed need by clinicians in the Richmond area for continual care for the spinal cord injury community. "We were extremely excited to hear about VCU Health and Sheltering Arms' partnership to build this destination rehab facility because for one, it eases the burden on us quite a bit and in turn makes it ideal for patients with spinal cord injuries in the state of Virginia and patients up and down the Eastern Seaboard," he says. "The hospital will be centrally located and an opportunity to reach more people so they don't slip through the cracks."
Prior to Sheltering Arms Institute, patients who wanted to receive the best rehab care would travel some distance out of town. United Spinal Association of Virginia tracks patients through their stay and follows up on their care. "We are very excited about the centrality of Sheltering Arms Institute and incredibly excited about the way in which everyone is approaching this project as being an immersive, forward-thinking rehab facility in that we will have state-of-the-science equipment in there, as well as biomedical engineers and the best doctors in the country who can work together now in one room and bounce ideas off each other," Bagby notes. "It will be an incredible asset to spinal cord injury."