Gregg Healy highlights how recent legislation aims to rebuild America
SHAPING tomorrow
Too often Americans tend to view the relationship between government and industry as one in which the role of government is perceived as inhibiting business growth through legislation. This year though, through the passage of three major bills, Congress has significantly moved the needle to promote reshoring of manufacturing in America as well as secure investment in industries of the future.
The Infrastructure Investment and Jobs Act, the Chips Act and the Inflation Reduction Act are three major legislative bills that will help to reshape the America of tomorrow. Each offer its own benefits, but together they are truly driving long-term investment and transformation.
Of the three major bills, the Infrastructure Investment and Jobs Act was signed a year ago in November. It includes provisions to invest over $110 billion dollars in America's roads and bridges, $66 billion in rail infrastructure, $17 billion in ports and waterways and $25 billion in airports among other major investments. All are significant investments and the American populous, as well as industry will reap the benefits. Not only will there be an increase in construction jobs to build these improvements, but data shows that private investment also closely follows infrastructure investments creating a multiplier effect of both public and private investment in local communities. Better infrastructure also means that the cost of transporting good within the country, as well as for both importing and exporting of products will be reduced while the speed of travel increases. It is no wonder why countries like China have invested a significantly larger percentage of their GDP in infrastructure and now have the largest airports, over 22,000 miles of high-speed rail, the best ports and an advanced network of highways. They understand that as the manufacturing center of the world, they can keep the flow of commerce moving quickly and cheaply by maintaining efficient infrastructure. Additionally, the World Bank notes that the most effective way to increase GDP is to invest in infrastructure. This is the first step.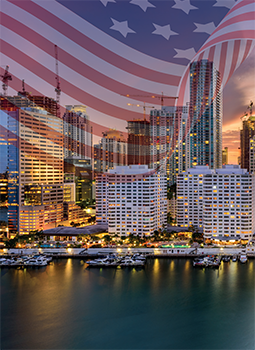 With all the disruption over the past several years from a shortage of microchips, many of which are made overseas, the passage of the Chips and Science Act in August of 2022 is significant as it incentivizes industries to produce microchips in the Unites States as well as promotes the further research and development of chip related technologies. Currently, Taiwan is the largest producer of semiconductors in the world. With China claiming dominance over Taiwan and overall global instability, there is now an impetus to manufacture more of these products – which so many of our consumer goods rely on such as automobiles, planes, appliances and computers – in the United States and rely less on imports. Nearly $53 billion has been set aside in incentives for manufacturing and research in this vertical, with an objective to solidify America's dominance in semiconductor research while enhancing its ability to produce locally. This reinvestment in American manufacturing will only reap benefits for Americans as we increase our national security and independence, we will also be able to create hundreds of thousands of jobs in STEM related fields that pay well above median wages in the communities where they are located. Already we have seen Taiwan Semiconductor Manufacturing Corporation (TSMC) announce a $12 billion investment in Phoenix to build a new manufacturing location, followed by Intel announcing another $30 billion investment in nearby Chandler as well as a staggering $20 billion investment in a new production facility in Ohio. These are just a few of the major recent announcements which highlight the communities that will benefit from these manufacturing and research facilities.
The third, and most recent legislation to pass in Congress is the Inflation Reduction Act, having passed right behind the Chips Act, also in August of 2022. There are many provisions in this bill addressing various aspects of healthcare, deficit reduction and energy production. However, the area that is particularly interesting to those looking to reinvest in America are the provisions around the accelerated interest in developing technologies to fight climate change and incentivizing investment around transforming our energy policy to promote sustainability goals. Clean energy, including solar panels and the adoption of electric vehicles, is not just an American objective. Globally we are seeing many nations pivoting towards green initiatives and the incentives to produce products in the United States will strengthen our leadership in this space, create more jobs in this sector at home and help establish the US as an exporter of this technology. Already we are seeing the results of this bill as Savills tracking of electric vehicle investment shows that it exceeds $80 billion dollars and has created more than 83,000 net new jobs.
Individually, these three legislative actions are directionally positive towards promoting investments in the technologies of tomorrow, and moreover returning robust manufacturing jobs to the United States. Together, these three bills are a major catalyst in the momentum to reinvest in America and represent what is right when politicians lean into the industries of the future and target direct incentives to stimulate the macroeconomy.
Gregg Healy
www.savills.us/industries/industrial.aspx
Gregg Healy is Executive Vice President, Head of Savills Industrial Services Group in North America. Savills helps organizations find the right solutions that ensure employee success. Sharply skilled and fiercely dedicated, the firm's integrated teams of consultants and brokers are experts in better real estate. With services in tenant representation, workforce and incentives strategy, workplace strategy and occupant experience, project management, and capital markets, Savills has elevated the potential of workplaces around the corner, and around the world, for 160 years and counting