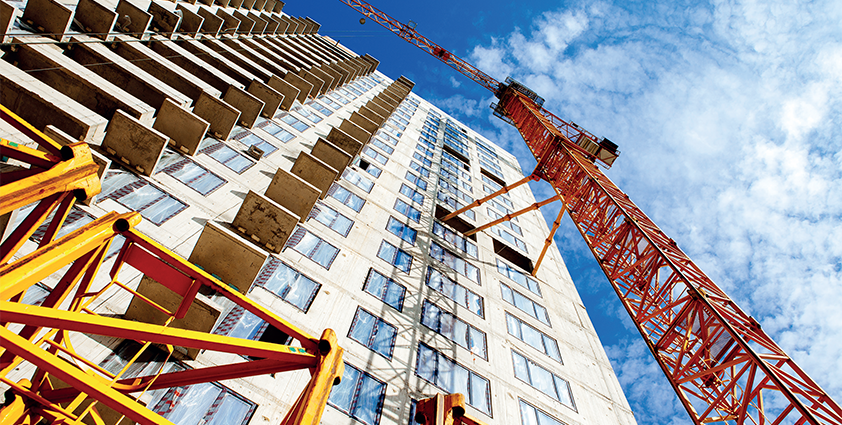 The upcoming Building Safety Bill in the UK represents a fundamental shift in the way we operate. This legislation promises significant change for the whole sector – from construction businesses and building owners and operators through to insurers and public safety organizations.
The enactment of the bill aims to create lasting generational change by "setting out a clear pathway on how residential buildings should be constructed, maintained and made safe."1 By resetting safety standards in the wake of the 2017 Grenfell Fire tragedy, the UK government will now require greater checks and balances to prevent similar disasters in the future.
These changes will go further than safety alone; there's the potential for a seismic shift in how construction is planned and executed. The construction ecosystem of today – from sole traders to serial owners – will need to reconsider how they use technology to meet the new requirements, which could bring significant wider benefits.
What are the key changes as a result of the Building Safety Bill?
The Building Safety Bill outlines that building owners will need to prove that they have effective, proportionate measures in place to manage safety risks for high-rise residential buildings. A golden thread of information for the lifespan of a building, from planning and construction through to occupation will be required. And importantly, everybody will have a responsibility to collect, store and share more data to create this golden thread.
For owners of existing buildings, that means creating an accurate, as-built record of facilities as they stand today. For new projects, it requires evidence about how work is actually completed – making construction firms even more accountable for the quality of what they build. Building owners will also be responsible for ensuring clear lines of responsibility for safety, with duty holders and an accountable person.
To ensure building safety is considered at every stage of design and construction, a new Gateway system will be introduced, overseen by a new Building Safety Regulator. They will also enforce compliance and stringent penalties for noncompliance could include criminal charges.
With all this change ahead, it's important that construction companies get prepared. And the changes will require both cultural and behavioral change.
How will this impact my business?
Owners: Arguably building owners face the biggest challenge from the Building Safety Bill. It will be critical to have systems in place to receive, and then manage and maintain, project data throughout the operational life of an asset. Owners will need to consider the best way to structure information to ensure that it's as easy to manage and access as possible when needed.
Main contractors: Many main contractors have been looking to improve the quality and depth of information they provide to owners for some time. But the new regulations will require an even greater level of transparency and information sharing. These changes will help contractors to build right first time – ultimately reducing delays, costly rework and waste, as well as improving on-site safety.
Subcontractors: All subcontractors will need to provide solid evidence that their workforce is properly skilled to deliver on a project, and that all work is completed and compliant, using digital technology. Many subcontractors will be able to access and use valuable information for the first time, opening up potential benefits and avoiding disputes with contractors and clients.
Architects: As duty holders during design and modifications, architects will need a greater focus on demonstrating compliance. Attention to detail and full transparency will become more important than ever, but at the same time facilitate closer working relationships with the client and other stakeholders.
How technology can help
Technology will be critical for all construction stakeholders. The industry has seen a rapid shift in the uptake and adoption of technology over the last two years – especially in light of the Covid-19 pandemic. There are tried and tested workflows and tools that can help firms of every size to prepare – and firms that are just starting on their digital journeys can learn from those that have been there before.
For construction businesses, there's still a wide range of choice when it comes to technology. The legislation doesn't specify a particular software or tool. Implementing Building Information Modelling (BIM) based workflows will be a highly valuable first step as information is updated in real-time and available to every stakeholder on the project as required.
To get started, firms should look at establishing common data environments (CDEs) on their projects. This provides a secure, accessible place to store all critical information. Construction management software can prove compliance during the build phase, and reality capture technology can scan any existing building for an accurate, as-built model.
Importantly, technology can not only enable businesses to demonstrate their compliance with the Building Safety Bill, but also gives firms the ability to capture data needed to improve outcomes like quality, productivity and sustainability.
Taking it one step further, companies can add and integrate high value capabilities like design coordination tools or digital twins, to their CDEs. This helps stakeholders continually analyze and improve their performance. They can capture lessons learned and be ready for future developments.
Laying the foundations for a better industry
The Building Safety Bill will require a far greater level of information-sharing across the industry. This added layer of transparency will bring many benefits but it's understandable that organizations might be wary about potential delays and costs.
It is important that every construction stakeholder understands the changes ahead and gets prepared early. While initially the legislation will apply to buildings over 18 meters, it may well be extended in the future – and these changes could impact everyone in the industry.
The bill offers many positives, and we must embrace the opportunity it will bring. We have a chance to evaluate how we work and establish best practice in construction, creating an industry we can all be proud of.
1 https://www.gov.uk/government/collections/building-safety-bill

Matt Keen is Senior Industry Strategist for Autodesk Construction Cloud in EMEA. Autodesk is changing how the world is designed and made. Its technology spans architecture, engineering, construction, product design, manufacturing, media and entertainment, empowering innovators everywhere to solve challenges big and small. From greener buildings to smarter products to more mesmerizing blockbusters, Autodesk software helps its customers to design and make a better world for all.
https://construction.autodesk.com