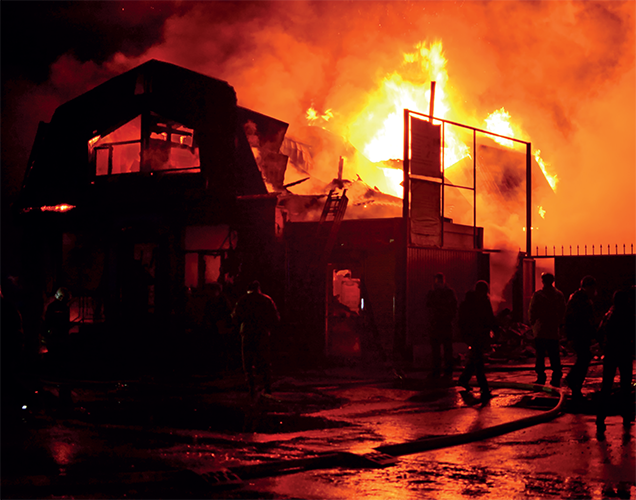 Fighting fire with technology
It is no secret that construction sites are full of potential hazards, and without the right protection it is generally accepted that a construction site can quite rapidly turn into a dangerous place to be. Fire in particular is a key concern. As recently as November 2021, ten people, including two firefighters, were hurt in a fire at a Brooklyn construction site*. While this is shocking, when you consider that a construction site is vulnerable to fire for many reasons, the fact that a fire was able to break out is unfortunately not all that surprising.
However, with the right fire protection technology in place at the very start of construction, alteration, or demolition, sites can be monitored for potential blazes and if they do occur can quickly be prevented from getting out of control.
Why is fire such a threat?
Busy workers on-site operating machinery are often close to sources of ignition, such as highly combustible materials and solvents. On top of this, fire could also happen during the construction phase as open sites are often more vulnerable to theft, vandalism, and arson. Further adding to this risk is the fact the typical building protection systems such as sprinklers, fire walls and detectors are not always in place until the final stages of construction.
For the reasons mentioned, both builders and insurance companies know that fire is a very real threat – so why are many construction sites choosing to operate without the best fire safety protection? Whatever the reason, whether it is down to time, cost or a combination of both, if a fire does happen being able to act quickly is crucial. If left to spread the consequences can be grave in terms of loss of life and finances.
To put this into perspective, according to the NFPA, local fire departments responded to an estimated average of 3,840 fires in structures under construction and 2,580 fires in structures under major renovation per year in 2013-2017. What's more, the fires in structures under construction caused an average of four civilian deaths, 49 civilian injuries, and $304 million in direct property damage annually. While those in structures under major renovation caused averages of eight civilian deaths, 52 civilian injuries, and $104 million in direct property damage annually.
Taking action
The NFPA Code 241 standards states that construction sites need to have security measures in place from the very moment ground is first broken up to and including the final phase of building. When it comes to hardwired fire detection, this can at first seem to be problematic if a reliable electricity source is not yet fully outfitted on the construction site.
Because of the lack of power, some sites still rely on outdated air horns as an evacuation method on construction sites. However, this does come with disadvantages. Namely, an air horn cannot provide site-wide evacuation as it isn't able to tell you where the fire is located, merely that there is a fire somewhere on the site. It can also be hard to distinguish the noise of an air horn above other background sounds on a site. Furthermore, there isn't the capability with an air horn to add in smoke / heat sensors and other added value functions such as a medical call feature. This is not the case however if smarter wireless fire safety technology is used in these scenarios.
The Ramtech WES3 fire evacuation detection system eliminates the need for a hardwired power source and there is no wired panel required as with most other similar systems. Each unit is powered by a battery with a three-year life under normal use to secure the job site during all phases of construction whether electricity is available or not. Each WES3 unit can also be mounted anywhere at all. With this fully customizable system, you can set out the units in the configuration that best meets the needs of your site.
Preparation is key
As well as being quick and simple to set-up and deploy, the WES3 system greatly helps with the creation of a construction pre-incident plan in accordance with NFPA 1620. If you have a site with hundreds of workers and something happens, it is important to be able to pin point where the fire is and to also evacuate workers away from the blaze. WES3 effectively achieves this objective because each unit can be numbered and named so that all alerts give a precise location.
WES3 protection is constant, meaning that no matter the time or place the fire can be detected and communicated to personnel via the use of secure radio frequencies. With an unlimited number of units able to be used per site, more units can be added as the build progresses. Repeater units ensure the signal gets a boost on especially large sites. An emergency signal can be triggered automatically or manually from anywhere. This is all possible without wires or cables and without having to rely on the presence of workers to detect and extinguish fires.
Saving lives
According to Lieutenant Chris Towski of the Cambridge, Massachusetts Fire Department, utilizing WES3 technology for early detection can be the difference between life and death: "As a fire safety advocate for buildings under construction I have learned how challenging the protection of personnel and property can be during vulnerable stages of the project. It seems appropriate to have products available that not only take advantage of the current innovations and technologies but offer future capabilities for expansion as well. Finding these products in place, used correctly, should assist the fire service with having real-time information and early notification to improve their duties and responsibilities for getting the job done."
Don't get caught out
In the event of an on-site fire, those responsible will be held to account. While the building owner holds the primary responsibility, it falls on the contractor to carry it out daily. Pre-construction planning documents and processes must be worked out with the fire department to clearly define the owner's responsibilities during the construction phase and ensure that the NFPA Code 241 is being upheld. The NFPA Code 241 standard has recently been updated to the 2022 edition and as such must be carefully scrutinized to ensure compliance.
Space Age can support construction sites to meet parts of the latest NFPA Code 241 by implementing the WES3 wireless evacuation and emergency system. Through advancements in the use of wireless fire safety technology – saving lives, protecting building infrastructure and safeguarding communities is made more possible than ever before. Those who choose to take advantage of this will reap the benefits of a more secure and safe future.
*https://newyork.cbslocal.com/2021/11/09/bay-ridge-brooklyn-construction-site-fire-fdny

James Mongeau is a principal on the NFPA241 code committee and director of business development at Space Age Electronics, who manufacture equipment in the fire alarm and life safety industry.
https://www.1sae.com/
Ramtech designs and develops industry-leading end to end Internet of Things (IoT) and innovative wireless solutions to suit a variety of different industries, including construction and holiday parks. Its wide-ranging communications and hardware expertise has been developed for more than 30 years. Ramtech's solutions – which are used across almost 30 countries worldwide – provide businesses with improved safety, security, operational efficiency, data insight, profitability and more.
ramtechglobal.com/wes/wes3