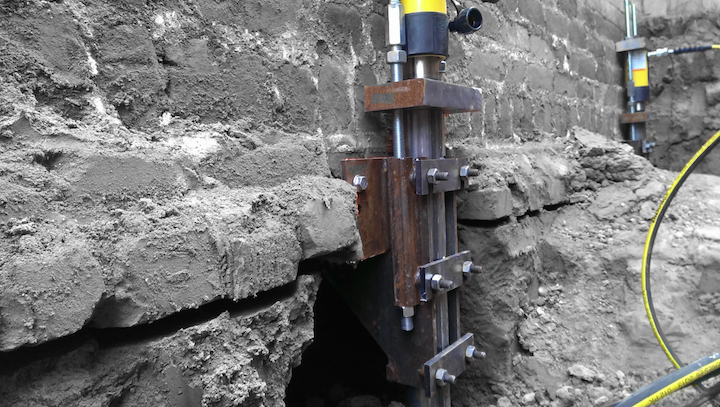 ECP continues to invest in its state-of-the-art manufacturing operation.
For more than two decades, Earth Contact Products (ECP) has developed its operation into a business of innovation, quality and service, all for its family of partners. As the leader in the foundation industry and one of the largest supplier of helical piles and helical tieback anchors in the United States, ECP supports professionals in the heavy, industrial, utility T&D, solar, oil and gas pipeline, commercial and residential construction markets. The company's repair solutions meet clients' specific needs, and part of this is the result of having the right facilities and equipment.
Based in Olathe, Kan., ECP operates from a modern manufacturing campus on nine acres and more than 100,000 square feet of space. At the same time, the company continues to enhance its operations by expanding its shipping and receiving area by 20,000 square feet, and plans to add an outdoor training facility by the end of 2020.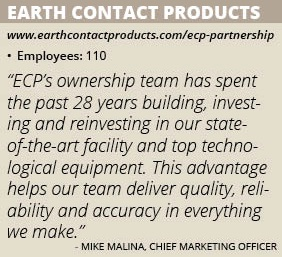 "ECP's management team has put together the most modern equipment based on completing the tasks of quality, reliability and accuracy at the facilities. This accomplishes the high standards of quality and innovation that sets the bar in the foundation repair industry," says Ray Sims, production manager. "Robotic welders have been in production making foundation repair brackets for helical piers and resistance piers since 2005, and all three robots have been replaced in the last two years. The robots weld foundation brackets from laser-cut parts, and each part is placed into a fixture for final welds according to ASTM and AWS standards. All of the parts are cut in-house on Amada 9,000-watt fiber lasers."
State-of-the-Art Service
The ECP facilities are equipped with the finest equipment to ensure quality for its clients. The company's tools include:
Plasma cutters with three-dimensional articulating heads;
Plasma tube cutters;
CNC machining lathes and mills;
High-production sawing with mitering capabilities;
3-D printers;
9,000-watt fiber lasers; and
FANUC welding robot cells.
Additionally, ECP has the ability to provide customers with specialty fabrications and custom solutions. The company is dedicated to remaining a made-in-the-USA manufacturer.
"As patent and trademark holders on more than 18 items, our engineering department strives to supply the very best service and support to our partners," Project Engineer Chad Banister says. "Based in the heart of a country that was built on service and reliability, ECP has continued to carry this torch throughout its existence. ECP proudly manufactures environmentally friendly helical anchors and foundations in our facility centrally located in Olathe, Kan. We proudly employ over 110 employees who are certified and trained in our industry. When time is of the essence, count on ECP to provide you with the highest-quality products and 24/7 dealer support."
Solid Team
The company notes it is made up of hardworking, talented individuals who continue to drive it forward. ECP stresses that its culture is one where everyone is welcomed and listened to, with partnerships that last for the long term.
"At ECP, our greatest asset is our people. Our team is as solid as the American steel we use in our products," the company says. "Our team includes experts in geotechnical and structural engineering, construction, foundation repair, foundation assessment, training and installation of repair products, to name a few. Like most global leaders, our strengths do not stop there. Our team also includes leaders from all areas of business that include marketing, logistics, accounting, technology, research and development and customer service.
"We're a company of doers, believers, and innovators. We bring with us original viewpoints and uncommon talents. But for everything that makes us unique as individuals, we have a lot in common, too. And the biggest of these is passion. That's why we develop leaders from every level and every region of the company. We make sure we do everything the only way we know how, the best way. We create the products and tools that make sure that the ground upon which we all stand is solid. We grow customers, vendors and team members into partners, and make their lives better by being the best in the industry. We solve problems."
ECP is owned and operated by Brad and Jon Michael Mitchell. The Mitchell brothers have been in the metal fabrication business for more than 40 years and in the foundation repair industry for more than two decades. ECP is proudly comprised of more than 300 partners nationwide, and it specializes in residential and commercial foundation repair, crawl space encapsulation, basement waterproofing and concrete lifting. The company's approved vendors give the network the cutting-edge technologies its partners need to succeed in today's competitive market. But it's the reputation of the ECP products that will make partners a local leader in foundation and structural repair.
"From failing foundations to wet basements, uneven floors to tripping hazards, we provide you with proven products to resolve your customers' problems," the company says. "Our products provide your customers with a single all-encompassing repair solution to help them protect their greatest investments: their home or their business."