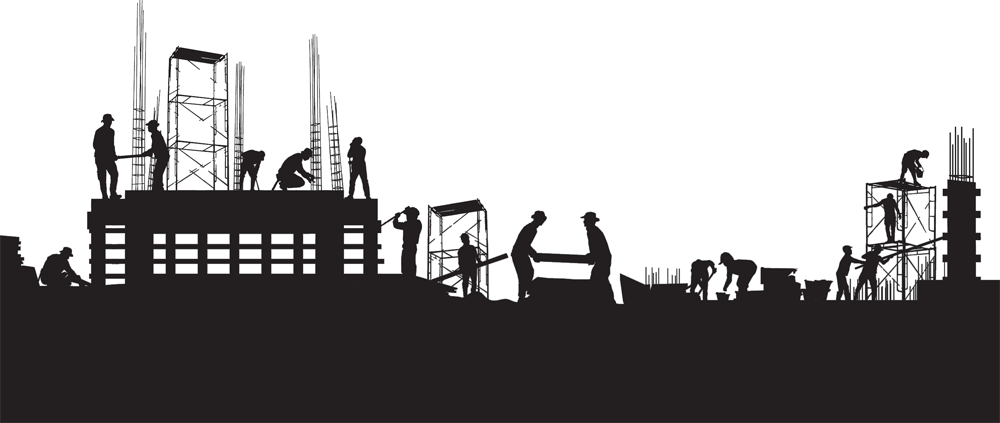 Construction industry productivity improves with project business automation. By Matt Mong
While Covid-19 is not past us, it certainly isn't stopping us. If last year has taught us anything, it's that project businesses must make changes to embrace new technologies and ensure they are not only more productive, but sustainable and profitable in the long run.
While many industries such as finance and online retail are already operating in the cloud, many project-based industries including AEC, project manufacturing and professional services are not. The fact is productivity in the construction industry has remained stagnant or even declined over the last few decades. This is not only due to poor project business management and the lack of technological innovation, but also the fact that construction companies fail to recognize themselves as a project business.
The problem is, construction, engineering and professional services are all seen as completely different industries, even though 80 percent to 90 percent of what they do is the same: projects.
Failing to recognize a construction company as a project business makes it almost impossible to organize and support the business processes in a way that sets contractors up for success. Chances are business processes are set up in a haphazard, disjointed fashion where nothing is integrated. Sound familiar? In addition, the problem is made worse due to the lack of business systems support for these types of companies.
Covid-19 has presented a rare opportunity to reevaluate how contractors look at their business and how they should set the company up for success in the future.
Construction must identify as a project business to optimize activities and investments
While project businesses have many traditional industry labels, essentially, they have the same fundamental business practice: they deliver their products and services through projects for their customers. Identifying as a project business is the only way construction companies will be able to understand how they should structure their business and what systems and solutions are possible.
Unfortunately, many project businesses operate in multiple systems and applications to run their business. These apps include project scheduling, project costing, estimating, budgeting, ERP, time and expense and more. Most definitely, it includes lots of spreadsheets.
The problem is many of these applications are not cloud-ready. What does that mean? They may not be accessible remotely, or the files and applications could be sitting on someone's desktop in the office, completely cut off from the rest of the organization. The data is spread all over the place and the ability to integrate, share and present that data is compromised in this setup. This also means contractors don't have real-time visibility into their projects, so they have no idea of the current status of the business.
This setup is why many project businesses have not taken advantage of the cloud Adopting a cloud strategy does not mean taking what you have and simply replicating it to the cloud. The goal is to consolidate disparate point applications into one comprehensive business system. Insights that used to take days or even weeks to produce now can be available instantly.
Construction firms now implement project-based ERP in the cloud
Traditional ERP systems do not work for project businesses simply because they were not built with projects in mind. Project businesses need a project-based ERP solution in the cloud that provides greater flexibility when it comes to updating the system or adding new modules.
The fact is, to be successful and profitable, contractors need visibility into all aspects of the business at any time, from anywhere and on any device. Deploying the project ERP in the cloud will increase productivity because employees can record time and expense, check the status of their projects, assign, monitor tasks, and review reports in real-time.
For project businesses, having real-time visibility into operations can mean the difference between low profitability and high profitability. It allows contractors to anticipate and respond to changing market conditions, meaning they can make and save a lot of money. In addition, having access to performance data in real-time means contractors can eliminate time-consuming and error-prone manual data collection.
Project businesses that run their business operations in the cloud lets them focus on proactively managing and delivering projects to their customers. The result is improved operational performance and shared information across the organization, making it easier to make better business decisions faster.
Project business automation transforms the construction industry
Project Business Automation (PBA) creates one end-to-end cloud system for project businesses. As a new category of business systems built specifically to support project-based companies, PBA standardizes, integrates and systemizes all project business processes so everything is connected seamlessly in real-time. PBA provides real-time KPIs that facilitate the acceleration and automation of business processes. This type of automation is simply not possible when managed in separate applications. PBA represents an opportunity for the future post Covid-19. It provides an effective and efficient path to the cloud for architectural, engineering, and construction companies.

Matt Mong, Vice President of Communications and Marketing at Adeaca, is a Project Business evangelist, leading thought leadership efforts for Adeaca. Mong has worked to define and expose the fundamental issues plaguing project-based companies today, and the solutions needed to fix them. He coined the product category term Project Business Automation (PBA), now adopted by Forrester, as a new approach to digital transformation for project-driven businesses.
www.adeaca.com