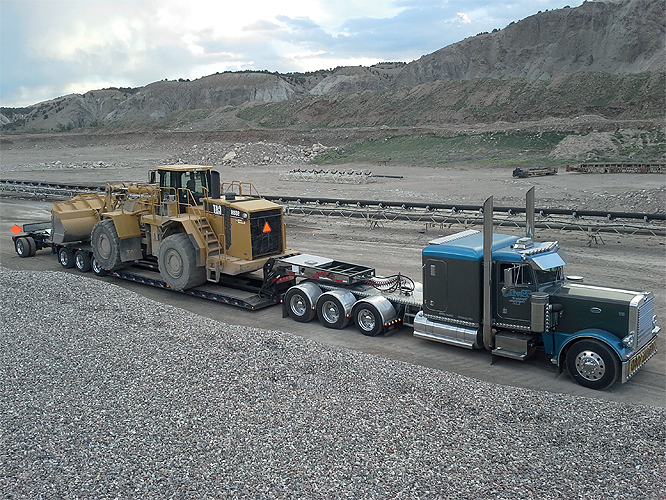 Five trailer sizing tips for earthmoving equipment. By Troy Geisler
Eshapes and sizes. From bulldozers to excavators, scrapers to dump trucks, finding a trailer to haul the necessary equipment to and from the jobsite can seem like a daunting task. But it's not impossible. Researching, answering questions and working with knowledgeable dealers and manufactures can help operators select the right trailer tomove their earthmovers – one that will safely increase productivity for years to come.
Here are five tips to keep in mind when sizing a trailer for earthmoving equipment.
1. Equipment weight and dimensions
The first step in sizing a trailer for any hauling job is determining the weight and dimensions of the load. Start by determining the length, height, width and weight of the machine. Be sure to keep in mind that the information on the spec sheet might not include the dimensions and weight with added accessories.
When making initial calculations, ensure availability of a truck that can handle hauling the equipment before moving on to the trailer. A 3-axle tractor and a 4-axle tractor will have different hauling capabilities
Some equipment will require special considerations, as well. Some excavators, for example, have adjustable track widths for operation or transportation mode. Be sure to figure out which mode will be used during transport as it may take time to make the necessary adjustments to convert between the two. For safety reasons, one half of the track or tire width of any machine must be on the deck, excluding the outriggers. While the standard 8-foot, 6-inch trailer might work on paper for a particular excavator's transport mode, one must be honest in how trailers will actually be loaded from job to job. Be sure to keep this in mind.
Accessories, such as an excavator's boom, are another area where operators will need to be aware of special requirements. There are various boom lengths, and operators need to consider where the boom will sit on the trailer and how it will be cradled. A low-enough position of the boom is critical for keeping the load within height restrictions. Some top-tier manufacturers offer customizations such as a rear bridge design that eliminates interference with boom placement and makes transportation safer and easier.
After determining the weight and dimensions, it's time to look at trailer deck designs. Manufacturers usually offer three deck configurations: flat, raised center and beam. Determining which one will be the best fit is a question for the professionals, as there are pros and cons to each. Custom trailer manufacturers have the experience and knowledge to determine what style would be best overall. While the primary focus might be a bulldozer or scraper, a trailer often hauls a variety of types of equipment. Backhaul equipment should also be included in calculations. An expert can determine the best trailer to meet all hauling needs. Here's a brief overview on deck designs to get started.
Flat – This is the standard deck design. It offers the most versatility for moving a variety of equipment. However, it also has the highest deck height and might not be ideal for taller machines.
Raised Center or 'RC' – This deck offers a lower deck height than a flat deck. Not all equipment will fit nicely over the raised center, though. For some machines, extra blocking might be required to make sure it sits safely on the trailer. This reduces efficiency when loading and unloading. For other 6machines, like certain models of bulldozers and scrapers, an RC deck might not provide the safest, most durable option.
Beam – Equipment straddles a central beam with this deck design, meaning it has the lowest ground clearance of the three. The main drawback is the lack of deck for accessories or smaller components. This configuration might not be suitable for all earthmoving equipment, as well.
2. Trailer Capacity Rating
While knowing the overall weight of equipment is imperative, it is also important to know where that weight is concentrated. An excavator might have a 10-foot track, but all of the weight might be in the 8-foot span between the front idler and the final drive.
Still, whether all of the weight is in 8 or 10 feet shouldn't be a problem for a 26-foot, 50-ton lowboy, right? Not exactly. The length of deck calculated in the capacity rating varies between manufacturers. One trailer might need the entire deck length for that 50 tons, while another handles that same weight in half the deck length. So, if the majority of the machine's weight is concentrated in 8 or 10 feet, a trailer with a half deck load concentration rating offers the best solution. Failing to pay attention to how the capacity rating is calculated can lead to overloading the trailer, which can result in stress fractures and ultimately trailer failure.
3. Loading Configurations
Today's trailers offer a variety of loading configurations. While tag-a-long trailers that unload off the back are an accepted option for smaller equipment in tight spaces, safety can be a concern. Driving over the back of the trailer is no easy feat and requires a careful and experienced driver to prevent damaging the trailer and minimize the risk of tipping the machine. Removable goosenecks reduce the safety risk by eliminating the need to drive up and over the trailer axles. This configuration saves time, hassle and expense while also extending the life of the trailer. However, keep in mind that a removable gooseneck requires ample space for loading and unloading.
4. State and Federal Regulations
Knowing where a trailer is headed is as important as knowing what it's hauling. In general, operators should not need additional permits for loads 102-inches wide or less and under 13 feet, 6 inches tall, but weight and height regulations vary for bridges and between states, especially trailers hauling in California and the surrounding states. Operators must also consider state king pin laws. Working with an experienced manufacturer will ensure a wealth of knowledge and expertise when it comes to making sure trailers and loads are safe and compliant for each area of operation.
5. Trailer Construction
Not all trailers are created equal. It's important to consider the quality of a trailer, not just the price tag. Working with a custom manufacturer offers the best results when it comes to safety, value and peace of mind. A trusted manufacturer will work to understand the client, not just the load. They will consider not just the earthmoving equipment, but everything the client needs to haul, the territories of operation and the specific challenges they face. The manufacturer will use that information to design a trailer that offers maximum flexibility, versatility and strength.
Also consider the construction materials. Look for materials like heavy-duty T-1, 100,000-psi minimum yield steel for extreme durability and longevity. Apitong flooring is another good choice because it stands up better than traditional oak and pine decking. Investing in higher-quality materials and components can double the life of the trailer, significantly enhancing ROI.
Trailers from a respectable manufacturer may also include positive camber in the original design. The amount of camber can be customized based on the estimated usual load to ensure the flattest loaded deck possible.
Ensuring the right trailer for the right application is a job best left to the pros, but with these tips, operators can get a jump start on the process.
Troy Geisler is the vice president of sales and marketing for Talbert Manufacturing. He has more than 15 years of experience in trailer sales, including five years with Talbert. Talbert has been building world-class heavy-haul and specialized trailers to rigorous customer specifications since 1938. The company offers complete lines of heavy-haul trailers and specialized transportation equipment for the commercial, industrial, military and government sectors. Its trailers and equipment are used in applications as diverse as renewable energy, aerospace, heavy construction, in-plant material handling, manufacturing and processing systems and much more.
www.talbertmfg.com