Look around you. Everything that is here is done through construction. From the Newgrange (Ireland), the oldest buildings ever discovered, to the chair you are sitting on, to the Lake Pontchartrain Causeway (Louisiana, USA), the world's longest continuous bridge (and maybe most boring to drive) over water, have all been completed using technology. The market demand is always putting pressure on technology to evolve. We can be 100 per cent certain that the technology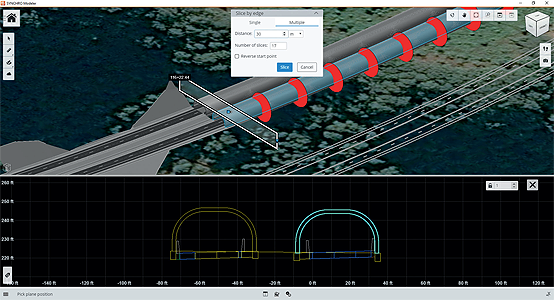 used in the construction of the Newgrange was not the same as the technology for the Burj Khalifa.
From 8700 BC through to the Industrial Revolution, most people worked from home. Then came a wave of technology. Machine technology and factories required us to leave the home, the new work processes were born. Then, in another shift after WWII, the US economy strengthened, business became larger, offices bigger and the eight-hour workday was here. 2020 brings another swift shift: back to work from home, and maybe temporary but maybe not. We can predict multiple situations of how this can play out. As we established, working from home isn't anything new. Some people have been transitioning for years. However, a large portion of all our major building, infrastructure and industrial projects don't have an option to work from home. So, how can we leverage technology to facilitate working apart by working together? And, even if skeleton crews and site restrictions are lifted, we can use this time to show technology is here to help, especially when people can't be. Those hesitant to adopt to technology have no choice but to embrace it. And those who implement technology want to be ahead of the class and first to produce the latest revolutions.
Project construction and management teams
Sure, some of the project management teams can work effectively from home, but they still must keep their field staff in mind, as well as getting the information back to themselves and the office faster with possible site restrictions or essential personnel only. Just running to site for a day is not a luxury that we all have in this current market. This now has to be planned into our schedules. The project management team is arguably the easiest group to transition into a remote collaboration workflow on a day-to-day basis. Teams can work on A-and-B shifts, splitting their time on site and back at their home offices. Activities that can be done remotely with the right collaboration tools to further improve efficiency include 3D/4D model reviews and digital rehearsals, equipment optimization plans in the 4D model, team and client meetings, using a dedicated project common data environment for all project data and document control, and planning and scheduling your 4D schedule.
What about the field workers and those that interface daily with the field
Most construction personnel are unable to do their jobs from a home office. The carpenters, plumbers, pipefitters, electricians, glaziers, and others are craftspeople need to be physically present to perform their craft. Additionally, supervisors, inspectors, HSE, among others all need to be physically present on site at some point to perform their tasks. But, beyond the requirement of having hands-on tools, craftspeople need the elements of TIME – Tools, Information, Materials, and Equipment. Remove one of these, and nothing will be built.
Tools, materials, and equipment can be managed when it comes to social distancing and contact through engineering controls, HSE procedures, and strong coordination. Coordination can come from CMT using effective 4D and 5D planning with digital rehearsals, what-if scenarios, and site layout optimization. Limiting on-site personnel by splitting shifts (morning shift and afternoon shift, and even a night shift) or scheduling rotation-based workweeks with longer days (seven on, seven off) can facilitate the same amount of on-site execution hours while spreading the concentration of craft personnel. Further, early 4D planning enables the optimization of equipment, access routes, and material drop points.
Transfer of information
The transfer of information, however, is a different nut to crack in a decidedly paper-based part of the project. Grabbing construction drawings, producing an RFI, getting an RFI response, submitting one's daily report—all of these common daily needs of the field are done on paper thus increasing exposure and often stretching the boundaries of social distancing requirements in our new normal. This is where the rapid embracing of communication technology can enable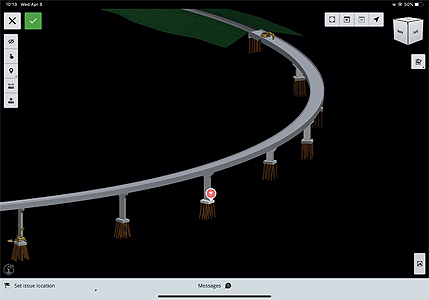 streamlined information sharing to the builders of the project. Leveraging office-developed project data in the form of schedule info, equipment plans, drawing and spec field crews take concept and plans and make it reality.
Doing so does not have to be difficult. Digitalization of construction information sharing is paramount, and the technology exists today to enable this in a safe, easy, and effective manner. The typical large infrastructure project generates over 100 million emails, over 50 million documents, and less than five per cent of that data actually gets used. Imagine what one could do using even five per cent more of that data? The analytics you could do on productivity, effectiveness, and safety or the lessons learned that could actually be used to enable an even better design on the next project.
By enabling a digital construction communication strategy through a series of connected tools, construction teams can decrease the amount of CMT personnel required on a job site, as well as effectively manage the risk to staff on site, get better and quicker information to and from the field, and ultimately end up with a safer, better executed, and better end product – both asset and digital asset data.
How Bentley SYNCHRO Helps
Using the SYNCHRO portfolio, powered by iTwins technology, construction teams are engaging with their projects via a construction digital twin. A construction digital twin allows better alignment and coordination among the project teams. It also provides accountability and accessibility to construction data. Here is an example of how SYNCHRO workflows are used on projects.
Leveraging the quantity take-off capabilities of SYNCHRO 4D, planners are adjusting constructible sections of scope to meet crew distancing requirements while the estimators receive an accurate quantity take-off of materials.
The information from SYNCHRO 4D Modeler feeds into SYNCHRO 4D Pro where planners are updating their schedules with the expected impacts of work stoppages, crew size changes, multiple shift assignments, and material or equipment delays.
The updated schedules are pushed through SYNCHRO Control to enable the distributed CMT to review the 4D schedule from their home offices and identify issues or optimizations in their schedule – marking this up in SYNCHRO Pro and sharing, in real time, with their distributed counterparts for discussion and updates.
While working in SYNCHRO Control, CMT is accessing their connected documents for project execution and making markups to be shared with the team in real-time. RFIs, issues, and daily reports are being created and addressed all while linking the context of time, location, and 3D model to help staff improve decision-making.
Leaving the site office, supervisors and crews are accessing the information they need, when they need it, through SYNCHRO Field – with a live, or offline, connection they are able to access all the documents they require, generate RFIs and issues with location, model, and photos. At the end of the day they are generating a daily report with the day's activities, challenges, and next day's plans. And, the model that was used to plan the project from far away, it is now in their hands on their iPhone or iPad, eliminating trips to the trailer to see the 4D planner.
Inspectors are using SYNCHRO Field to inspect installation activities, capture QA requirements, attach documents and photos, and push back to Control in real time, and get their companies paid on time.
By enabling a digital construction communication strategy through a series of connected tools, construction teams can decrease the amount of CMT personnel required at the site, efficiently manage the risk to staff on site, get information to and from the field quickly, and ultimately end up with a safer, better executed, and a better end product – both asset and digital asset data.
Ryan Posnikoff is Bentley's director of construction services for the Americas and his co-author Beth Buerger is Bentley's director of construction product management. Bentley Systems is a leading global provider of software solutions to engineers, architects, geospatial professionals, constructors, and owner-operators for the design, construction, and operations of infrastructure. Bentley Systems employs more than 3500 colleagues and generates annual revenues of more than $700 million in 172 countries.