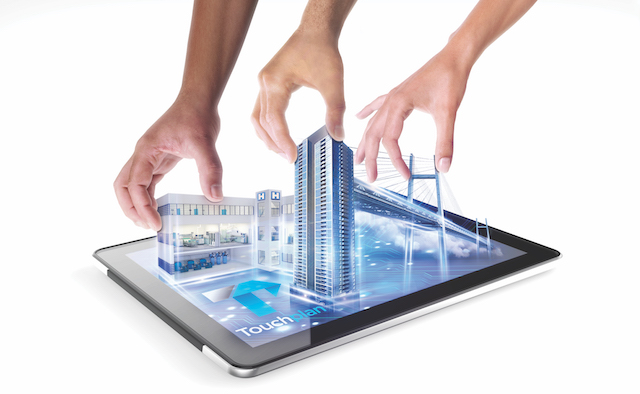 Touchplan helps deliver excellence by enabling teamwork.
Collaboration is key to the success of every construction project. Although it can be difficult to get all participants in alignment, Touchplan can help. "What we realized was excellence is only achievable if the entire team is on board from beginning to end, " says Vice President of Sales and Marketing Elizabeth Long.
Based in Boston, Touchplan offers a web-based construction collaboration tool that helps clients grow their businesses through a nonstop plan that everyone puts together. Touchplan is a spin-off of MOCA Systems, which started as a construction technology operation nearly 20 years ago doing research and production scheduling at the Massachusetts Institute of Technology.
Long says, "In a time of extreme connectivity to information, we lack a single record of what we've agreed to do and how it's actually progressing. Touchplan provides a seat at the table for everyone, where we can all recall what we've agreed on and collectively modify it in response to external events." In the five years since its inception, Touchplan has worked with over 800 projects, affecting over $22 billion of construction.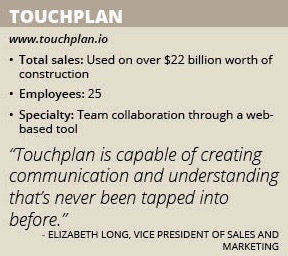 Change Is Hard – But Needed
Even though there have been technological advancements over the years, the industry has not changed very much "from when we started to where we are today," Long observes. "There are still some big issues affecting all aspects of a project that nobody has figured out a solution to that people actually want to use."
But Touchplan has proven to be a catalyst of change for the industry. "There's been a shortage of skilled workers for quite some time, but nothing has been done to really make an impact on this growing problem," Long says. "Sometimes I joke around and say I'm telling the same story to our latest customer that I was telling to our first customer." This labor shortage is made even more difficult by increasing project demand as well as the complexity of the jobs themselves. "The difference is, we are able – and excited – to work with the resources that companies and teams have available now, especially the people."
The people on the job using the tool are a group Touchplan has invested in and learned from since day one. "We're seeing success getting folks to shift to a collaborative model where everyone's working to get the project done as efficiently as possible, using Touchplan," Long says.
Touchplan helps increase efficiency by facilitating Lean construction, a planning strategy that improves processes to minimize costs and maximize value by focusing on what project owners need. "The focus for us is getting everyone who is actually doing the work to communicate and plan together clearly before they get out in the field and do it," she says.
Share a Place to Plan
Touchplan helps construction teams accomplish that efficiency through its digitization of the Last Planner® System. The short-term production planning system is designed to ensure a predictable workflow and quick learning in the programming, design, commissioning and construction of projects.
"What we facilitate is getting all the subcontractors and trade partners together and setting milestones," Long explains. "We create a plan that everyone executes from, as opposed to the traditional model where somebody makes a schedule."
Usually, she says, those traditional schedules are distributed and never used. But Touchplan is meant "to give the field and the people who are actually doing the work a place to plan," she says. "There's technology to create multidimensional models, imagine the building process, to help with information requests and to assess project details after everything is complete, but nothing to help execute the work of the trades to actually build the building. We fill that void."
Just as Toyota advanced through its production system that became Lean manufacturing, Touchplan is doing the same in construction, Long says. "The next step is building the most efficient plan with that group of people and getting them to understand how they each work," she explains.
That process encourages individuals to prioritize the entire project, rather than solely their own work. Already, Long says, clients have seen strong results using Touchplan to facilitate the Lean process. While it often helps customers enjoy time savings of up to 15 percent, "We have projects that are in the 20 percent savings [range]," she reports. "So many clients tell us after they use Touchplan it leads to them receiving requests for new projects based on better reputations."
The New Normal
Touchplan previously spent much of its time trying to convince people to implement Lean processes in their work, but that focus has changed since its early days. "We heard the success people were experiencing by using our tool – even if they didn't completely accept the idea of Lean. So now we're focused on teaching people how to follow the Touchplan process well," Long says. In addition, Touchplan's goal is to share clear, easy-to-understand content and support for everyone, from those just discovering it to advanced users.
The company has also seen how the culture around tech has changed on the job site. When they initially started working with teams, one of the biggest objections encountered was that trade partners did not know how to use technology. "Now, we're at the point where everyone who walks onto a site has a device and uses it throughout the day, every day," she says.
Touchplan has leveraged that familiarity. "Ours is one of the only construction tools designed to be as easy to use as the basic apps in your phone." This stands in contrast to the tools offered by the company's competitors. "Most of the other construction technology is very, very complicated," she says.
Touchplan also makes sure its technology is state of the art. "We're constantly updating the tool based on real-time feedback from our users," she says, noting that the capabilities of its system have significantly grown over the years. "Integrations with the likes of Procore for RFIs and evolving, intuitive visuals and processes are just a few of the natural updates we deploy on a regular basis. Nothing that interferes with current customers' understanding, but things that make everyday use that much easier."
A Breakdown of Barriers
Touchplan helps construction teams break down communication barriers during projects. For example, in the past, Long says, customers would make handwritten notes for changes that later had to be translated to spreadsheets. "There are at least a dozen ways that can go wrong," she adds.
With the company's system, "You can instantaneously work from the plan you created with no discrepancies on what was written or meant, and have that shared live with everyone on the project," she says. "This is important for the team to develop something that's very efficient and for them to adopt it and keep using it. Too often solutions are abandoned because teams don't experience immediate benefits. We're proud that the advantages to Touchplan are able to be seen right away and continue throughout the project straight to the end."
This has helped clients move away from processes that made them less connected to the work being completed. "We've eliminated that barrier," Long says. "Our tool makes it easier for everyone to plan and execute the project together."
"There's no telephone game," she adds, noting that this also allows project teams to look at mistakes and quickly learn from those errors. "We have project teams that learn and execute better this week than they did last week."
Undeniable Momentum
Touchplan is used by more than 12,000 people globally today and is growing every day with projects and organizations of all types. Long says the company works closely with teams that are ready to work together to produce excellence.
"The teams, jobs and organizations we get to work with are all unique and fantastic," Long observes. "We see everything from fit-outs to specially crafted hospital wings — from infrastructure, education, healthcare and beyond. Teams start with one job, then the success they experience is spread to other projects within the company. We also support entire operations by standardizing collaboration and efficiency across all projects.
"People are looking to change the culture of projects and company environments to always be able to deliver excellence rather than leave it to chance."
Leaders at the organizational level and in the field need to be fully committed to using the tool. "The best teams have always been able to influence implementing this," she says. "If you fully embrace the power that Touchplan can provide, there's no limit to the success you'll see. It does and always will require the human element of acceptance and usage, though."
The ultimate decision to implement Touchplan's tool, Long notes, is usually made by the project's owner. "They're also driving the requirements for that efficiency," she says.
What's on the Horizon
Long joined Touchplan nearly five years ago. "Since then, I've been a part of every project we've touched," she says. "We are connected to the customers and the project teams."
One piece of advice she has for potential teams is to not be resistant to change.
Otherwise, if the users enter the process with the mindset that making changes will be difficult, then "it will be everything that you think it will be," Long cautions. The teams that accept change, she explains, will see far better results. "Change is only hard if you think it is," Long says. "Focus on the outcomes of efficiency and collaboration, not the change."
Long knows the growth ahead for Touchplan will include building more tools. "I also see us partnering with more general contractors, subcontractors and owners who are tired of the status quo and are looking for more ways to propel their businesses by sharing live data from the field," she says.
This will involve more partnerships throughout the lifecycle of construction, she predicts. "We want to continue to support and create tools that help everybody be more efficient," Long concludes.