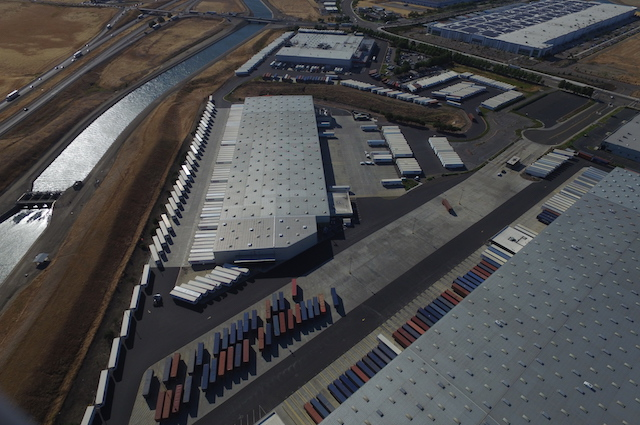 RMC begins work on a new 500,000-square-foot e-commerce structure for long-time client Costco.
When others say it can't be done, RMC Constructors proves them wrong time and time again by taking a team-based approach to projects where safety and quality are never sacrificed for timeliness, and a deadline has never been missed in its 36-year history. "There isn't a client out there that really wants to do business with a construction company because it's not their business, it's their necessity," President, CEO and co-founder Cal Roberts says. "If it's a retailer, their goal is to get the doors open, cash registers ringing and get us out of the way as soon as possible."
As one of the premier construction management firms on the West Coast today, RMC Constructor's arena of expertise is overseeing the construction of big-box retailers and industrial distribution centers west of the Mississippi River. Roberts co-founded the Fresno, Calif.-based company in 1983 as a design/build firm for the medical sector, but RMC Constructors quickly expanded its portfolio during the recession of the mid-80s.
"In 1985, a small, privately-held company called Costco approached us about the design/build of one of its first locations in California. The relationship we established carried us forward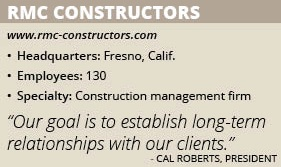 and continued on with the design/build approach on the next six of their projects in California," Roberts remembers. "When Costco went public, they brought in MG2 Architects in Seattle as their proprietary facilities architectural firm that we worked closely with and continued to build that relationship. The momentum has only continued as we all have grown. As a result, RMC has built more Costco locations than any other firm in the world."
RMC quickly made a name for itself in the retail sector because of its ability to turn over a Costco for merchandising 85 days after sticking its first shovel in the ground. "There were so many who said that it couldn't be done, that the schedule was too intense. 'Watch,'" Roberts remembers. "The industry now knows we can do it and are creative in our approach, especially when Costco challenges us to do it even faster. We were challenged and built a ground-up facility in 61 days. We have been able to do so because creativity and innovation is constantly evolving while we stay on the cutting-edge of technology."
RMC has also been responsible for the construction of Costco's first and second meat production facility in Tracy, Calif. "Costco has been quite a unique relationship for us and we recognize that one doesn't find such a symbiotic relationship in this industry very often," Roberts notes. "We have built many of their facilities across the western United States. Costco continues to be a very important client of RMC."
Personal Connections
RMC attributes its success to understanding the client's needs before ever entering into a relationship. "We sit down and have a conversation with each client to understand their intent, vision and what their needs really are," Roberts notes. "We then put a schedule together that exceeds their wants."
The company believes making that personal connection is a differentiator as many construction management firms only look for the opportunity to make a profit. "When we were working with Lowe's, I regularly flew to North Carolina to meet personally with the president and vice president of construction. We had a long conversation about their buildings in the west," Roberts remembers. "It is imperative that we are able to communicate with each other. That we understand their culture and their intent; that has been the key to our success."
That same mentality extends to its subcontractors and suppliers. "We have established a database of trades in each of our market areas. They are graded on every single project in terms of performance, successes and failures. Honestly, we ask that they grade us too," Roberts says. "We ask for that report card to understand how we succeeded on each project and where our failures were, and how we can improve. Our subs and suppliers are critical to the success of our organization and to the success of our clients."
RMC Director of Business Development Ben Mei says, completing every project is a collective effort between RMC and its subs. "As long as we continue with a well-built management team that can iron out the details, for instance in building Costco in 85 days, it is a directive from RMC management to seek out qualified local contractors to team up with and present a quality product to the owner," he adds.
The Wave of the Future
When Costco began building distribution facilities in 1991, RMC took the mantle and built the first in Tracy, Calif. What began as a 400,000-square-foot cross-stock distribution center has been transformed repeatedly by RMC over the years into 1.4 million square feet with an additional 80,000-square-foot meat production facility. "We are back there again getting ready to add on 500,000 square feet including a new e-commerce structure," Roberts notes. "It is about an 18-month project that will greatly enhance Costco's position in the e-commerce sector of retail."
E-commerce continues to be the wave of the future and RMC expects to see more facilities built in response. Costco's e-commerce facility will fall in line with RMC's experience in the industrial sector. "E-commerce fulfillment centers have many levels of conveyor systems that weave back and forth and cross over one another with a much higher facility requirement," Roberts explains. "This facility will reach 45 to 50 feet in height."
In addition to the Costco facilities, RMC recently completed the construction of Delta Shores, Sacramento's largest new retail development. The 97-acre, master-planned development will feature 1.4 million square feet of retail when all phases are finalized. Over a period of 18 months, RMC completed the design and construction of phase one of the project that resulted in 90 tenants and more than 500,000 square feet of retail.
"Being a general contractor on a large project is akin to being a conductor of a symphony orchestra," Roberts says. "It's critical to keep each piece in tune and time or the entire orchestra is out of sync and sounds terrible. To be successful in today's construction market, each project must be orchestrated in perfect harmony."