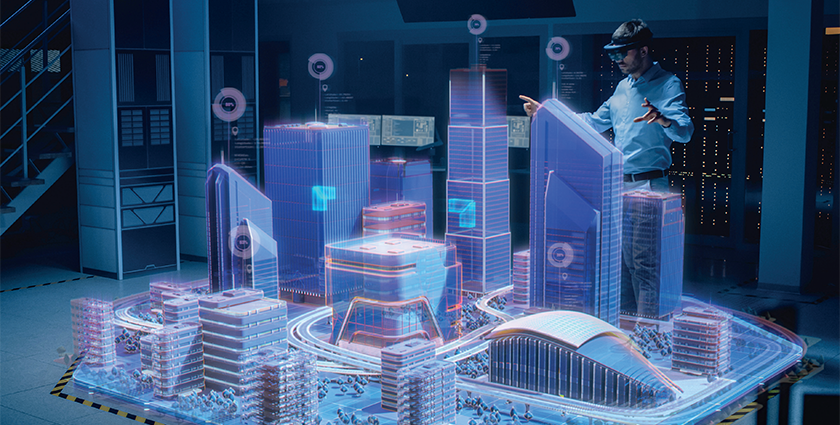 As we race to net zero, businesses and people alike are reengineering their traditional processes for a sustainable future. Due to growing populations, increased housing demand and pressure to be sustainable, traditional building processes are no longer a fit for our post-pandemic needs and it is essential for the industry to take a digital-first approach to meet these increasing demands.
Currently, 30 percent of global worldwide waste is created by the construction and demolition of buildings. If this wasn't scary enough, 40 percent of global CO2 emissions are created by buildings alone. These stark statistics show that we must act now.
Changing the operations of the construction industry is no small task. The sector must maintain a high level of efficiency, whilst being safe and complying with ever-changing regulations. Adopting the right technologies will be crucial in navigating the industry's path, providing better collaboration and avenues to explore more sustainable methods of working.
Where does the industry begin?
Construction has been years behind in digital transformation and productivity growth as building projects not only have bespoke requirements but also need to comply with many regulations to ensure safety. Currently, it's in a state of disarray with spending and cash flow issues skyrocketing and the rising costs of land, goods, and services. Furthermore, The Department for Levelling Up, Housing and Communities (DLUHC) in the UK announced major Building Regulations changes which came into effect in June, one of which states that new homes in England will have to produce around 30 percent fewer carbon emissions, and new buildings such as offices and shops will have to cut emissions by 27 percent.
With this, the UK government hopes it will go some way towards tackling climate change and act as a roadmap for the industry and homeowners to reach its net zero targets for 2050. However, the industry needs more than just changes to regulations.
The traditional linear take-make-dispose construction model is no longer relevant, and the industry is preparing for a new model of how global buildings are planned, designed, and even dismantled. The start of a building no longer begins pen to paper. Instead, its inception starts in a fully collaborative, virtual environment: a process called a virtual twin.
Embracing virtual twins
A virtual twin is, as the name would suggest, a virtual version of a process, product or service, which creates a two-way link between the physical and virtual world. This works by replicating a process or product's behaviors or assets in a virtual environment, all before it's made in real life. This can be a particularly powerful tool as it allows you to test construction sequencing and logistics scenarios, providing a greater pool of data to analyze the likes of building operational performance, and even test new materials that could be more sustainable. From the resulting data, you can make data-driven decisions that can drive down costs and boost productivity.
Hosted on a virtual platform, all participants in a project, can see everything taking place and collaborate on decisions made to improve future buildings constructed. For example, you can simulate how a building might consume energy and create a new framework to reduce this.
So far, the virtual twin opportunity is largely untapped primarily due to the fragmented and complex nature of the industry — with only ten percent adoption globally. However, there is a real opportunity to address some major challenges in the industry including the breaking down of siloes and fostering new levels of quality and efficiency in products and operations. First movers and bold decision-makers will gain market share and competitiveness for sustainable business success.
Putting virtual twins to the test
Bouygues Construction, an international leader in construction and services is a great example of a first mover. Working across construction, infrastructures and industry, its aim is to become an international name present in every area of the construction value chain. To do this, it is optimizing its wider digital transformation strategy with the use of virtual twin technology.
Its current ways of working have been unchanged for several years and can't just be changed overnight. Instead, it started small, transforming a local Art Deco Leclerc swimming pool in Pantin, Paris to see how effective this approach would be in improving the way it traditionally works using paper, wall displays, and highlighting, while structuring more efficiently our processes through digitalization.
The result showcased this practice could be introduced at scale and help to build the next generation of solutions that will address the construction industry's key challenges and support customization at scale.
This will bring a wealth of benefits to future workers in the industry including health and safety for our workers, right through to transforming the customer experience for the better by meeting specific needs in a very productive way, while shortening design and construction times and following up with accurate progress reports.
Bouygues Construction is proof that for the industry to make significant strides, it needs to adopt technology to support its venture. Construction plays a significant role in a new era of technological breakthroughs, digitization, and virtualization. What was technologically inconceivable even a few years ago is now feasible. Virtual twins offer the construction ecosystem a unique opportunity to reset and reshape its future by leveraging real-time planning simulation tools that drive data driven decisions. Virtual twins are today's levers of sustainable competitiveness for construction companies to connect societal and regulatory demands with internal efficiency gains and growth opportunities, paving the way for a more sustainable and human-centric future.
For a list of the sources used in this article, please contact the editor.

John Kitchingman is MD, EuroNorth, at Dassault Systemes. John Kitchingman is MD, EuroNorth, at Dassault Systemes. Dassault Systèmes, the 3DEXPERIENCE company, are a catalyst for human progress. We provide business and people with collaborative 3D virtual environments to imagine sustainable innovations. By creating virtual twin experiences of the real world with our 3DEXPERIENCE platform and applications, our customers push the boundaries of innovation, learning and production to achieve a more sustainable world for patients, citizens, and consumers. Dassault Systèmes bring value to more than 300,000 customers of all sizes, in all industries, in more than 140 countries
www.3ds.com