The sky's the only limit for SmartRoof's growth and impact trajectory
Through the roof
As a relatively young company, founded in 2016, SmartRoof's story has been one of consistent growth, thanks to hard work and dedication. Speaking to Construction Today, COO, Sean O'Reilly, explains that the company's core values have been the guiding lights for organizational growth and direction.
"The business has been built on creating the type of culture and environment in which your friends and family would want to work. This culture has a knock-on effect on the standard of customer service we deliver and an enhanced positive impact on the lives of our 5000 plus customers."
Spotting a gap in the market, SmartRoof's founder, Joshua Jerge, embarked on the business from a background in industry sales. Bringing in friends and family and inviting friends of friends to join him, the business has grown from humble beginnings to become one of the fastest growing companies on the east coast and counts itself among the top 50 roofing companies in the country.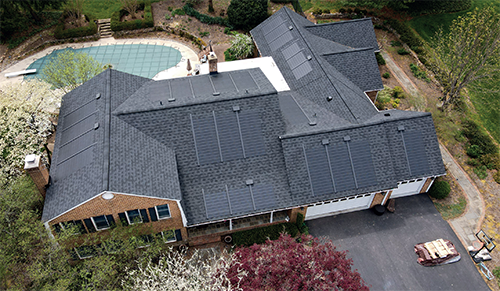 "The majority of our business is residential roofing and solar solutions," continues Sean. "We use technology to make homes smarter; enabling our customers to save money on energy and reduce their environmental impact. Servicing Virginia, Maryland, Pennsylvania, Jersey, Delaware, DC and Florida, SmartRoof is now one of the largest businesses in our industry; giving us access to resources that improve the experience for our employees, customers and community."
Indeed, SmartRoof seeks to maximize value for its customers which is evident in its superior product offering, enhanced warranties and workmanship. This comes to life in its partnership with GAF Energy, which has disrupted the solar roofing market in North America. Among one of the first in the region to offer GAF Energy's new, award-winning Timberline Solar roof, SmartRoof was proud to provide feedback during the development process, thereby facilitating early access to the product, positioning itself as ahead of the curve and able to offer the future to the US market before its competitors.
Timberline Solar incorporates roofing materials directly into a clean energy-generating system; resulting in a durable, attractive roof that produces energy. As Sean explains: "The product aligns with what we are doing as it is innovative and integrated. It has removed several layers of installation complexity and offers a single warranty. Strong and water-shedding, the product is able to withstand winds of up to 130 mph and with a 25 year-warranty, it offers the best protection in the industry. To date, we have sold and installed the most Timberline Solar roofs in the US. It is a truly ground-breaking product that will help us to become energy-independent and save our planet."
Currently serving the east coast, SmartRoof has plans to expand its reach over the next five-to-ten years. The business' field and sales functions operate from satellite offices, allowing it to pivot more effectively with decreased infrastructure and overhead requirements. Sean explains: "We have a lot of guys in the field and with the right technology, we're able to work remotely and standardize our procedures. In fact, we have recently switched to a new workflow management software called GiddyUp Roofing, which helps us to manage and grow the business. With a simple and easy-to-use program, we can manage canvassing, sales, jobs, production and even communicate with homeowners through a branded customer portal. It has offered us enhanced flexibility, operational efficiencies and opportunity for growth We are really excited about moving forward with greater clarity and more accurate data that enables faster and better decision-making."
As touched upon earlier, SmartRoof is proud of its culture and sees itself as much more than a roofing and solar solutions company. "SmartRoof focuses on roofing and solar services. But ultimately, we are more than just a roofing and solar company – we are a life-changing company," Joshua says. "The team at SmartRoof comprises hardworking, motivated individuals who want to perform, improve and make a difference. At every level, team members are given the support and resources they need to grow professionally, financially and personally."
"If we can positively impact the people that work at SmartRoof, it allows them to positively impact our customers, the people around them and our vendors. We often talk about a ripple effect. People are at the center of what we do, and we focus on making sure we take care of them first," shares Sean.
"We are also innovative in the way we encourage our people to be their best. We stage fun competitions and events to encourage and engage our teams. Our workforce is relatively young, and we have several sports groups throughout the company. Our sales and marketing teams, particularly, have several light-hearted and fun competitions throughout the year that mirror sporting events; all with the aim of boosting performance in a fun and friendly context.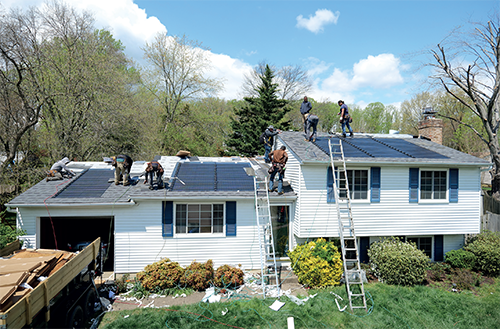 "We started our Smart League this year, based on the English football model of promotion and relegation, with prizes awarded accordingly. This type of incentive encourages consistency and the desire to improve and advance. It creates a real feeling of competition but in a fun way. In terms of our sport-oriented incentives and development, we talk about mindset, focus and growing as individuals. We reward this effort by investing in our people. We take our top quarterly performers from both sales and operations to conferences and other events with a focus on health and fitness or personal development. Whether a leadership event or conference about personal finance, whatever it might be, we offer opportunities for our people to grow and learn core skills for success."
As Sean reiterates: "If we can have a positive impact on our people, they can positively impact our communities in turn. We change lives in our communities by giving back. We have supported a range of organizations over the years, such as Habitat for Humanity. From sponsoring projects to helping individuals, we have been able to play our part in improving the lives of those in our communities. This culture of giving extends to our people who are always willing to support and sponsor both colleagues and strangers in times of need."
SmartRoof extends its culture of positivity to all relationships, across the board. While the supply chain may have been strained over the last couple of years, it has not been such on a personal level, as the business was able to navigate challenges due to its positive relationships. "One of our biggest partners is ABC Supply," says Sean. "We also have good relationships with our other vendors. While there is a transactional side to these relationships, we view our suppliers as partners, and we can't do it without them. In turn, we can have a positive impact on their businesses and people With good communication, we have really been able to navigate a lot of the biggest challenges pretty well in the last few years."
Looking back over the past couple of years in more detail, Sean confirms that it hasn't been easy. "The pandemic has been our biggest challenge. As I've said, we are very people-focused. For a while, we had to do mostly zoom calls and for a growing company, trying to standardize protocols and hone changes, in terms of communication, we really missed easy, face-to-face interaction.
"That said, we were able to overcome it and hold both internal and client meetings online. Ultimately, with multiple offices, we need to do that anyway, so it has pushed us in a direction we needed to go in terms of figuring out how to get the best out of technology and build relationships in whatever way possible.
"An additional challenge not related to the pandemic has been how to maintain the culture we're so proud of as a fast-growing company. Our team is doubling every year and we need to ensure our culture is as solid as ever. We want our people to feel the same way now as they did four years ago when we were just a team of ten. That is a big challenge and an exciting one; our focus is on maintaining what has brought us to where we are today, even as we continue to grow."
Having curtailed its growth somewhat in recent months to be able to fully focus on embedding the new CRM system and other operational processes, the team at SmartRoof plans to regroup, ready to focus on further growth moving forward into 2023.
As Sean states: "The more we grow, the more we are able to bring in revenue and have a positive impact on more lives. We want to continue to open new offices. Over the next five years, we will have twice as many locations. We are aiming to expand our reach into the southwest, and continue to grow in the northeast and Florida.
"Our goal is to be a billion-dollar roofing and solar company," Joshua summarizes, when reflecting on Smartroof's goal for the future. "However, that revenue mark is simply a measuring stick for how many lives we positively impact along the way. Our goal for the next five years is to aim to double each year in pursuit of that major milestone."
www.smartroofinc.com