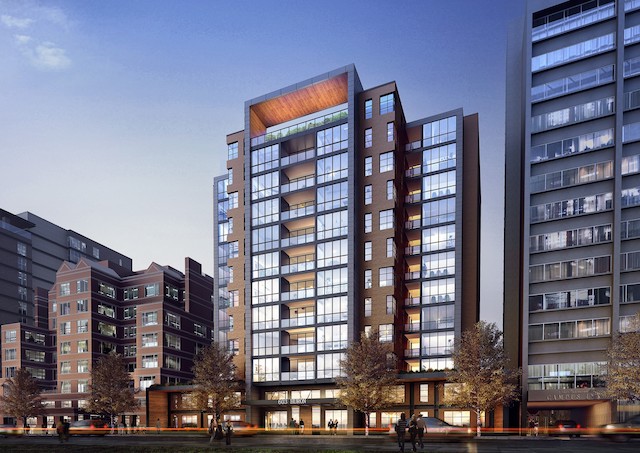 Spence Brothers is at work on two high-rise student living projects in Ann Arbor, Mich.
By Alan Dorich, Senior Editor at Knighthouse Media
Not many companies last through four generations of family leadership, but Spence Brothers has continued to thrive for decades. CEO Herb Spence III explains that the company has done whatever was needed to survive the tumultuous construction industry.
Previous generations, he notes, made sacrifices and took advantages of good times to grow the company. And the recent generation has "been willing to change how we deliver projects and add additional services such as construction management," he says.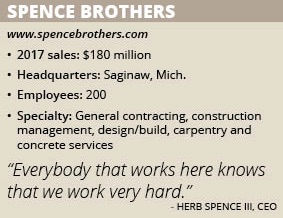 Based in Saginaw, Mich., Spence Brothers offers construction management, general contracting, design/build, carpentry and concrete services. Brothers Matt and Hugh Spence started the firm in 1893 in response to a fire that destroyed much of the east side of Saginaw.
Together, the two rebuilt homes and other structures that had burned down. "They grew rather quickly after that," Herb Spence says, noting that Spence Brothers now employs a staff of 200 and enjoyed sales of over $180 million last year.
Today, many Spence family members are still involved in the company, both in leadership and on projects. "About half of them really love to be out on the job site," he says. "It's a dedicated group of family members, who do what is needed to make us successful."
High-End Housing
Spence Brothers is at work on its Hub Ann Arbor and Six11 projects, which are private developments marketed to University of Michigan students in Ann Arbor, Mich. The company is serving as the construction manager on both, which will be finished this summer.
Spence Brothers is not new to student living projects, Herb Spence notes. Previously, the contractor built developments for Saginaw Valley State University and Northwestern Michigan College, among others.
However, "These are the first ones we've done for private developers," he says, adding that both are high-rise buildings. "They're integrated in the downtown urban setting." The developers on the projects are CoreSpaces and Campus Apartments.
Hub Ann Arbor, with a project cost around $40 million, will be a 12-story, 174,663-square-foot building when it is finished this June. Vice President Bruce Smith notes that the building will include "high-end student housing.
"There are a lot of features on this project that are pretty cool," he says. Hub Ann Arbor will have a rooftop amenity terrace with a hot tub, fire pits, terrace seating and barbecue grills.
The first floor will have a fitness center and sauna rooms, and the living units will have quartz countertops, thermostats and stainless steel appliances. "A lot of the finishes are nicer than those in my house," Smith jokes.
"It's a pretty cool-looking building that you don't see around every day," he says, noting that Spence Brothers takes pride in the fact that it completed all the concrete work on Hub Ann Arbor using a post-tensioned system. "It's complicated, given the layout of the building." The east edge of the project is only eight inches from an adjacent building, while the west end actually touches a neighboring apartment complex.
When the project team started the concrete work, "We were behind schedule," due to late frost impacting road hauling he says, but notes that they persevered. "Not only were they able to perform that complicated work, they were able to make up for a month on the schedule."
Up Close
The Six11 is another project approaching $40 million and will stand 14 stories when it is finished this August. Although the 178,277-square-foot building does not have living units as high end as Hub Ann Arbor, it does come with an array of fine features, Smith says.
These will include a fitness center on its top floor, along with a terrace seating area and fire pits. Six11 also will have a penthouse unit and a two-story open area for patios and lounges.
Smith notes that the process of building Six11 has been similar to Hub Ann Arbor's construction. "We're building sidewalk to sidewalk and on the other side, building to building," he says.
"In these areas, you have sidewalks you can't close and lanes you can't close," Smith says, noting that the project team has to cope even as it receives 20 deliveries each day. "The site logistics in general are the biggest challenges of these jobs."
Smith predicts that Spence Brothers will take on more projects like Hub Ann Arbor and Six11 after they are finished. "There are several more student housing, high-rise projects in the works," he says. "It's definitely a market that's going to be going at the rate it is at for three or four more years."
Hard Workers
Herb Spence is proud of his team at Spence Brothers. "Everybody that works here knows that we work very hard," he says, adding that this philosophy has allowed the company to grow and survive over the years.
"I think people join us because they like to work hard and they enjoy being involved with some major, high-profile projects throughout the state," he says. "We try to keep them busy, keep them challenged and make sure they're enjoying seeing the rewards of impressive buildings the end of the projects."
He praises Smith's work. "Bruce does a tremendous job as vice president down in Ann Arbor, developing business down there and overseeing project executive on the high rises," Spence says.
Another key leader is Executive Vice President and COO Ed Spence III. "He is in charge of our day-to-day operations in Southern Michigan in getting work done and keeping customers satisfied," Herb Spence says. "He does a tremendous job through the field, knows how to build and has done a good job with expanding the project load we have."
Vice President of Preconstruction Services Brian Keeler also excels at developing work down state and working with architects and designers. "[He makes] sure the project is staying on budget," Spence says.
He also praises his cousin, Vice President Bob Spence and Directors John Galnares and Ted Nelson, who manage its office in Traverse City, Mich., Project Directors Kelli Jenness and Shane Willis, and Chief Financial Officer Norm Thomas. "[He] makes sure that we pay and get paid in a timely manner," Spence says.
Concrete tradework has always been a very important part of the company's expertise. Board Chairman Dick Spence and Vice Presidents Dave and Matt Spence estimate, manage and direct much of its tradework operations.
Looking Bright
Spence sees a strong future for Spence Brothers. "We've got a tremendous backlog for the foreseeable future here," he says. "We're continuing to grow and take on a lot of challenging projects."
But as it does, the company will cope with the industry-wide challenge of finding qualified workers. "We need to attract and keep the best talent out there," Spence says, noting that the company is busy in these efforts.
"We have been very successful in expanding our workforce from the trades to superintendents and project managers," he says. "The future certainly looks bright right now."
SIDEBAR – Setting Itself Apart
There are many contractors that take a diverse range of projects, but Spence Brothers sets itself apart by being one of the few that does still its own concrete work on many projects, CEO Herb Spence III says.
"Concrete work is very important to getting the job out of the ground," he says. "Whether we're doing it or supervising others, having that knowledge is an asset."
The company also differentiates itself in the market through its community work. "Part of our mission is to help communities thrive," Spence says, adding that the company has contributed time and treasure to the cities of Saginaw, Ann Arbor, and Traverse City areas.
"We're seen as a very good corporate citizen," he says. "That helps us build the trust with our communities and potential project partners."