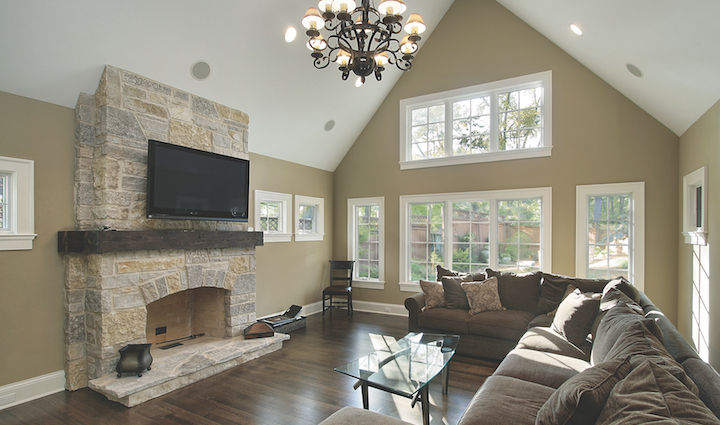 Home Performance Alliance
Home Performance Alliance specializes in impact-resistant windows and doors to protect Florida homes when disaster strikes. 
Since 1980, windstorms have caused almost $1 trillion in damage in the United States with 85 percent of that amount since 2000, according to Climate.gov. Increased population in coastal areas, such as Florida, combined with the effects of global warming indicate that damages exceeding that number will occur during the next 40 years.
Since 2007, the state of Florida has one of the strictest building codes in the United States as a result of the devastation caused by eight major hurricanes that hit Florida in 2004 and 2005. The state revised its code requirements for all residential construction and remodeling. "What's important to know about Florida is we have issues with storms that other parts of the country don't have to deal with," Home Performance Alliance (HPA) President Gary Delia says. "In our state, it's required to use high-impact glass or code compliant shields on any window replaced in designated wind-borne debris zones. However, homes are not always reinforced properly, and we saw evidence of this last year with Hurricane Michael when it devastated Mexico City Beach in the Panhandle of Florida."
Communities in the Florida Panhandle were exempt to the impact protection provisions for homes built beyond one mile off the coast. The idea was that the Panhandle wouldn't experience violent hurricanes like the hurricanes that hit the rest of Florida in 2007 and 2008. But then in 2018, Hurricane Michael happened, which was the first Category 5 hurricane on record to impact the Panhandle.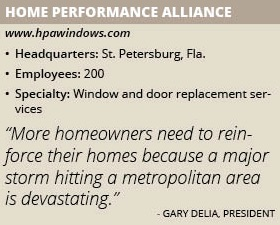 "To see the destruction left after Hurricane Michael was gut-wrenching because the destruction was in fact preventable. Some homeowners tried to use shutters or competitor's 'impact windows' and those failed. There is a home left standing that was seen on almost every news channel after the storm, which was dubbed by some news outlets as 'The Miracle Home,'" Delia says. "Their home survived because the homeowners built a reinforced home using our manufacturer's impact windows. When it comes to your family's safety and your home's ability to withstand a Category 5 storm – your home must be reinforced. Competitors' inferior products or shields may be the "cheaper" alternative, but as homeowners have realized after this storm – cheaper is not better and price should never be the deciding factor. More homeowners need to reinforce their homes now because when another major storm hits, and it hits a major metropolitan area it will be devastating."
HPA has more than 10 years' experience providing window and door replacement services for Florida homeowners. The company specializes in energy-efficient and hurricane impact vinyl windows and doors, servicing all of Pinellas, Hillsborough, Manatee, Sarasota, Charlotte, Lee, Collier, Pasco, Hernando, Citrus, Polk, Hardee, Osceola, Sumter, Marion, Nassau, Duval, St Johns, Flagler, and Volusia counties.
HPA sells its exclusive private label DuraShield windows, which are expertly engineered and Florida Product approved. The windows pass the most stringent product code testing by the state of Florida. The windows also prevent intense UV degradation that infiltrates homes and destroys furnishings. Additionally, they reduce radiant heat caused by the intense Florida sun which can reduce a homeowner's energy bills significantly.
"We go above and beyond what the standard building codes require," Delia says. "The biggest thing we emphasize is to not cut corners when it comes to storm protection. Our products are high-quality and the workmanship we provide is high-quality, so, we pay a higher price for that. There is a greater cost because of the high-impact glass on our windows must go through the rigorous and expensive testing by the state of Florida to be approved to be used in Florida. There is a windborne debris test where a two-by-four is shot out of a cannon at the window at 50 feet per second. Then it must be cycled with negative and positive pressure 4,500 times one way and 4,500 times the other way and the whole process is to simulate a hurricane or high wind effect. Then the windows must operate after that to pass."
Exceptional Service 
HPA is factory direct to the residential market, providing an exclusive proprietary product line of windows and doors. Delia says, "We can provide the consumer with greater accountability with a full-service warranty and workmanship on our products."
Every window and door manufactured is custom made for each home. HPA sends professionally trained consultants to the consumer's home to perform a thorough analysis of the openings and take precise measurements so the vinyl is custom cut to fit that opening. Consultants visit homes by appointment only, targeting neighborhoods where it has completed jobs in the past. "There are more people coming to Florida who have never lived here before and are not educated on the severity of storms in Florida and the devastation they can bring," Delia says. "Our professionally trained consultants demonstrate the benefits of our new modern vinyl replacement windows. They bring working samples of the products used so the homeowner can evaluate the features that best suit their needs in the convenience of their own home."
One of the things that sets HPA apart from other companies is its complete installation service: installing windows and doors, plugs and trim, and most cosmetic work (painting, stucco repair around the opening, etc.) to ensure that its windows and installations are aesthetically pleasing to the consumer once the project is completed. No other window company in HPA's market does this full service. "In fact, HPA goes above the installation by offering continued warranty service after the installation at no additional cost," Delia explains.
HPA completes over 250 projects per month and ensuring customer satisfaction has been its focus. Delia states, "We continue to modernize our customized CRM system to provide greater oversight and accountability throughout the supply and service chain. This enables us to handle more projects simultaneously while providing outstanding customer service for each of our homeowners. To ensure that this continues, we have developed an Executive Board of Customer Advocates and a dedicated 800 number that any homeowner can call and bypass all other personnel to ensure that the executives hear first-hand if there are any issues with any aspect of the service we provide. This implementation has been highly successful in ensuring that minor issues are corrected quickly and are not repeated."
Ongoing Innovation
HPA works closely with its manufacturers to bring homeowners newly designed windows and doors. "We recently introduced our newly designed line of windows that are very modern looking with greater strength and durability, as well as designed with a new locking mechanism," Delia notes. "The newly designed locking mechanisms provide greater security and protection from break ins. Most of our competitors are selling the same old product that have been around for 30 years. We offer a newer and more advanced product that has 33 percent more glass than any other vinyl window in our market, giving the home a more aesthetic look. Consumers always say they like the way our windows look when compared to other options."
Although high-impact windows and doors are more expensive than traditional windows, homeowners in Florida do see a significant reduction in their homeowner's insurance, Delia says. "In some cases, they can reduce the wind mitigation portion of their policy by 50 percent or more," he explains. "That's a big incentive to do it. Additionally, our windows have insulated glass with argon gas and have six coats of low e to reduce the solar heat gain, which can reduce their energy costs by up to 50 percent in many cases. The discount from the property insurance combined with the reduction in energy costs can mitigate the entire cost of the job in as little as five years. it's a really good investment and makes good logical sense to get this done."
The company has also added a new line of entry doors that increase home security, energy-efficiency and curb appeal. "Our exclusive entry doors feature blinds inside the glass and the doors come pre-insulated, painted and are really a beautiful turnkey door system," Delia says.
Moving forward, HPA is focused on continuing to increase its market share and recently opened a new office in Orlando. "We see tremendous opportunity to expand our business and double our size in the next few years just in the state of Florida alone," Delia says. "Orlando is really a fantastic opportunity for us and a large market area we feel we will do well in."