Brian Wynne takes a look at how UAS are helping the construction industry to reach new heights
Thousands of construction businesses around the world are incorporating unmanned aircraft systems (UAS), commonly known as drones, into their operations. Thanks to this technology, contractors, engineers and other construction professionals are able to conduct tasks more quickly, safely and efficiently than ever before.
As president and CEO of the Association for Unmanned Vehicle Systems International (AUVSI), the world's largest non-profit organization dedicated exclusively to the advancement of unmanned systems and robotics, I have had the opportunity to witness the innovation taking place in the construction sector firsthand. In fact, the construction and inspection industries were some of the earliest adopters of drone technology.
In the United States prior to August 2016, businesses needed to gain approval to fly UAS commercially. This authorization, granted on a case-by-case basis by the Federal Aviation Administration (FAA), gave a clear picture of exactly who was flying and for what purposes. An analysis of these authorizations by AUVSI found that over half of all businesses flying at that time were doing so for construction or inspection purposes.
Today, there is a federal regulatory framework that allows for more widespread use of UAS, and construction sites are reaping the benefits. Using UAS to survey and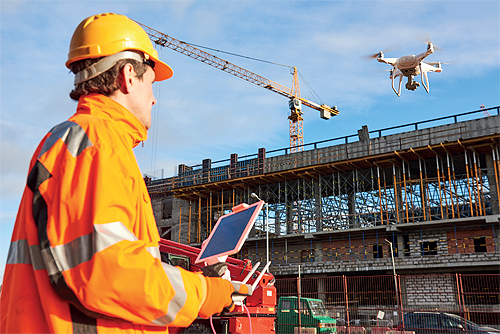 map sites before construction begins can help companies plan more efficiently, reducing the need to readjust after projects have started. Additionally, UAS can provide an aerial perspective at a much lower cost than manned aircraft or other equipment that engineers may employ. UAS help reduce the cost of inspecting work done at higher elevations, including the many joints in a building's envelope and the caulking, flashing or other work needed to prevent water damage.
While much has been accomplished, UAS operations at construction sites are still limited by current regulation. In the United States, for example, the FAA's small UAS rule (also known as Part 107) operators must fly under 400 feet, within visual line of sight, only during daylight hours and within 400 feet of a vertical structure. However, recognizing the need for the rule to be flexible, the waiver process under Part 107 allows for expanded types of operations. These waivers allow a company or organization to fly beyond line of sight to inspect pipelines or fly over people in densely populated areas or at a bustling construction site.
The construction industry has demonstrated through these waivers that it can safely and reliably integrate drones into existing operations. Now, we are ready to take the next steps. A regulatory framework is needed that allows for widespread expanded operations; for example, allowing any business that wishes to fly their UAS at night or over people to do so if they follow the established regulation.
Widespread adoption of expanded operations will reduce barriers to innovation and allow the construction industry to use UAS in new and transformative ways. For example, UAS that are permitted to fly at night, as well as during the day, would allow workers to take advantage of the many benefits of UAS around the clock. In addition, other countries have reduced delivery times and costs dramatically by using drones, which can reach people in remote areas and provide vital resources and supplies.
Initial flight operations in the United States have already successfully delivered everything from candy to critical medical supplies, even providing contact-free delivery of prescriptions to a retirement community during the coronavirus pandemic. And small-scale UAS delivery could prove beneficial at large construction sites to ferry supplies to worksites that are inaccessible or dangerous for manned ground vehicles.
Widespread deployment of expanded operations such as UAS deliveries are dependent on a remote identification regulation that is now being finalized to identify and track UAS flying in the airspace. This will help improve safety and security, equipping law enforcement and other officials with a critical tool to distinguish authorized UAS – for example, those providing aerial imaging or delivery services at a construction site – from those that may pose a threat.
Safety is a top priority for the UAS industry as it is for the construction industry. We are committed to fostering a culture of safety and innovation so we can truly tap into the full potential of this technology. That's why, in 2014, AUVSI launched the Know Before You Fly campaign with the Academy of Model Aeronautics and in partnership with the FAA. Know Before You Fly provides UAS operators with the information and guidance they need to fly safely and responsibly before they take to the skies, including a list of the regulations that those flying for commercial purposes must follow. If you're interested in learning more about how to safely integrate UAS into your business, I encourage you to visit www.KnowBeforeYouFly.org.
The construction industry has been at the forefront of drone innovation. A regulatory environment that allows for widespread expanded UAS operations will help further the development of the technology and the numerous applications and benefits it will enable.
Brian Wynne is president and CEO of the Association for Unmanned Vehicle Systems International (AUVSI). AUVSI – the world's largest non-profit organization dedicated to the advancement of unmanned systems and robotics – represents corporations and professionals from more than 60 countries involved in industry, government and academia. AUVSI members work in the defense, civil and commercial markets.
www.AUVSI.org