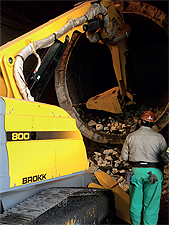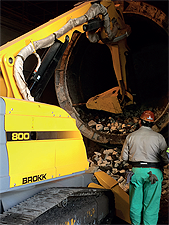 "Every jobsite has its own set of challenges, but processing presents some of the most extreme environments and highest risks for workers — making it perfect for a Brokk machine," said Lars Lindgren, president of Brokk Inc. "Through our customization process, processing facilities can add the options they need to stand up to the heat so they can complete routine tasks faster and safer than ever."
Brokk has developed a number of heat-resistant options, including cylinder protection, steel tracks and a forced draft cooling system. These features are available on most Brokk models, including the Brokk 800P, the manufacturer's 11-ton, specialized processing machine, and can also be added to smaller units, such as the versatile, 1-ton Brokk 110 for hot applications in tight spaces.
Expanding portfolio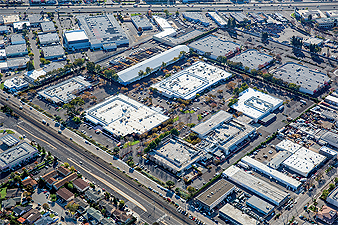 Hines, the international real estate firm, has announced that Hines Global Income Trust, Inc. (Hines Global) has acquired the Advanced Manufacturing Portfolio (AMP), a 417,000-square-foot industrial and manufacturing campus, in Santa Clara, California.
The AMP is currently 100 per cent leased to ten tenants and provides a combination of light manufacturing and research and development (R&D) space. The four-building campus provides mission-critical space for tenants with business in the technology industry. The strategic location in the heart of Silicon Valley provides proximity to major technology tenants, as well as the premier high-tech talent pool.
The transaction increases Hines Global's industrial presence worldwide. "We're excited to further diversify our global portfolio and provide our investors with exposure to a well-located, strategic asset in the dynamic Silicon Valley market," said Janice Walker, Chief Operating Officer of Hines Global Income Trust.
Demand for this type of space in Silicon Valley has continued to grow in recent years, while availability has simultaneously diminished. "We believe in the long-term supply/demand fundamentals of this product type, which have proven to be resilient to the economic downturn," said Sam Cheikh, managing director in the Hines Bay Area Office.
Distribution center opens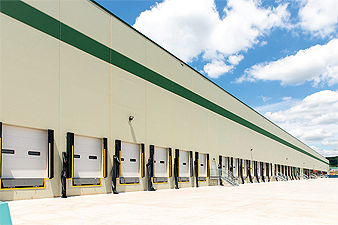 Kinsley Construction, Inc., a master builder headquartered in Central PA, recently completed construction of a new 550,000-square-foot WebstaurantStore distribution center near Bloomsburg, Pennsylvania. As the largest building in the area, the space features a temperature-controlled environment, a 11,400-square-foot mezzanine with an elevator, offices, conference rooms, a storage space and a breakroom, a packing room, conditioned storage space, 51 loading docks and reception area and waiting room.
Based in Lancaster, PA, WebstaurantStore is the largest online restaurant supply store servicing professionals and individual customers worldwide. Over the years, it has expanded its selection of commercial equipment and wholesale supplies to include healthcare, educational, food, beverage, office, parts, and hotel supplies.
This new center will help the online restaurant supply company, owned by Clark Associates, better serve their Mid-Atlantic and New England clients. The WebstaurantStore has hired 100 employees since opening the distribution center in June, and plans to hire an additional 150 employees once they start shipping orders this fall.
Viva Las Vegas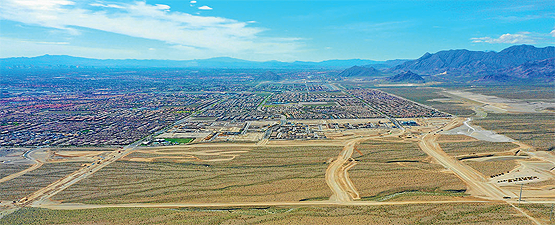 Century Communities, Inc., a top ten national home-builder, recently acquired the remaining 400+ acres of the 1,700-acre Skye Canyon development in Las Vegas, which ranks as the 22nd top-selling master-planned community in the country based on new home sales. The acquisition makes Century Communities Skye Canyon's master developer.
Century Communities has a successful track record of overseeing the build-out of several master-planned communities in the region, such as Tuscany Village in Henderson and Rhodes Ranch in southwest Las Vegas. Since the acquisition, Century Communities has already begun construction on what will eventually be 2,500 additional homes for new and existing Skye Canyon communities, including three communities slated to open in 2021, and three actively selling communities: Aspen, Madera and Northglenn.
Joining the team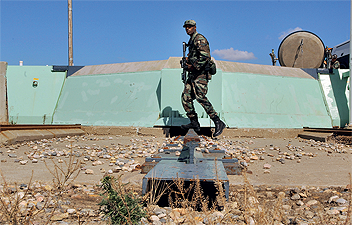 Bechtel National, Inc, the U.S. government contracting subsidiary of Bechtel Corp., is part of the Northrop Grumman-led nationwide team that has been selected to deliver the U.S. Ground Based Strategic Deterrent System of inter-continental ballistic missiles and launch infrastructure for the U.S. Air Force. GBSD is the Air Force program to modernize the nation's aging force of ICBMs, the land leg of the U.S. nuclear deterrent.
Bechtel will provide launch infrastructure design and construction as part of the program's Engineering and Manufacturing Development phase.
"The GBSD program is a crucial component of U.S. strategic defense," said Barbara Rusinko, president of Bechtel's Nuclear, Security, and Environmental global business unit. "The existing system must maintain capability during the entirety of modernization, presenting a complex logistical and planning challenge. We are fully aligned with the Air Force and Northrop Grumman, and ready on day one to begin design, construction and turnover of the ground-based facilities."
The program begins immediately and is scheduled to last eight and a half years. Bechtel's work will take place in Roy, Utah; Reston, Virginia; and Vandenberg Air Force Base, California. Development of test and training facilities at Vandenberg Air Force Base, California; Hill Air Force Base, Utah; and other locations will provide valuable feedback on design and installation methods for use at the operational silos and launch centers.
"The GBSD program will modernize the entire Minuteman weapon system," said Greg Manuel, vice president and general manager of Northrop Grumman's Strategic Deterrent Systems Division. "A 21st century system will be installed ensuring America's land-based leg of the triad remains safe, secure, and effective for decades to come. We're excited to have Bechtel's engineering and construction expertise on our nationwide team."
Providence contract
Skanska, one of the leading construction and development companies in USA, has, as part of a joint venture with Manafort Brothers, Inc., signed a contract with the Rhode Island Department of Transportation (RIDOT) to replace an elevated section of northbound Interstate 95 (I-95) in Providence, USA. The total contract is worth $212m. Skanska will include its $106m portion of the contract in the US order bookings for the third quarter 2020.
The design-build project, located in the heart of downtown Providence, will optimize traffic operations by replacing the viaduct, and associated ramp and overpass structures. The contract includes staged bridge demolition and construction, bridge preservation, roadway reconstruction, etc. The Providence Viaduct spans the Woonasquatucket River, Amtrak Northeast Corridor, city roads, and interchange ramps.
Construction began in July 2020 and is scheduled for completion in December 2024.
Building academia
Turner Construction Company's Nashville team recently completed Middle Tennessee State University's academic classroom building, which will house classrooms and offices for the departments of Criminal Justice Administration, Psychology and Social Work in the College of Behavioral and Health Sciences.
"The building represents a major investment by the University and the state of Tennessee to produce new-age professionals to work in job fields squarely on the front lines of society's most pressing issues—slowing the pandemic and hastening social justice reform," said President of the University, Sidney McPhee at the building's ribbon cutting ceremony.
Turner is proud to team up with Middle Tennessee State University and to have a part in the academic classroom building's legacy.