As it turns up the heat with acquisitional and organic growth, complex projects are becoming small fry for ROSS Companies
ROSS can
Founded in 1983 by Beth and Scott Ross and today led by CEO Dave Miskovich, ROSS Companies (ROSS) has operated – at least historically – in the metropolitan area of Washington, DC with a distinct, family-owned business mentality. Such an ethos has inspired dedication, commitment, and personal accountability across the team – or, in short, all the things that makes ROSS stand out in an increasingly competitive US construction market.
"When I joined the company in 2003, my goal was to embrace the family-owned atmosphere, while, at the same time, leading the company into the future through technology-based innovation and attracting the best multi-family professionals to key positions within the organization," says Dave Miskovich, CEO at ROSS. "Since then, we have gone on to become a full-service, vertically integrated organization. We acquire through ROSS Development & Investment, manage, and lease through ROSS Management Services, and renovate through ROSS Renovation and Construction. On every project, we work from a deal and managerial point of view, ensuring we incorporate property management into our underwriting and construction budgets."
Strategic planning begets commercial growth. This much has been made evident by ROSS. In 2017, for instance, the company made the bold decision to expand south, opening a satellite office in Richmond, Virginia. The move has paid dividends. Now the company proudly provides efficient, hands-on services to Richmond, Hampton Roads, and the Carolinas.
Today, ROSS is widely respected in all aspects of multi-family property management, ownership, renovation, and construction. "It is important to understand the critical components which lead to long-term success before starting a renovation or construction project," asserts Dave. "Our approach to asset preservation and managerial efficiencies provides a unique operational perspective and forms the backbone of our relationships with clients and vendors, which we have built up over the past 40 years.
United as one
"Historically, the multi-family industry has been slow to adopt innovation," he goes on. "However, one of the biggest lessons over the past three years has been the importance of embracing it, which will not only make our business more efficient but also help clients to understand the importance of technology. We are constantly evaluating tools to improve efficiency, working with our technology partners to understand industry trends and, more recently, looking outside the industry to find cutting-edge products and services that will enable us to stay up to date with latest market trends."
This is just one of many lessons learned since the pandemic began. The last few years have served as a litmus test, clearly discerning the kind of stuff a company is made from. Fortunately, ROSS passed with flying colors.
The pandemic forced every company to reevaluate and rethink. With ROSS, it was no different. "Not only did Covid-19 cause us to pause and reflect on who we are, but it also redirected our focus back to how we do business on a fundamental level," says Dave. "The companies that survived were the ones that had strong foundations and a robust leadership team. Our ability to adapt to unforeseen working conditions was solely due to the strength of our people; we tackle every challenge as a family. Over the past two years, we united to overcome even the most trying of obstacles, and came out a stronger, more determined company.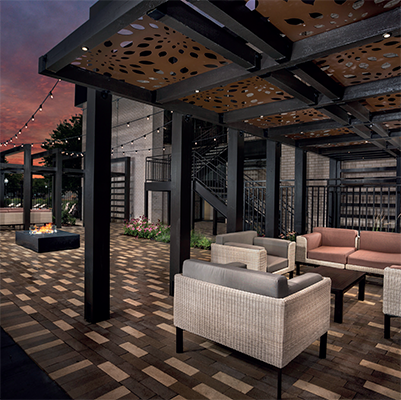 "As a network, we quickly pivoted our strategy to adapt to the pandemic and the various regulations that were put in place," he continues. "We relied on the strength of our employees, and trustedthat together we would persevere. We knew we had a great team before the pandemic, but I believe we surprised ourselves in how quickly individuals stepped up to support each other. Their ability to shift to a remote working environment, implement safety protocols, and ensure high morale in extremely uncertain times stands as a testament to their pride and commitment to our organization."
It is clear that people are central to ROSS – the name itself is the name of its founders, and like the family that established it, that sense of belonging and commitment keeps the company afloat when the going gets tough. "We have always operated with a family-owned mentality and the understanding that our most valuable asset is – without any doubt – our employees," notes Dave. "The core values that our company was founded on are integrated into every aspect of our culture, which inspires collaboration and teamwork across departments.
"Since employees are trusted by management, they feel empowered and they understand that they are an integral part of the overall success of the company," he goes on. "Consequently, we have built a sense of loyalty across our employee network. As is evident, I possess a great deal of pride for our team and the individuals who make a difference in our organization each and every day."
The conversation then moves onto projects that the close-knit, family-oriented team has been working on. "On our most recent project, the Opportunity Zone deal, we worked closely with our client to secure approvals from all housing authorities," Dave reveals. "Whenever we are taking on a renovation project with a client, we take a full-service approach by providing a scope, budget, and timeline. Complex projects such as this require tremendous coordination, communication, and support to reach the finish line. To accomplish this in the midst of a pandemic was extremely satisfying for us and our partners.
"It has been a good year," he recalls. "One of the top highlights of 2022 was the closing and start-up of a substantial Opportunity Zone project in Newport News, Virginia, where we will be completing a string of $65,000-to-$70,000-unit renovations. This project was extraordinary in that it was not only our first Ozone project, but also included the placement of tax credits. The deal has proved complex and has taken over two years to come to fruition, involving various lender and jurisdictional partners to complete."
As we move into the new year, Dave reveals that ROSS' biggest focus will be on acquisition and management of company growth. "Returning to a period of normalcy, we want to build on the strength of our team," he concludes. "I would like to see ROSS further expand into the southern region, doubling our renovation and construction volume. We strongly feel our investment and commitment to growth has put us in a strong position for continued expansion and success in this market."
www.ross-companies.com