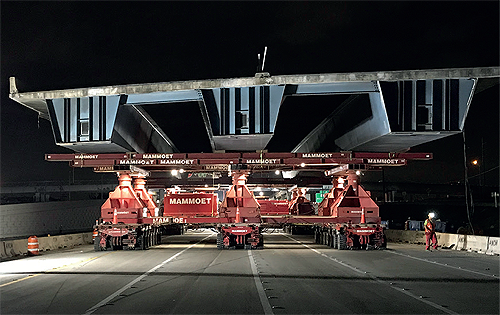 The bridge removal is part of the I-95 Express Lanes Phase 3C project.
The bridge, weighing in at 1,082t, was initially set for demolition following a two-stage plan. The first stage was to demolish the south side of the bridge in place, then wait a few months to demolish the north side of the bridge, also in place – with each stage taking approximately 15 days.
Mammoet's team suggested an alternative method, proposing to remove the entire bridge in one night by using the Accelerated Bridge Construction (ABC) method.
Using six trains of 8-line SPMTs equipped with 250-ton jacks, the bridge was lifted from its abutments, traveled southbound along I-95, and finally staged on an offramp to later be demolished. This approach saved over an estimated 29 days of work.
In total, the Mammoet crew was in and out well within the allotted outage time, ensuring that the lane closures were kept to a minimum and normal traffic patterns could resume ahead of schedule.