Invisible Structures
Issue Vol17 Iss3
---
Invisible Structures focuses on changing the world's landscape. 
In the early 1980s, before recycling and "green" products were on anyone's radar, William Bohnhoff dared to dream of replacing certain concrete and asphalt applications to grass paving. Bohnhoff founded Invisible Structures in 1982 out of his garage in Aurora, Colo., creating the original version of the grass paving system which was simply PVC rings glued to mats.
After realizing the amount of waste in the process, Bohnhoff decided to switch from PVC to injection molded recycled plastic rings glued to mats in 1988 then to 100 percent recycled plastic ring on grid system in 1991. At first, the injection-molded ring on grid part was shipped flat and snapped together on site. This was more labor-intensive for Invisible Structures' customers, so the company created a more flexible version of Grasspave2 that would not lose any of its 15,940 PSI strength, but could be pre-assembled into rolls for ease during installation. "Since then, we have changed the world's landscape with the most installations of grass and gravel pavers worldwide," says Olivia Harris, president and Bohnhoff's daughter. "We were the first in the industry in a lot of ways and really charged into the industry and became the leader. We are proud to be the leader of the porous paving industry. The more grass and gravel out there the better it is for everyone as long as it's functional and helping manage stormwater, filter pollutants and reduce the urban heat island effect."
Today, Invisible Structures' current version of Grasspave2 and Gravelpave2 have the convenience and ease of roll installation, and it's flexible enough to undulate with the base course during extreme changes in temperature and can bend around slight curves. Invisible Structures' primary focus has been in the stormwater management business with its Permeable Paver systems Grasspave2 and Gravelpave2, and Rainstore3 for stormwater runoff capture and reuse.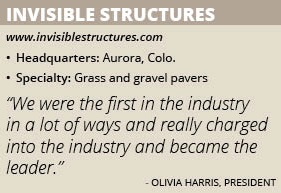 Strategic Sourcing
In the beginning, Invisible Structures had to source black film canisters from around the country to recycle on its own. "My parents developed a blend of plastic and we had to recycle our own at the time because recycling was not popular yet," Harris remembers. "We recycled it in our plant with a big plastic grinder and that was our plastic sourcing at the time. It was pretty expensive, but my parents were dedicated to improving the environment way before most people."
Not all plastic is created equal, which resulted in trial and error for Invisible Structures in the early days. "Sometimes it would be brittle and snap, resulting in product and time loss. Today, with the recycling plastic plants as our source, they perform lab testing on site with every batch and ensure absolute quality every single time and we can trace each batch back to the supplier," Harris explains.
Invisible Structures customers have very high expectations, Harris says. "We have had zero product failures in the history of our company," she adds. "We are always here to answer questions. When our customers call, they get to talk to a person and we talk them through anything. We have representatives all over the country and some around the world who are experts on our products and can do a lot of handholding in their areas."
The company prides itself on quality, which has resulted in a number of repeat customers and installations that are still standing nearly 40 years later. Invisible Structures says the lifespan of its product is undetermined because it is made with recycled plastic. "It could be 60 or 100 years, we don't know. Our product is also underground, which helps because it's not exposed to anything," Harris explains. "One of our local reps has this one customer who keeps putting Gravelpave2 everywhere because he realized many years ago that it's saving him a fortune over concrete long-term. Any time he can put in Gravelpave2 he does because he can just put it in and forget about it."
Aesthetically Pleasing 
The market has changed significantly since Invisible Structures' inception 37 years ago. "When I was in high school, we were trying to convince everyone to use porous paving and explain to them what it was and why they should consider using it at all," Harris remembers. "Today, it's completely different. Municipalities, for example, are now requiring it because they have realized it is important and they can't just make the world a concrete jungle. They have to consider stormwater runoff, aesthetics, the urban heat island effect, and the impact on the human experience with buildings."
Invisible Structures Gravelpave2 was used in the Pentagon Memorial to facilitate the use of gravel in the design and stabilize the loose aggregate to allow for pedestrian, wheelchair and stroller access. The designers of the memorial, Julie Beckman and Keith Kaseman of KBAS Studios in Philadelphia, wanted to promote contemplation, feeling and investigation without implicitly telling visitors what to think or feel. The gravel surface is unique compared to many of the granite, marble and concrete walking surfaces at memorials and monuments in Washington, D.C. For the sound, look and feel they wanted, the designers chose a 50/50 mix of Cibola Gold and Cadet Black granite gravel imported from Texas.
Moving forward, Invisible Structures will continue to develop leading-edge products to remain the industry leader. "At Invisible Structures, we make a commitment to our customers to not only create products that help change the environment for the better, but to deliver the best, most reliable product that will always deliver for them," Harris says. "You may have passed by several of our installations and not even known. That's why we call ourselves 'Invisible.'"
---