Haviland Corporation
Issue Vol17 Iss5
---
Haviland squeegee products stand up to tough industrial jobs.
For more than 70 years, Haviland Corporation has improved the way industry cleans by providing the highest-quality floor and window squeegees in the market. "Our squeegees are used on everything from canvas paintings to construction sites and our customers define quality based on the durability of our products," Executive Vice President Alice Andrews says. "[Neither] artists nor construction workers want to stop in the middle of a project due to an inadequate squeegee, and our squeegees provide them the proper use they require."
Founded by Warren and Van Haviland, the company began manufacturing floor squeegees and window squeegees in 1946 from a small facility in St. Louis. The company remains family-owned today with Jan Haviland as the principle owner and her daughter, Andrews, in the executive leadership role. "My father-in-law started the company and then my husband ran it," Jan Haviland recalls. "When I decided to change occupations, my husband asked if I would like the opportunity to work at Haviland Corporation. So, I went back to college and earned an MBA as I began a full-time position within the company. We started in a garage and now we have expanded our current facility three times. Today, we are global and still a family-owned business."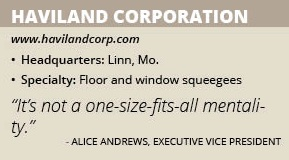 Alice Andrews grew up at Haviland. She says "it was the family atmosphere" with her co-workers that enticed her to return after college. "I respect the knowledge and dedication that I have seen from employees over the years; I understand that what we have here is not something you find very often. I also enjoy getting our customers the best squeegee to meet their individual needs."
Haviland has grown exponentially over the past seven decades by entering new markets and expanding its product offering. The company was the first to begin manufacturing aftermarket replacement blades, gaskets and splash guards for floor machines more than 40 years ago. Shortly after that, Haviland added its paving and roofing hand tools division that offers water brooms, serrated squeegees and crack fillers.
Made in the U.S.A.
Proudly manufactured in the United States, Haviland believes in Americans helping Americans, Andrews says. "It's been a company mission since our inception with Warren Haviland," she adds. "It's about providing jobs that pay for little league uniforms or piano lessons, paying taxes to improve roadways and providing insurance to our staff to relieve some of the stress that comes with illness. It's important we work with one another and by manufacturing in the United States, we can do that."
Haviland built its reputation on manufacturing the highest quality products available and taking a problem-solving approach that is both proactive to changes in the industries it serves and reactive in response to inquiries. "It comes down to options, plain and simple," Andrews says. "Our products are manufactured in Linn, Mo., so we have complete control over our products and customizations, and can make the change happen quickly."
The company prides itself on being able to customize its products and the ability to offer squeegees in sizes well beyond industry standards. "Most floor squeegees come standard in 18, 24 or 36 inches," Andrews explains. "We offer floor squeegees ranging from six to 72 inches. Our customization of different rubbers and lengths is well outside what anyone else offers."
Haviland is renowned for its floor squeegees. The company starts with a strong steel frame and premium quality rubber. "It's not a one-size-fits-all mentality," she explains. "We understand that different circumstances require different kinds of rubber and we make sure each individual customer's needs are being met. We provide more options and multiple sockets, which offer different advantages and are tailored to create proper angle of use with the squeegee."
Expanding its Reach
As its customers' and industry needs evolve, so too does Haviland. The company's research and development process is ongoing to adapt to changes it sees coming down the pipeline throughout the variety of industries it serves. "Patience can be a virtue in R&D," Haviland says. "We get unique requests from customers to develop something within our realm, including a 10-foot squeegee, and develop products we see a need for before the industry catches on that they need it."
Although Haviland has been offering a line of paving tools since 1985, the company is seeing its business grow in that direction. "We have increased our presence in the industrial, roofing and concrete markets," Andrews notes. "That includes our paving line of tools such as serrated squeegees, applicator squeegees and crack filler squeegees. We're definitely seeing a growing interest in these products."
Its heat resistant squeegees are especially useful for applications within the industrial and paving market sectors. Haviland's Sahara squeegee blade is specifically designed for safe and efficient use in extreme temperatures. The Sahara can handle up to 478F degrees and has a low reactivity with chemicals.
As future processes and products change, Haviland plans to continue adapting and growing. "As long as there are surfaces that substances need to be removed from or applied to, squeegees will be needed," Haviland says. "As things change, we look forward to continuing to provide squeegees that are the best tool for the job."
---