Grip-Tite Manufacturing Co.
Issue Vol17 Iss3
---
Grip-Tite offers new services for its growing network of dealers.
As it forges into the future, Grip-Tite Manufacturing Co.'s changing leadership is breathing new life into the company. Since 1921, the Winterset, Iowa-based company has been known as a leading provider of earth anchoring and foundation repair products.
But to stay competitive and differentiate itself in the market, Grip-Tite is offering new services to its growing network of dealers.
"Our growth and success is 100 percent dependent upon our network of dealers and their success," says Curt Schwalen, Grip-Tite's director of business development. "The best way for us to drive growth is to help our customers achieve their goals."
One approach to help its network of dealers achieve success is by becoming more than a product provider. "Grip-Tite wants to be a service provider," Schwalen adds. "You can still buy products from us, but we want to be available to provide a full suite of services to our customer base. We want to be a partner."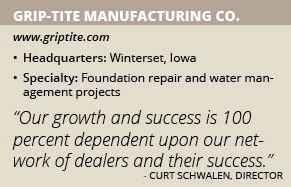 Grip-Tite dealers are now being offered access to marketing and lead generation services, technical support, classroom training, on-site training, business coaching, access to human resources support, dealer networking, business management software and more.
In a sense, Grip-Tite is supporting its network of dealers much like a franchisor would support a franchisee – but without being locked into a franchise relationship.
"We are taking the approach of providing those services that a person would get from a franchise without being a part of a franchise," Schwalen says. "Our service model is not a revenue stream. We may charge a fee with some of those services, but it's really just to cover Grip-Tite's cost."
Attractive To Dealers 
Among the various new services being offered to Grip-Tite dealers is THRIVE, a business management platform that features a CRM application, estimating application, proposal application, project management application, scheduling tool, performance metrics, and a dealer portal that allows for information sharing.
When it comes to training, Grip-Tite offers comprehensive solutions that include field training, on-site training and assistance with installation, sales, diagnosing and estimating, marketing and lead generation, recruiting and hiring and business growth strategies.
Marketing and lead generation solutions offer customizable assistance with brochures, direct mailers, radio and TV campaigns, web and social media advertising, illustrations and other aspects.
Further services comprise of website development and support, technical support, engineering support, and third-party financing connections.
"We've been working really hard to make Grip-Tite Manufacturing Co. attractive to dealers," Schwalen says. "We want people to hear about us and say, 'I want to saddle up with Grip-Tite.'"
Products and Applications
Grip-Tite dealers are known for installing foundation repair products to address problems like foundation settlement, bowed basement walls, sagging floors and unlevel concrete floor slabs.
Grip-Tite products include wall anchor systems, push pier systems, helical pier systems, slab pier systems, a crawlspace stabilizer, helical tieback systems, carbon fiber, and water management products.
"Our company is known as the original developer of the wall anchor product," Schwalen says. "We invented it and held a patent on it for years."
New products are constantly being developed and existing products are being modified for better performance. Grip-Tite is increasing its internal manufacturing presence and capabilities. With increased manufacturing capabilities, the company will be improving its capacity, flexibility, and lead time and be well suited to create customized solutions for dealers.
By and large, Grip-Tite's core market is residential foundation repair products. "But our products can be used in the new construction market, commercial property market, utility market and some applications for landscaping," Schwalen adds. "We're very interested in finding folks that want to create and establish a presence in the commercial new construction industry."
Aside from new construction, Grip-Tite's wide range of products can support applications such as soil nail and tieback soil retention, pipeline support, shoring, reusable tilt wall anchors, boardwalks and walkways in ecologically sensitive areas and seismic upgrades.
In 2019, the company has expanded its services into the water management market. "We have done a lot of work with expanding our product offering to include the water management market which comprises water control, waterproofing, crack injection, crawlspace encapsulation, sump pumps and basins, dehumidification solutions and mold remediation products," Schwalen says. "This customer base usually has three legs: foundation repair, water management and concrete lifting. We want to be a full offering provider to our customer base."
Longevity and Stability 
Grip-Tite Manufacturing Co. got its start in 1921 as Wei Lock Manufacturing. The company officially changed its name to Grip-Tite Manufacturing Co. in 1937 – and has been manufacturing earth anchoring and foundation repair products ever since.
In 1939, Will Johnson started buying Grip-Tite shares and became the majority owner by 1940. His sons, Dwight and Clarence soon joined the company. By 1953, Grip-Tite was owned entirely by the Johnson family.
Two years ago, Mike Johnson – a founding family member with more than 40 years of experience within the company – became Grip-Tite's sole owner. Since then, the company has been an evolving organization with a new leadership structure that is determined to bring the company into the future.
Its newest president, Steve Lage, joined the company a few years ago. He brings with him vast experience as a business consultant and business owner that is determined to guide the company in enhancing its manufacturing presence, systems and service model approach. Nick Farkas, director of dealer development, is responsible for expanding the company's network of dealers.
"Our growth initiative is to expand our presence with dealers primarily across the United States and in Canada," Schwalen says. "I think the new aspects of our service model will help us do that."
---