Boar Wheel Company
Issue Vol17 Iss2
---
Boar Wheel aims to fight blowouts with its heavy-duty wheels and tires.
Last year, more than 3.2 trillion miles were put on tires in the United States, according to the National Highway Traffic Safety Administration (NHTSA), but there were also 738 total motor vehicle traffic fatalities in tire-related crashes. Any fatality is one too many, and this statistic underscores the importance of having quality tires on your vehicles. Additionally, the NHTSA notes, quality tires not only help to keep drivers and passengers safe, but they also significantly affect how much money is spent on fuel and a vehicle's impact on the environment. Boar Wheel Company understands all of these facts and figures very well, which is why it remains dedicated to providing heavy-duty wheels designed to provide the ultimate reliability on construction-industry vehicles and other commercial truck and trailer applications.
"We are offering a really heavy-duty product," Owner Joel Hawkins explains. "Our goal is to stop tire blowouts. Customers are surprised and impressed with how substantial and solid our product is, put simply, it's a heavy-duty product that virtually eliminates blowouts."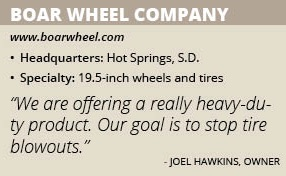 Boar Wheel explains heavy trailers and special-trailer (ST) or light-truck (LT) tires don't always work well together, causing premature tire failure and often dangerous roadside situations. Based in Hot Springs, S.D., Boar Wheel is a family owned and operated business with more than 90 years of combined experience in the tire and wheel industry. With its expertise in this field, Boar Wheel strives to only provide specialty wheels that are designed for trailers hauling heavy loads. As a result, the company's customers can run commercial truck tires on many light- and medium-duty trailers because its wheels' heavy-duty construction can accommodate the weight and speed these vehicles require.
"My family has been in the tire industry since my grandfather," Hawkins says. "Back in the 1970s, my grandfather and father had a factory in Colorado Springs, and I grew up around that. My father broke off from that business and opened his own tire company in the 1980s, and he moved that to South Dakota in 1997. My brother and I did our own thing, but in 2006 and 2007, my father was looking to downsize. My brother and I moved to South Dakota to take over that business, grow it and then sold it. Throughout this, customers were always asking us for a better tire for trailers. Existing tires couldn't handle the repeated weight or stress when they turned, so we decided to open Boar Wheel and start making the right wheels for these customers."
Strict Quality
Primarily serving construction companies, users of fifth-wheel campers and clients in the agricultural community who use stock trailers, Boar Wheel promises to provide wheels that offer users three key elements:
• A stable and worry-free ride – The company notes its low-profile design virtually eliminates sidewall distortion and flex, even under heavy loads;
• No downtime – With drastically improved reliability compared to traditional wheels, users will spend more time on the road; and
• Cost savings – By eliminating blowouts and providing extended commercial tread life, users will save money by changing tires less often.
The company's heavy-duty trailer wheels are commercial-grade wheels intended for use on axles that carry 7,000 pounds or more. The wheels and the rims are made out of high-grade steel, and the 19.5-inch tires Boar Wheel utilizes provide excellent performance for towing and braking, offer superior loading capacity, are highly resistant to tears, cuts and wear, and often result in improved fuel economy while towing (1.5/mpg average reported).
Boar Wheel explains it is a 16-inch tire's light construction and high-profile design that make them prone to twist and over-distort as a user turns or maneuvers the vehicle. This creates excessive stress on the sidewalls and belt package of the 16-inch tire, which can lead to unseen damage. Often, blowouts can happen with these tires when the vehicle is loaded and traveling at speed. Instead, Boar Wheel focuses on 19.5-inch tires.
The company explains a 225/70R 19.5-inch tire has 3.5 inches less sidewall to flex while driving, cornering and maneuvering a trailer, and features approximately 60 percent heavier sidewall construction. Therefore, users have greater stability on and off the highway, and when carrying heavier loads, the "sway" will be greatly reduced. The 19.5-inch tire will skid when turning, eliminating or greatly reducing the possibility of sidewall and belt damage with blowouts.
To ensure an even higher level of quality in its products, Boar Wheel is dedicated to the best design and production. "When we first had our products designed, we had a factory we worked with, and everything was engineered for the appropriate weight and lateral torque," Hawkins says. "However, outside engineers also look at all of our designs to ensure quality. The factory builds to our specifications and tests the products at the factory, but once we get them they go through a third-party test, which tests them to verify everything the factory tested is accurate.
"One time, we had to scrap two containers of product because they didn't pass the standards with the third party," he adds. "That has never happened since. Our quality control procedures are very strict."
Addressing Safety
Hawkins explains Boar Wheel communicates a lot with customers on social media, and that is how it knows what type of product to develop next. Because of feedback it has received on Facebook, Boar Wheel plans to introduce a 6-lug wheel this year, which, Hawkins believes, will be the first of its kind on the market, meeting the needs of cargo and smaller trailers. Next, it plans to develop a 19.5-inch wheel for 3/4-ton and 1-ton pickup trucks, allowing customers to upgrade their tow vehicles. The company also gets a lot of requests for 15-inch wheels, but Hawkins says it will be a couple years before Boar Wheel has designed a 15-inch replacement product that meets its standards.
"We've really started to eliminate trailer-tire blowouts, and that is great," Hawkins says. "I would say 99 percent of trailers we switch over to our wheels don't have those problems anymore. Our product addresses those problems they way it is supposed to, and we are perfectly happy to help people find the right product or get them going in the right direction. Whether we can help them with our products or not, we don't want to see blowouts happen because they are too dangerous and need to be addressed."
---