KSK LLC
Issue Vol17 Iss5
---
KSK is nearly finished on 255 East Houston, located in a busy section of the Big Apple.
When building a project in one of the biggest cities in the world, experience can make all the difference. KSK LLC Construction Group had plenty of expertise to bring to its 255 East Houston project in Manhattan.
"We've done projects like this before," Project Engineer Gokce Sahin says. In fact, the company has built a portfolio of more than 50 buildings in New York City, and employs a team that combined carries over a century of industry experience.
KSK is currently serving as the construction manager on the project for SMA Equities, a New York-based real estate firm. The development, Sahin says, consists of two buildings that are connected and feature 88 rental apartments.
One structure will stand 14 stories with a bulkhead and a terrace at a 15th floor, while the other will have nine floors. But 255 East Houston also will place its residents in one of the busiest sections of Manhattan. "It's an up-and-coming neighborhood," Sahin says. "They have a lot of projects going on."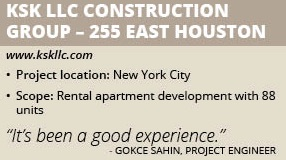 Fine Features
KSK started on the $32 million project in May 2017 and is expecting to complete it this fall. When finished, 255 East Houston will have an abundance of features for its residents to enjoy, Sahin says.
For example, the buildings have terraces at their ninth, 14th and 15th floors, as well as a backyard on the first floor. In addition, the 14th floor will be able to host barbecues. The development also will feature a gym, a yoga room and a bike room.
The project also boasts scenic views of Manhattan. "You can see from the 14th floor the Empire State Building and One World Trade Center," Sahin says, noting that the building is taller than its neighboring structures.
The first-floor backyard of 255 East Houston also will feature a unique, custom-built skylight with portions that are shaped like pyramids. "That's going to be really interesting," she says, adding the amenities were important to SMA Equities.
"They were focused on the profile of the people who are going to rent these apartments," she recalls, explaining that the firm wanted 255 East Houston to feature stylish designs.
Meeting the Challenges
KSK's experience aided it with challenges as it built 255 East Houston, which included its location. Although there not any neighboring projects being built, "The logistics are a little bit challenging," Sahin admits.
But the contractor avoided issues through close coordination with its neighbors. "They made some arrangements with them to use [their] roofs and things like that," she says, noting that KSK also took great care to protect the buildings.
"We protected neighbor buildings' roofs, windows [and] facades," she describes, noting that the company also ensured that the foundation walls of surrounding buildings did not suffer damage during excavations.
The firm also coped with challenges provided by Mother Nature. "From November to January, the are some restrictions," she says. "Because the soil [was hard], we couldn't do excavations."
Good Experiences
Based in Brooklyn, N.Y., KSK specializes in luxury condominium projects in the Big Apple, as well as commercial and hospitality projects. Sahin, who is a longtime veteran of the construction industry, joined the firm two years ago.
She credits its success to the valuable relationships it has formed with partners over the years, including several of the subcontractors it employed on 255 East Houston. Although the company hired some new subtrades, "Most of them are from previous projects," Sahin says.
Because of the scope of the project, KSK has had to employ many on the job site. "It's a little bit hard to coordinate all of them, but it's been a good experience," she asserts.
255 East Houston marked the first project Sahin has worked on for KSK, while it also is the builder's first project for SMA Equities. So far, she says, the company has been pleased with KSK's work.
Looking ahead, Sahin predicts future partnerships between both firms. "SMA wants to do more projects, so I think it's likely that they will want to work with KSK again," she says, noting that KSK also has ongoing projects with other developers in Manhattan and Queens, N.Y.
Hands On
Based in Great Neck, N.Y., SMA Equities invests as a principal in multi-family, retail, office, mixed-use properties and land. "Our investments are nationwide, with our largest share of our assets located within the greater New York metropolitan area," it says.
The firm, which started operations in 1986, says it excels in the role of a hands-on organization. "SMA Equities has managed and developed assets comprising of over 5 million square feet of residential units, retail and office space throughout the country as SMA Equities is continually committed to value-add opportunities," it says.
SMA Equities also has developed more than 3,000 acres in New York, New Jersey and Florida. "It is this comprehensive plan of action and experience that has given us the ability and track record to successfully revitalize existing assets and finance new construction and development projects," it says.
---