Building better for you
Thanks – in part – to its innovative Z Modular® Building Ecosystem, Z Modular is able to ensure its clientele receive quality, precision and predictability throughout the lives of their respective projects
Founded in 2016 as a steel-framed off-site construction business, modular construction solutions provider Z Modular is a proud division of Zekelman Industries — North America's largest independent steel pipe and tube manufacturer. "Zekelman Industries represents nearly 150 years of manufacturing and operational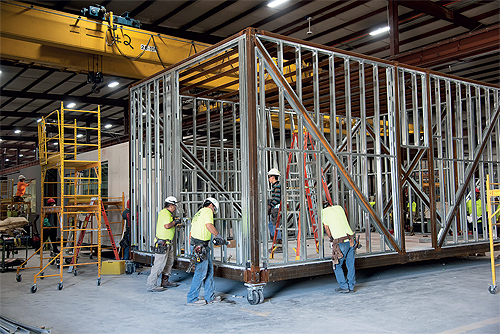 excellence, and what we at Z Modular do is leverage the best practices, processes and business relationships of the larger organization," explains Z Modular's senior vice president, Rich Rozycki. "Another benefit it provides is easy access to high-quality, American-made construction materials, ranging from structural steel tubing to steel electrical conduit, MEP system components and fence framework."
Backed by the support and financial strength of its parent company, Chicago-based Z Modular established four factories across North America in less than two years. Then, in 2019, it established its fully integrated, open-source Z Modular Building Ecosystem for affiliates to use in their own facilities. "Comprised of a proven process, advanced technology and skilled people, the Z Modular Building Ecosystem enables production of modules with both exceptional precision and exponential scale," Rozycki continues. "As a result, Z Modular delivers buildings in as little as half the time possible with traditional construction methods, and without cost overruns."
Serving markets including the hospitality, student housing, multifamily residential and senior housing sectors, Z Modular has adopted best practices to ensure that every client receives the full value proposition of modular construction, namely speed, quality and cost certainty. "Leveraging Zekelman's legacy of manufacturing excellence, Z Modular has adopted a manufacturing-level quality assurance program encompassing three principal functions: quality design and engineering, quality control and quality management," Rozycki adds. "For example, Z Modular utilizes advanced BIM modelling with custom Revit® plugins on all projects, not only to improve workflow capabilities and productivity, but also to accelerate shop drawings and to power automated elements of the manufacturing process."
The Z Modular Network of Z Modular and affiliate factories today offers a combined production capacity of over 10 million square feet per year, and this number continues to grow. The company's own factories are located in Killeen, Texas; Birmingham, Alabama; Chandler, Arizona; and Kitchener, Ontario. Its design offices can be found in Chicago, Illinois; Detroit, Michigan; and both Kitchener and Toronto, Ontario.
"Our Killeen factory is the newest and most technologically advanced of our sites, with 200,000 square feet of manufacturing space containing wall framing machines, CNC machines, material handling robots, and welding robots," Rozycki says. "All of our facilities are being updated to incorporate robotics and integrated manufacturing software to ensure quality, precision, project predictability and expedited project completion."
The company's factories in Chandler and Kitchener are scheduled to begin full production in the second quarter of 2020. Similar to the Killeen factory, these two are 200,000 square feet in size and will employ the newest technologies, including all of the above-mentioned advanced processes. The Chandler facility will primarily serve Z Modular's West Coast clients, while Kitchener will serve Eastern Canada as well as the Midwestern and Northwestern United States.
Tremendous value
Building owners and developers in commercial and residential markets look to Z Modular to rapidly produce buildings of high quality across the continent. An example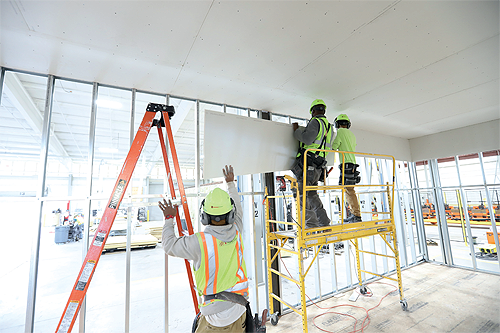 of its work that is currently nearing completion is the Cheatham Street Flats multifamily residential development in San Marcos, Texas, located about 30 miles from Austin. "At five stories tall and 198,946 square feet in size, this structure features 143 units, underground parking, a private courtyard, and lower-level retail space," Rozycki details. "Additionally, our Kitchener factory is currently manufacturing modules for GEM Residences at St. Clair College in Windsor, Ontario. When the site is ready, the modules will be installed in just 45 days, forming an innovative housing development that will accommodate 512 students."
In September 2019, the company received wide-spread praise within the industry when it announced that, for a limited period of time, it would convert any hotel floor concept into a modular design schematic within as little as 10 business days, and at a cost of just $20,000. "This promotion was well received by the hospitality industry in particular," Rozycki continues. "Many developers recognized the tremendous value of the offer and of modular construction in general. Z Modular delivered on its promise to create converted modular design schematics within 10 days, each one complete with a parametric Revit model; mechanical, electrical and plumbing design; budgetary pricing; and a project schedule. A number of these conversions ultimately resulted in the developer choosing modular construction as the project delivery method."
Turning to the company's future development, Z Modular continues to build up its in-factory workforce, project by project, and is helping alleviate the challenge of labor shortages by hiring apprentices to work with its team of experienced, licensed tradespeople. "These employees enjoy the opportunity to learn a specific trade and apply their expertise to every module, honing their skills as they go," Rozycki enthuses. "They get to work with some of the most advanced equipment in the business, and in a climate-controlled environment. Our teams meet daily to discuss progress, solve roadblocks and improve their processes, and all employees are encouraged to take ownership of their work and to feel empowered to make decisions that benefit a given project. In our experience, this approach results in work that everyone can feel proud of."
Going forward, Z Modular plans to continue automating its factories, upgrading its design tools and expanding production capabilities, both within its own factories and by increasing the network to include more facilities and affiliates using the Z Modular Building Ecosystem. "These investments will enable us to take on yet more projects, with more modules and more stories. As such, all of us here are excited about what is ahead," Rozycki concludes.
Z Modular
z-modular.com
Best practice: Applying world-class manufacturing practices to the construction industry