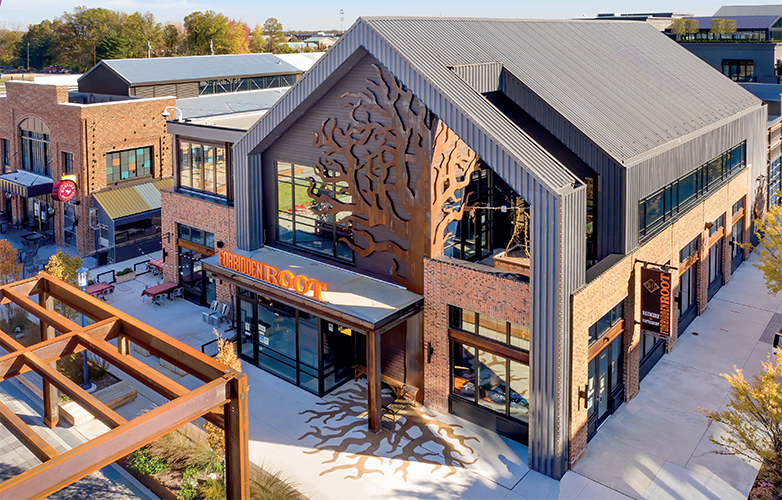 Wolfrum Roofing & Exteriors
Full-service solutions
Now entering its twelfth year of operation, Delaware-based Wolfrum Roofing & Exteriors is celebrating a sixth consecutive appearance on the Columbus Business Journal's list of central Ohio's 50 fastest growing companies
It's not every business that can confidently say that 2021 has been a success. Across the globe, the impact of Covid-19 has been severe, with staff shortages, persistent lockdowns and disruptions to global supply chains combining to create a hostile trading environment. For Wolfrum Roofing & Exteriors, however, there's been plenty of cause for celebration. Led by President Joseph Wolfrum, and with the support of Vice President of Operations Justin Folk, the company has retained its status as Central Ohio's fastest growing exteriors contractor, and has been recognized yet-again on both the ENR Top 600 and the Roofing Contractors Top 100.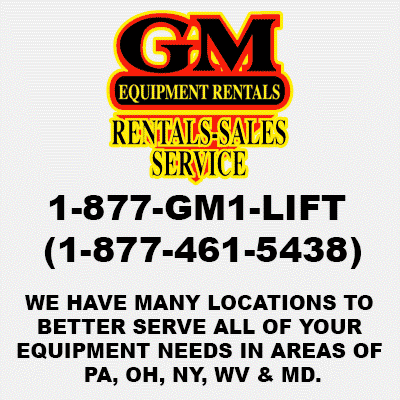 "When Joe started Wolfrum Roofing & Exteriors in 2010, it was a three-partner LLC operating out of his home basement," Justin recollects. "In 2012, Wolfrum transitioned to an S-Corp and began its remarkable growth, adding new staff to positions in key areas such as estimating, project management, and office support. At the same time, Wolfrum embarked on an overhaul of its brand, hiring a marketing consultant to help with the creation of an entirely new brand image, including logo and website. By the end of the following year, the company had moved into a new, larger building in Delaware. Fast-forward to 2019, and Wolfrum was now a company of over 90 employees, with annual sales of $22 million."
In the months prior to Justin's interview with Construction Today, Wolfrum had been recognized on the 26th Annual Fast 50 list, published by the Columbus Business Journal – the company's sixth consecutive appearance. Honoring the fastest-growing companies in Central Ohio, eligibility for the Fast 50 list requires companies to be to be for-profit and privately held, with at least $1 million in annual revenue in one of the past three years. "In 2016, Wolfrum was named on the Fast 50 for the first time, thanks to sales topping $10 million," Justin says. "That year, our ranking came in at number 25 – this year we came in at number 22. We're honored to be included on such a prestigious list, accompanied as always by a long list of impressive Central Ohio companies. In the construction industry especially, the past two years have been particularly difficult. To make the list again despite these challenges has been even more rewarding."
Last year also marked five years since the launch of Wolfrum's exteriors division, introduced to provide customers with a range of services. For Justin, it's proved a particularly valuable decision, one considered integral to much of Wolfrum's growth in the year's since. "Our exteriors division began mainly as a service to our general contractors for the installation of fiber cement and vinyl siding products," he says. Over the years the division has expanded to include not just siding, but also railings, pavers, metal wall panels, and more, and has now grown to become almost half of our sales each year.
"We've always carried a great deal of pride that we are one of the few subcontractors that is a full-service exteriors company," he continues. "Although we were originally founded as a roofing company, 12 years later we now have two distinct services that we can offer to our clients. Our clients turn to Wolfrum for both their roofing and exteriors solutions, and it enables us to deliver a seamless project experience."
Crucial to Wolfrum's efforts to remain at the forefront of its field is the company's willingness to entertain innovation. In 2019, Wolfrum took the decision to invest in a sheet metal shop at its Delaware location. A smart move, it has enabled the company to perform metal fabrication in-house, expanding Wolfrum's product offering while hitting new levels of efficiency.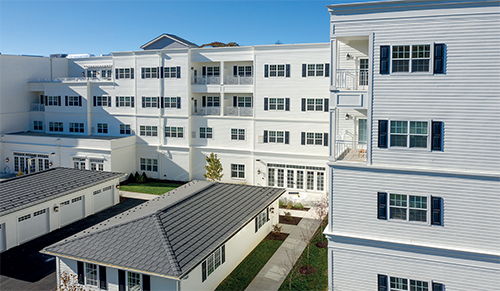 "Bringing this equipment on board allows us to fabricate our own metal, including trims, coping, gutters, wall panels and standing seam metal roofing (SSMR) panels," Justin explains. "In doing so, not only is it more cost effective for our clients, but it enables us to streamline the delivery of our products and services by delivering work ourselves that would previously have been outsourced to third parties and suppliers."
As its investment shows, Wolfrum is keen to bring business in-house where possible. Nevertheless, the company continues to foster strong relationships with its base of suppliers as a means of delivering innovative products and services. "Both in and out of a pandemic, Wolfrum's relationships with its suppliers is one of the most important factors as we look to continue on our trajectory as a thriving business," Justin confirms. "Material shortages are at anall-time high and price increases happenon the regular. In order to keep our projects on schedule and on budgets, we need to remain in close contact with suppliers each and every day. Likewise, we rely on our suppliers for product innovation. Our closest supplier relationships continue to lie with those who took a chance on us when Wolfrum first started in 2010, and we're well aware of the need to maintain those key existing relationships. At the same time, we're always working hard to establish new connections and partnerships with quality material suppliers."
The emphasis that Wolfrum places on its supplier relationships is mirrored in the collaborative approach that the company adopts with its customers. This was in evidence across one of Wolfrum's most significant recent projects. "In 2020 we conducted a roof replacement for the Center of Science and Industry (COSI), a large children's museum based in central Ohio," Justin explains. "Everyone in the local community recognizes the museum's vital role as a key education resource, and it was essential for us to ensure that it remained operational throughout the complete duration our work. Thankfully, we were able to collaborate with the owners throughout the project to eliminate any disruption. Looking back, it's a project of which we remain particularly proud."
Not all disruption can be avoided, however. As with all businesses, the ongoing Covid-19 pandemic continues to pose challenges, and has required Wolfrum to make a series of adaptions across its operations. "The lockdown period was challenging for everyone," Justin reflects. "Since the pandemic first emerged in the beginning of 2020, we've been constantly adapting to new rules and regulations on a daily basis. We're lucky to have enough space in our main buildings for our staff to maintain appropriate distance without impacting our daily activities, while the few of us that didn't have our own space were able to work from home, particularly during the first few months of lockdown. We utilized virtual platforms to remain in constant contact with co-workers, including morning video huddles and periodic daily check-ins. Post-lockdown, all office employees were able to come back to work successfully with minimal exposure risks. In the field the issues were somewhat different, as the majority of our trade involves
working exclusively outdoors. While most of the country was working from home, we took steps to ensure that all our staff were implementing the necessary precautions to be able to maintain productivity on the jobsites."
The emphasis that Wolfrum places on staff safety underlines the pivotal role that employees have to play within the company's success. "Our staff is the reason we have been fortunate enough to grow into the business we have today," Justin reiterates. "Our President, Joe, hand-picked the small staff he began the business with and has continued to make key hires in each department to ensure the right leadership. In an industry with increasingly high turnover, we rely heavily on employee referrals for both office staff and field staff. We have grown, but we're still small enough to operate as a happy family!
"Our immediate hope for Wolfrum Roofing is to continue to maintain stability throughout the remainder of the pandemic," he continues. "We're fortunate to have maintained operations without downsizing any of our service lines. Before the pandemic hit in 2019, we had a strategic plan to expand our services to Indianapolis. That isn't off the table, but there remain a number of great opportunities for us to explore here, in Central Ohio, and that remains our focus. In the future, we hope to continue growing out those operations alongside a potential expansion."
Wolfrum Roofing & Exteriors
www.wolfrumroofing.com
Services: Roofing and exteriors