With a catalogue of projects, Walters Group has tailored a culture of excellence in one easy step
Dynamic and versatile
Walters Group comes from humble beginnings. Back in 1956, the company was started by Walter Koppelaar Senior and his son, Nick. "It began as a small ornamental iron workshop, making handrails and repairing farm equipment. The business has since grown to specialize in building skyscrapers and prominent architectural structures, which has been quite transformational," shares Sam Barrett, Vice-President of Preconstruction. Walters Group remains family-owned to this day, with family members actively involved in the daily operation. "We like to say we are a small company doing big things. We have great coverage and a fantastic reputation within the industry, of which I am very proud," Sam says.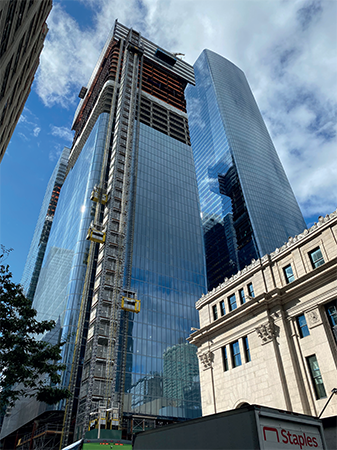 In the industry, Walters Group is known for complex steel design, fabrication, and construction of commercial and industrial projects across North America. Walters excels in environments where an additional level of complexity is required. We have great people here, and we place a strong emphasis on planning. If we haven't already prepared for the job before we appear on site, then we haven't done it right. This approach means we get to push boundaries on some of the developments, and prepare for any possible challenges," he expresses.
Four years ago, the company built its first robotic plant. At the time, the move was an impressive technological advancement for Walters Group. "We were one of the first adopters in North America of this level of innovation. We bought two assemblers; one for Walters Inc. on the Canadian side of the border, and one for Dave Steel company, which we own under Walters Group with plants in North and South Carolina."
Since then, the business has only continued to grow, and now boasts an exceptional level of expertise. Sam shared some of the projects of which the business is most proud. "We're proud to be part of building history, including: Two Manhattan West, the southeast tower, for Brookfield Property Partners in Manhattan, the largest project in our company's history; the Canadian Museum for Human Rights and West Block Rehabilitation Project, with our valued clients PCL Construction in Canada; and in the US, for Turner Construction Company, the David Geffen Hall Restoration, and 550 Washington Street to name a few.
The key to success at Walters also includes longstanding partnerships with companies like A&H Custom Machine (A&H) in Burlington, Ontario and Motioneering in Guelph, Ontario. Metropolitan Walters, a Walters Group Company, worked closely with A&H to install the largest Tuned Mass Damper (TMD) built for Central Park Tower at 217 West 57 in New York City. Central Park Tower is currently the tallest residential building in the world, standing at 472.44 m.
For Sam, staying true to the Walters family's heritage is crucial, and his vision is for Walters Group to become the industry standard for master builders in North America. To achieve this, he shares how the business is focused on bringing in the best talent, while utilizing its industry-leading innovation. "We want to apply best practice across all aspects of the business, while striving for long-term trust as well. Whether it is with customers or loyal suppliers, we want to be mindful of the effect of our work on those around us and aim to deliver outstanding customer experiences. This mentality is driven by our core values: being a team player, having a willingness to learn, humility, good communication, passion, accountability, a 'get it done right' attitude, and investing in relationships. Therefore, it is our focus to make sure folks have the information to make the best decisions, which will not only benefit the client, but also our business as a whole."
The company's deeply rooted culture has led it to receive a selection of awards, including being named as one of Canada's Best Managed Companies – Platinum Status. "That is a wonderful accolade," shares Sam. "Another one we are proud of is 'Great Place to Work' certified. We were active in making sure every member of staff had the opportunity to share how they felt about working within the business and respond to feedback shared. This project began nearly four years ago.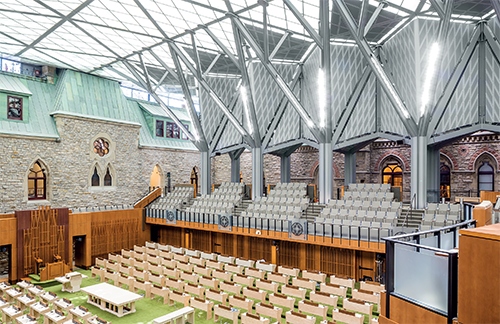 "We are focused on continuous improvement and being agile in the face of emerging trends, transforming the way we work, fabricate, and install final work. From my perspective, by investing in the best interests of our team, we are furthering the success of the business, and that is something of which I am still immensely proud," shares Sam.
In mentioning the continued success of Walters Group, Sam then focuses on plans for the future. For him, the journey looks promising, and he is keen to see the company reach its full potential. "We have a strong backlog of work, which is good. However, we are always conscious about our next steps, and strive to avoid complacency. We are active in our pursuits and investigate the market to identify opportunities where we can add value, opportunities that align with our business capabilities and objectives.
"With the crazy rise in interest rates and cost of borrowing going up, I am hearing various tenants getting cold feet. Although this is a concern for some of the projects we are working on, there is little we can do to control the situation. We need to keep in mind that there is still loads of potential in this industry, despite the reality that some developments will be shelved or temporarily postponed. We are taking into consideration each of these factors to get through the next few years," he highlights.
Sam concludes by sharing that, despite the challenges, Walters Group will continue to push the boundaries regarding its innovation, while remaining grateful for the journey that brought it where it is today. "We need to keep putting one foot in front of the other. From my perspective, we want to bring on the best people to support our clients and continue to grow a strong company in an organic fashion. Every day is new and very exciting, and I am pleased to mobilize the prospective journey ahead." Sam, who has been a leader for the business for quite some time, concludes by emphasizing how much he enjoys the work he and the team at Walters Group do. He is especially optimistic about the company's team culture and how it will remain an integral part of the business' success, building history in the years to come.
www.waltersgroupinc.com