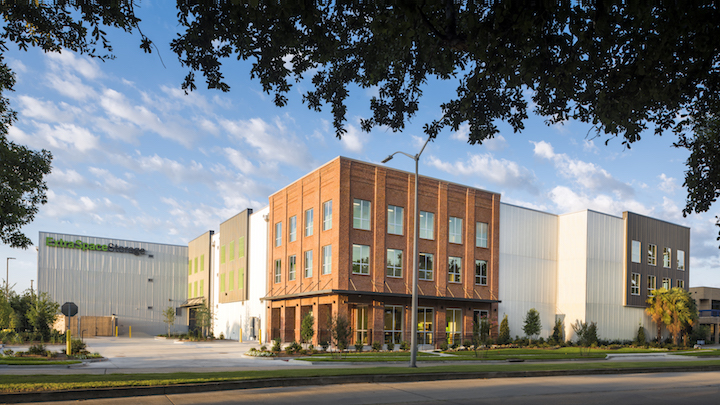 WIMCO has grown into a national GC specializing in the commercial market.
Kevin Rawls views his company as a family. Although WIMCO Corporation has grown into an award-winning national contractor capable of tackling a variety of commercial or industrial construction projects, the Washington, N.C.-based company still retains an intimate corporate culture.
"We work hard but we have fun," Rawls says. "I think a lot of companies say they have a great culture, but we are absolutely dedicated to the 75-plus employees we have. They live half their lives with us and we consider them family."
It's the small things that count. Whether it's singing happy birthday to an employee or hosting family fun days, barbecue cooking contests and fishing retreats, WIMCO believes in quality of life.
The general contractor – which will celebrate its 70th anniversary next year – is focused on operating in accordance with its mission statement.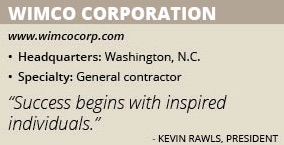 "Success begins with inspired individuals," Rawls says, quoting the mission statement. "We believe in making life better through our passion to build trusting relationships. We believe in doing the right thing, no matter what it takes. Through hard work, honesty and integrity, we deliver promises on time, every time."
Commitment to Quality
Aside from general contracting services, WIMCO offers construction management, project estimates and pre-construction services. The company prides itself on its commitment to quality, workmanship, professionalism and its reputation for completing projects on time.
"Our responsibility as a general contractor is to do everything we say we're going to do and finish on time every time," Rawls says. "And that promise wins us repeat work with private developers, national retailers and anybody else that wants to build a first-class project."
The company is licensed in 15 states and has tackled projects anywhere from North Carolina to Louisiana to Kansas. "We are willing to go anywhere in the U.S. for the right client and the right job," Rawls adds. "We have the ability to build anything, it's just a matter if it's the right timing and the right client."
Currently, WIMCO has a client base among self-storage facilities. It has roughly 1 million square feet of storage facility space under construction throughout the United States this year.
In addition, the company has a large presence in the grocery store and national retail market. "WIMCO prides itself on a long-standing relationship with several national grocery store chains," Rawls says. "Some of those relationships date back to the early 1980s."
In the past 18 months, WIMCO has entered the multifamily market – which it sees as a growing part of its business.
"We had the talent in place to construct these facilities and we have just been waiting for the right time and the right partner," Rawls says. "And the stars aligned with a developer that we trust and know."
A Growing Market
WIMCO prides itself on the relationships it has built with developers and other contractors over the years. One of its recent partnerships is with Dewitt of the Carolinas, a developer for two multifamily projects in North Carolina. That includes a 279-unit luxury apartment complex in Wilmington, a joint venture with with Kaufman Lynn Construction, a general contractor based in Delray Beach, Fla.
Located on the waterfront, Pier 33 apartments feature resort-style amenities and direct access to a riverwalk and retail plazas.
The project, which broke ground last year in September, is scheduled for completion in summer of 2020. Amenities include a resort-style swimming pool with chaise seating, underwater lounge chairs and poolside dining tables and covered cabanas.
There will be two outdoor courtyards with a hammock lawn, grilling stations, an outdoor movie screen and a fire pit. It will also feature a state-of-the-art fitness center and a self-service doggie day spa.
Inside, the complex will offer its residents a billiards room, community great room with a fireplace, a community demonstration kitchen, conference room and business center, bike storage and loaner bikes as well as on-site management and concierge.
Aside from Pier 33, WIMCO has partnered on a student housing project with T.A. Loving, a general contractor based in Goldsboro, N.C.
The project consists of building an 804-bed student housing facility in Greenville N.C. The new complex, which broke ground on Oct. 3 and is set to open in fall 2021, occupies a lot that was once home to the Jolly Roger Food Mart.
The dormitory-style complex – which is named Jolly Rodger's Revenge – will contain 294 units. That includes 31 one-bedroom units, 118 two-bedroom, 43 three-bedroom and 102 four-bedroom units. The complex will have more than 650 parking spaces.
Family-Owned
The Rawls family has owned and operated WIMCO (originally Washington Iron and Metal Company) since its inception in 1950. But what started as a scrap iron business morphed into a full metal building dealership and eventually blossomed into a general contracting business with a national footprint.
To date, the company has completed more than 2,500 projects. Currently, it has more than 30 commercial projects under construction. Aside from storage facilities, retail and multifamily projects, WIMCO has built educational facilities, healthcare facilities and banks.
Rawls attributes the company's growth and success to its employees. "It's all about the people," he says. "We take care of our people. We have people within the firm that have been with us for more than 40 years. Our philosophy has been to grow and promote from within."
WIMCO also believes in giving back to its community. The company has formed an Outreach Team to focus on charitable causes.
Among those is Combat Warriors Inc., which honors and supports U.S. veterans. It organizes and promotes dozens of events for veterans on an annual basis. That includes hunting and fishing trips. WIMCO is a corporate sponsor and has hosted numerous events for the organization.