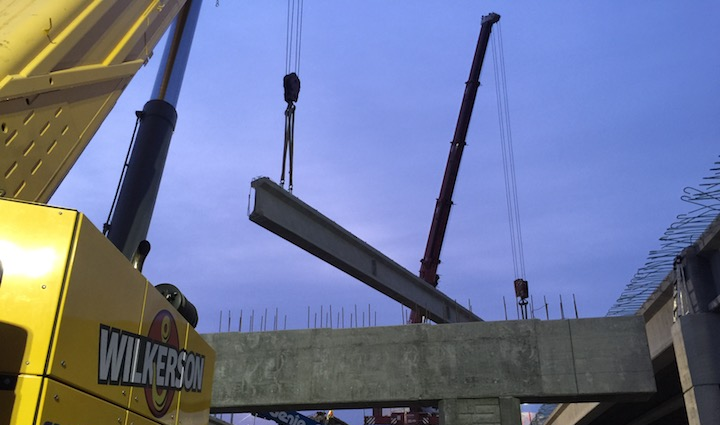 Wilkerson Crane Rental continues to build a solid reputation.
The Wilkerson name was synonymous with construction in Kansas City, Kan., long before the 1970s, when the company was founded as a bridge builder and later expanded into crane rental. In 2013, Diana and Jeff Holt learned the original company was going out of business and saw this as a golden opportunity to purchase a few of the assets and re-introduce Wilkerson Crane Rental to the market.
"When I was researching the company's history, I realized Wilkerson had been purchased several times by larger companies and those companies only did business as Wilkerson and never had registered or trademarked the name," President Diana Holt remembers. "This was a huge finding and probably one of the most important."
After speaking to a financial advisor, it was decided the best course of action was to secure as many cranes as possible during the liquidation of the company's assets and maintain the current market rather than start from the beginning. A loan was secured and Wilkerson Crane Rental was founded from the Holt's basement. "I had no prior experience in this industry," Holt admits. "I received a bachelor's degree in industrial design and was self-employed, working as a freelance carpenter performing residential finish work and remodels."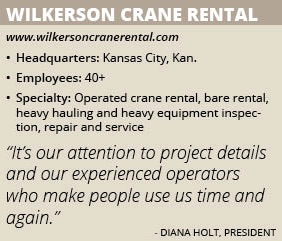 Although Diana Holt had no prior experience in the crane rental business, her husband, Jeff, performed work for the original Wilkerson company as an operator and her father-in-law, Fred Holt, was the company's general manager before it closed. "I opened the office in our basement and started learning and working on all the requirements of owning this type of company," Diana Holt remembers. "At this time, I had to also convince Fred to join the team. It was harder than you would think because he had other opportunities that would have been a lot let less work. Fortunately, he decided to join the team. His extensive experience in the industry and prior customer relationships have been invaluable."
Today, Fred Holt is still the sales manager and Jeff Holt has transitioned to the director of operations. In the past six years, Wilkerson Crane Rental has grown to exceed the amount of revenue the prior Wilkerson companies ever achieved.
'Raised Right'
Wilkerson Crane Rental attributes much of its initial success to low overhead, its ability to retain some of the original employees and customers, and securing the original Wilkerson name. "Fred contacted customers, Jeff continued operating and I was focused on the back-end of the business. Because we were able to bring aboard some of the original employees and equipment, we didn't have to focus on training," Holt says. "That's a huge reason it's been such a great six years. It also helps that the building industry in Kansas City is blowing up."
Today, Wilkerson Crane Rental's cranes and crews can be found on projects throughout the Midwest. Its services include operated crane rentals, bare rentals, heavy hauling, short-term storage, a staffed and certified service department and qualified crews to ensure projects are "raised right." "'Raised right' isn't just a catchy saying at Wilkerson; it encompasses the more than 40-year history of Wilkerson Crane Rental," the company says. "Not only do we raise our projects right, but we raise our entire family right and that family extends far beyond our team. It includes our customers. We treat our customers just like family because at Wilkerson Crane rental, our success is tied to their success."
Wilkerson Crane Rental focuses on hiring the right people along with the right personalities to ensure the success of every project. "We can do whatever it takes to get new jobs and customers to use us once, but it's our attention to project details and our experienced operators who make people use us time and again," Holt says. "Their experience and focus on safety has allowed us to maintain an EMR rating under 1, and an OSHA rating of zero for over three years, which has been helpful in maintaining contracts and customers."
Kansas City Boom
As a Woman Business Enterprise (WBE) and Disadvantaged Business Enterprise (DBE) company, Wilkerson Crane Rental actively looks for projects and opportunities to work with companies and government entities. The company has been certified from the beginning, but has recently had the opportunity to become a qualified WBE/DBE vendor to perform work on the Kansas City International Airport project. "That's a huge project and will hopefully help get our name out there and allow us the opportunity to form relationships with new companies," Holt says.
The Kansas City International Airport New Terminal is just over 1 million square feet and is the largest single infrastructure project in the city's history. The $1.5 billion modern single terminal project is expected to be completed in early 2023. The project is expected to generate up to 5,000 construction-related jobs. Sixty local partners are already at work on the project, including 41 minority- and women-owned businesses.
Wilkerson Crane Rental is also focused on building its new headquarters in Kansas City, Kan., to consolidate its office and equipment yard. The company expects the building to be completed by the end of next year. "Moving forward, I want to get the building built and then focus on expanding further," Holt says. "We are performing a few jobs per year for wind farms, but I want to expand further into wind farm work and grow our sales team. Our goal is continued growth."