Why sustainability is at the core of Kitson & Partners' Babcock Ranch community
ROOTED to home
Syd Kitson, an environmentalist who spent most of his life camping in the ranges across the states, has a strong appreciation for the fragility of our environment, and the importance of respecting it. This is why he pursued a career as a developer, and how the residential community, Babcock Ranch, came to be what it is today. "There will always be a need to create spaces for people to live," begins the CEO of Kitson & Partners, developers of Babcock Ranch. "If we do it the right way, and set a great example, it could be one of the best contributions to the environment we could possibly make. That is how this project started. We were very fortunate to have found a great opportunity, and a 91,000-acre ranch in Charlotte County, Florida, that allowed us to bring this work to life."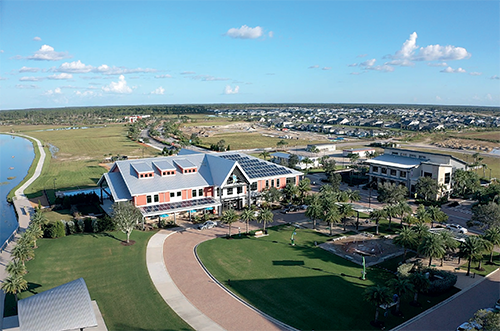 According to Syd, what makes Florida a unique state for a project like this is its natural environment. "If we don't preserve those green spaces we are in big trouble, and we are very proud to be a part of it. Being intentional about preserving our environment is key to our operation, and we really believe that people want to live in an environmentally responsible home, where they can celebrate the outdoors. Babcock Ranch was created with respect for the natural environment and the philosophy that smart growth and sustainability work hand in hand. When we brought this work together, we focused on environment, education, energy, transportation, technology, health and wellness, and of course, safety."
Sustainability is one of the core aspects of life in the community. From the 870-acre solar farm and solar tree charging stations, to the country's largest solar-plus-battery storage system, renewable energy is deeply entwined in Babcock Ranch. "I am a strong advocate for the environment. For example, how we treat our water runoff is unique. Our scrubber marshes make the water as clean when it leaves as it was when it entered the property, and we are very proud of that. We have our own wastewater plant, and therefore all the sprinkler systems throughout Babcock Ranch run on reused water," Syd shares.
Another example of the community's sustainability efforts can be seen within the individual homes. "We were able to partner with three of the nation's top homebuilders to create a living laboratory of test homes in Innovation Way. Here, we have a neighborhood where these builders are exploring the possibilities for a new wave of homebuilding solutions, and, together with Florida Power and Light, they are helping us to monitor each of the homes. We are going to have an Innovation 2.0 where we focus on the materials we use, and how we can reduce our carbon footprints within the structure of the community.
"There is one home that has a unique HVAC-RHEIA system, which I find fascinating. Rather than the larger supply systems, these are smaller and more precise, and balance a house in a much more efficient way. There is another greywater filtration designed to minimize the impact on water resources by cycling the shower water back into the house for the toilet."
Syd also shares how the home development project is powered by innovation and a passion to encourage a greater sense of community. Together, this combination is capable of opening greater opportunities for the families living within Babcock Ranch to learn how to care for the environment, and each other. "Often what happens in Florida is a lot of block construction, which makes sense. The structure creates a resilience against the wind. However, we wanted to prove that it doesn't just have to be block. So, there are various types of wall panels and systems we are implementing to create a stunning and unique lifestyle here," said Syd, who is keen to see this expand.
"I want to bring in more companies to work with us within the community. We are talking to probably four or five different companies right now that are looking to come in. I feel we are well-suited to light industry just because of our location, but again you must have all the other services in place for companies to relocate.
"We also have a hydroponic farm. Originally, the farm started at 100,000 square feet, but we are about to double that to 200,000 square feet so that, hydroponic farming is in line with who we are. We are looking for companies that have the same sustainability goals in this regard," he emphasizes.
Syd believes the idea that the modern human is wired to spend their day in front of a screen is a false one, and he is determined to provide people with the opportunity to be outdoors, and to celebrate that environment. "Under construction right now are six new parks, each one designed with a different aesthetic that accentuates green spaces. For example, one of our parks is a pond, and we filled it with fish so kids can learn about their ecosystems. We are going to have places for families to explore, with everything from a large treehouse to a great path system and we are providing a variety of different places for all ages, regardless of their abilities, to spend time in the outdoors."
From what we've learned from Syd, the purpose of Babcock Ranch was to create an innovative sustainable hometown with a true sense of community and a unique lifestyle in harmony with nature. "Our vision is to build a safe space for people who are retired, and want to further their education, or volunteer and be part of working with kids either at schools or in the greater community. We are also introducing a central park that will have an urban feel, and I am so excited for that development. There will be restaurants, businesses, and apartments that surround this seven-acre park."
The home developer is looking forward to the next five years. For him, if they are anything like the first five, the success of Babcock Ranch is going to have a fantastic impact on its residents. "We want to be able to offer the people who live here a lifestyle that celebrates the environment, and gets back to the roots of what this country is all about," concludes Syd.
www.babcockranch.com