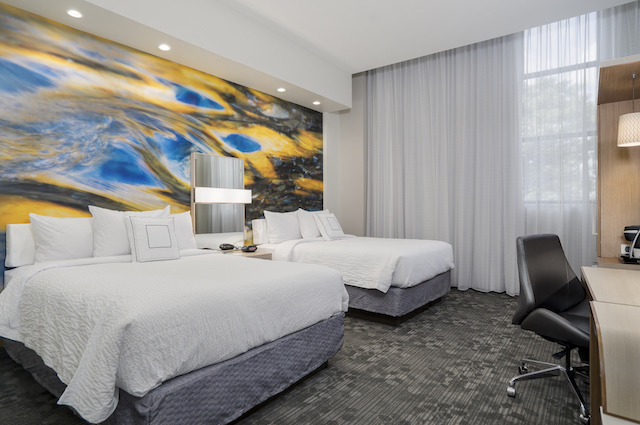 Waterbourne Construction Advisors LLC
Waterbourne continues to grow and excel in Western New York with a focus on its clients and each building's end users.
In the construction industry, there are many firms that feel comfortable wearing the dual hats of construction manager and general contractor. This gets them in front of more potential work, and maybe they have the staff to manage both functions well. Waterbourne Construction Advisors LLC however, has found 25 years of success as a "true construction manager," never serving as a general contractor. Co-Managing Partner Anthony D'Auria explains there are only a handful of construction managers in the Upstate New York construction industry who don't pick up the general contractor hat, and that is fine with Waterbourne, as its history shows.
"We are never a general contractor – we are always a construction manager," D'Auria says. "In being a construction manager, we view ourselves as an owner's advocate, whereby our primary purpose is in protecting the owner's interests, and driving the budget, design and timeline to meet the owner's needs completely. We are always seeking to find ways, throughout the project schedule, to realize greater cost savings."
Based in Western New York, Waterbourne started as a commercial brokerage firm. The founding partners, Anthony D'Auria and James Carminati, Sr. came out of the development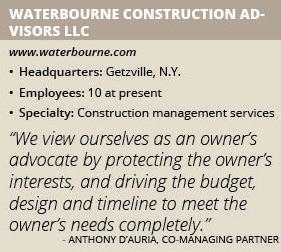 industry and were able to utilize all the expertise and knowledge they had garnered over several years working for a large developer to benefit buyers and tenants of commercial space. When Waterbourne expanded into construction management, it used that expertise to benefit those clients. "We have a long history of having less than 1 percent in change orders on our construction projects," Carminati says. "As a construction manager, we never keep any of the savings – that money goes directly into the owner's pocket."
"We are there to represent the end user of the building," D'Auria explains. "We really do become a part of their corporate team. At times, general contractors can get caught up in a relationship with building owners that becomes adversarial, but if you're really acting, in the truest sense of what a construction manager is, that can't happen."
Significant Work
There are three projects Waterbourne completed recently that are strong demonstrations of what it can accomplish. Celebrating its 25th anniversary, the company is proud of its portfolio of work, which now among many other completed projects, includes the Niagara County Learning Commons (NCCC). The project started in February 2017 and was completed in August 2018. It involved the rehabilitation of two existing buildings and construction of a new building that joined the existing structures together via a large public space. The lion's share of the rehab included the school's library.
"This was about 245,000 square feet with renovations and the new build," Carminati says. "It was a public-bid project and we were selected as construction manager, and were responsible for overseeing the general contractor and three prime contractors."
Next, Waterbourne was the construction manager on two hotel projects: The DoubleTree by Hilton and The Courtyard by Marriott, both in Niagara Falls, N.Y. The $32 million DoubleTree project was notable, D'Auria says, because it was constructed on a brownfield site, requiring a fair amount of environmental cleanup. Several caissons were used for the structure, which spans 178,000 square feet over nine floors and 197 rooms. The Courtyard Marriott hotel was renovated from a former chocolate factory. This $8.5 million project resulted in a four-floor hotel with 82 rooms.
"Both the DoubleTree and Courtyard were significant, high-profile projects, especially for that community. Both hoteliers took advantage of New York State economic development funds and Governor Cuomo came to the ribbon cutting of both," D'Auria says. "To see these long-vacant and dilapidated buildings put back into use was a great thing for the entire region. This was helped along by the availability of public incentive money and the daring of two young developers."
True to the Mission
The DoubleTree and Courtyard projects were the fifth and sixth hotel projects Waterbourne has been involved with in the past three years, and hospitality has become somewhat of a niche for the company. However, Waterbourne found NCCC to be distinguished because of what it means to the community, as well as the considerations that had to be made to keep the project safe for all.
"The Niagara County Community College project was notable because the school was open, so we had students, teachers and staff moving about where we were working," D'Auria says. "There was a lot to coordinate and schedule so the work was unobtrusive as possible so the client could to continue to operate. In order to prevent issues that would hinder smooth operation of the campus, such as sound disturbance or dust, we coordinated with the college staff and the Vice president of Facilities to enable the school to stay open while we were in the middle of doing serious construction work. There was a lot of heavy equipment and we had to move big pieces of steel and glass. Our team was steadfast in our commitment to meeting the highest safety and health standards, which are particularly important when non-construction people are near the site every day."
By remaining true to its mission of being an owner's advocate, Waterbourne is looking forward to a broad range of work in Western New York in the near future. D'Auria takes pride in the fact that he and his partner remain engaged to some degree with every client and every deal, and this is true even as the firm grows. D'Auria and Carminati believe 2019 has the potential to be one of the company's best years in its quarter-century history.
"Western New York is not, unfortunately, the busiest construction market in the United States. And, there's a lot of competition in this relatively small market," D'Auria says. "So, our aim is to always be in the fray and to put forth our best effort to grab those projects in which we feel that we can perform very well. We believe we have something to offer that many of our competitors don't – a total commitment to being an advocate for the client."