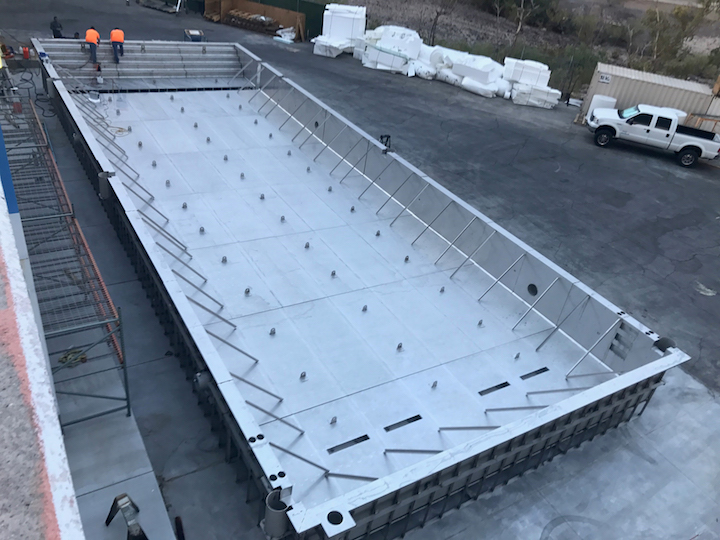 Water FX and Large Scale Props keep a close eye on detail during every project.
Water FX produces stainless steel aquatic vessels of all sorts – from swimming pools and spas to steam rooms, experience showers, custom fountains, water walls, water park attractions, splash pad play areas, dancing interactive water features and more. Water FX also has a 3-D sculpture division called Large Scale Props. We spoke with Robert Waroway, the director of operations for Large Scale Props.
"We are very comfortable with engineering and building complicated and unusual fabrications for important and demanding situations. When you've got a pool deck built above a casino floor or high-end retail space, there can be no leaks from the pool," Waroway says. "For many different situations the industry is recognizing the benefits of stainless-steel pool vessels over conventional concrete and plaster pools.
"A well-made, stainless-steel pool is lighter than concrete and will be leak free for the life of the vessel, whereas some high-rise pools can seep water from day one," Waroway states.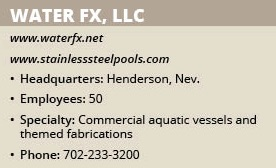 "Also, stainless-steel pools and other vessels can be completely prefabricated in our facility with on-board plumbing and electrical, and are completely water tested in our shop, so time on site for installation is streamlined," Waroway continues. "Vessels larger than 10 feet wide can be delivered on a 'wide load' flatbed or they are manufactured in sections to be welded together on-site."
Water FX built a large, 4,000-square-foot rim flow gutter stainless steel pool for The Palms Hotel "Kaos" party pool deck revamp in 2018. The pool was fabricated and delivered in 35 pieces. Water FX also provided 12 stainless steel spas each with 22-foot-long clear acrylic faces. The spas were all delivered complete, picked off a flatbed truck and craned into place in front of the cabanas that ring the pool on the second level.
"Once the pools are in place and plumbing and electrical connections are made, precast coping sections are set around the pool perimeter and the interior of the stainless-steel aquatic vessels are fully tiled using epoxy thin set." Waroway explains. "For superior corrosion resistance, we use marine grade 316L stainless steel sheeting for vessels and 304/304L stainless steel for support framing structure."
Tim Pangborn, founder and principal, started Water FX more than two decades ago at the age of 27 after having worked as a swimming pool plaster pump operator and finisher from the time he was 17. Tim's attention to detail and his striving to take on and successfully complete interesting and challenging projects has driven Water FX from being a high-end residential estate pool builder in the early days, to building pools with fantastic rock scapes, waterfalls and fountains almost exclusively providing high visibility commercial projects along the Las Vegas Strip resort corridor.
Included in the diverse portfolio of Water FX are the pools and spas at some of the most notable pools in Las Vegas, including; Wynn Encore Beach Club, Mandalay Bay's Moorea Beach and the Palms Kaos pool deck. It has produced spas, steam rooms, marble-clad heated hammams and tile covered heated tepidarium chairs for spas at Cosmopolitan Resort Day Spa, Palms Resort Day Spa and provided custom "experience showers" for the Wynn Encore Day Spa. A lazy river and 10,000-square-foot swimming pool with a 2,000-square-foot real sand beach entry were built for the Tahiti Village Resort.
With a two-story water feature fountain at the Caesar's Forum Shops, removing and replacing the "New York Harbor" water feature around the "Statue of Liberty" in front of the New York, New York Casino, water park slides and splash pad at Circus Circus Resort, splash pads at Polo Tower, TPC Summerlin Golf Course and pools, fountains and features at many other Las Vegas properties, the Water FX portfolio is quite impressive.
From the beginning Water FX has always been up on integrating the latest technology in its products and features and using the latest technology for designing and fabricating. "The Large Scale Props side of the company is a natural progression from doing one of a kind fountains and water features and constructing unique rock scapes and water falls," Waroway says. "It all requires a lot of creative vision," he states. "There is a lot of cross over from the 'water world' of Water FX to the 'sculpture world' of Large Scale Props."
Often, custom shaped foam forms are used in pool construction and shaping foam is a very common approach of modern production sculpture. Coatings is another area with much commonality. "There are a myriad of engineered coatings and waterproofing products that are very useful to have experience with for moving and containing water as well as for specialty sculpture," Waroway offers.
Large Scale Props
Robert Waroway has been involved in engineering, fabricating and installing architectural elements and features in Las Vegas and elsewhere in the world for more than 25 years. He was recruited to oversee the Large Scale Props division of Water FX in 2015 when it was already a thriving business of its own, having been established in 2008.
"I was very excited to join the Water FX team more than four years ago, it's a really great fit," he says. "This company has a fantastic mix of brilliant technical minds and creative visionaries. There is a lot of preplanning that goes into every project with 3-D computer modeling, 3-D printing, mock-ups, maquettes and material samples. We build projects in our heads, in computer world and in miniature or full-scale mock-up as a way of proving concepts and sharing visions with the rest of the team.
"By the time we begin fabricating the actual project, many complicated details have already been worked out," Waroway says. "There is a real commitment here to building things that last and that we can be proud of. We are always aware that we are not just building one job, we are building relationships that can be mutually beneficial far into the future.
"I have had the opportunity to build some really amazing and iconic installations since coming aboard here," he states. "We built a one-to-10 scale model of the Spruce Goose airplane that hangs in the dome in Long Beach that was purpose built to house the original Spruce Goose with its 320-foot wingspan. Ours had a 32-foot wingspan, which is an impressive scale for a model airplane.
"We fabricated a 20-foot-tall fiberglass helmet that the Las Vegas Golden Knights hockey team skates through at the start of home games, we made a great foreshortened wall mount sculpture of Optimus Prime for Hasbro corporation," he continues. "We built a very detailed 32-foot-tall replica of the Osaka Castle in Japan for a Las Vegas Strip property.
"We fabricated several large fountains inspired by fountains in Villa d'Est in Tivoli, Italy. We produced an enormous sleeping fairy with 38-foot x 22-foot fabric wings along with three smaller fairy guardians (all 10 feet tall) with 360-degree water skirts that flowed from their waists. And the list goes on and on; it really is fantastic the amount interesting projects we get into," Waroway shares.
Water FX has merged construction with fabrication to be able to provide the best of both worlds to its clients.