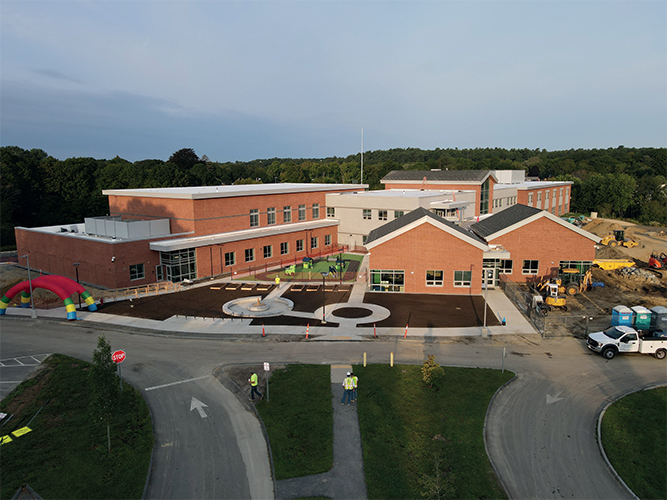 Built to last
Driven by a philosophy rooted in the guiding principles of Performance, Quality and Integrity, W.T. Rich Company is a family-owned construction manager delivering some of Massachusetts' most exciting and challenging public construction projects
Fifty-three years since its founding, W.T. Rich Company enjoys a reputation as one of the region's most reliable and top-performing construction managers. Walter T Rich, who now serves as Chairman of the Board, launched the company in 1968 with a devotion to excellent performance, reliable quality and unshakable integrity. Walter's son, Jonathan, came on board in 2003 and leads the company's ongoing development as CEO. Two generations and hundreds of buildings later, the firm's projects have grown in complexity and sophistication, but a commitment to those founding values remains unchanged.
W.T. Rich Company built its first project in 1968 as a small family firm based in Newton, Massachusetts. Now a $150 million business with more than 70 employees, the organization has developed unique capabilities to serve the public construction market and perform highly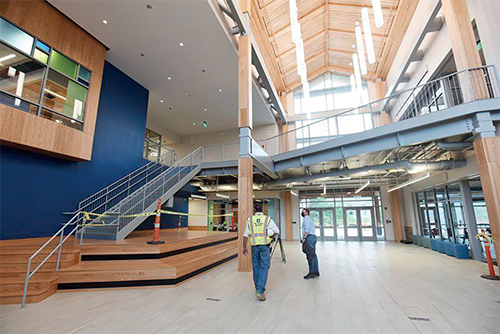 sophisticated complex new construction, renovation and historic renovation work. The leadership of Walter and Jonathan has earned W.T. Rich an outstanding track record and enviable reputation among owners, architects, engineers and sub-contractors.
"As a construction manager and prime contractor running a sizable operation in the Massachusetts area, we are focused almost exclusively on public construction. That includes a lot of schools, public safety buildings and other facilities owned by towns, cities and the state," Jonathan explains. "I often describe us as a boutique construction manager because we specialize in a focused sector of the construction market. We don't take on a massive number of projects – typically only around five to eight at any one time – but they tend to be pretty sizable, ranging anywhere from $20 million to $150 million in construction value."
The most rapid period of W.T. Rich Company's growth has occurred over the last 15 years. It is a journey best illustrated by the fact that, in 2007, the company carried out its very first public construction management at risk project. Yet by early 2021, W.T. Rich had performed more than 40 projects in this capacity. Public construction management now makes up approximately 90 percent of the firm's total project volume.
"Throughout our history, we have been drawn to highly complex projects," Jonathan states. "We are fortunate to have very talented people within our firm that are experts at delivering this type of work effectively. Some of the challenges we face in our more complex projects include occupied sites, sophisticated phasing requirements, highly confined work sites, complex logistics and historic restorations.
"We are also leaders in sustainability and green building construction. For example, W.T. Rich is currently constructing a number of schools in Massachusetts, the majority of which are LEED certified. In fact, W.T. Rich is proud to have served as the construction manager on the only two Massachusetts K to 12 schools that have achieved LEED Platinum certification."
One recent school project – the Manchester Memorial Elementary School – is now in the process of finishing site work, with students and staff already enjoying the benefits ofthe new school. A $41 million, 78,000-square-foot, new school construction, Manchester Memorial has been built in phases within an existing, active, fully occupied elementary school community. This unique challenge made the Manchester project one of the company's most demanding projects to date.
"At Manchester, we began by demolishing a small wing of the existing school to make room for Phase 1 new construction," Jonathan explains. "We then built the new two-story, 40,000-square-foot classroom wing, which was located within 10 feet of the existing, operational school.
"In phase two, we demolished two large academic wings of the existing school and constructed the balance of the new school, including the administration area, media center, music room, gym, kitchen, cafeteria, and a central hub, which is a really nice, double-height space connected to the classroom portion. The third and final phase will now involve demolition of the rest of the existing school, as well as the installment of new parking, a new drop off loop and a new playground area.
"All in all, it's a project we are really proud of," he adds. "Everyone has worked hard and collaborated exceptionally well to ensure that construction could happen so quickly. Despite inherent space restrictions and wetland constraints on three sides of the site, phases one and two were completed in just 11 months each, which is incredibly fast, especially given the occupied nature of the school. Our client has been thrilled with how the project has turned out. Vitally, the impact to the school learning environment was minimal, so I think the project really showcases our abilities as a specialist firm that can deal well with these types of complexities and challenges."
W.T. Rich Company's expertise extends beyond merely the academic construction market. The firm recently completed construction of the new three-story, 32,800-square-foot Beverly Police Station. The state-of-the-art building includes a detention area, booking facility, sallyport for vehicle processing, expansive locker rooms, evidence handling facilities and a sophisticated 911 dispatch control center.
"Beverly Police Station was an important project for the City of Beverly," Jonathan says. "We were told that we were selected as the construction manager because they were looking for someone proficient in the mechanical, electrical, plumbing and IT phases of construction, who could also help lead the implementation of a highly integrated system with inbuilt security, fire alarm, access control and building management systems.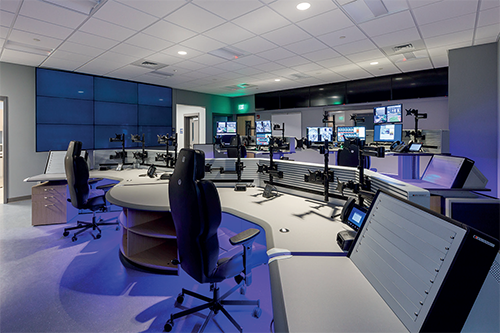 "It was a fast-track project – from foundations to occupancy in just 14 months," he continues. "The building has been designed to achieve net zero energy. We helped to achieve that through high-performance envelope, an all-electric HVAC system, and geothermal wells for ground source heating and cooling. It was our fifth geothermal project, and also included solar ready infrastructure, which is being designed and implemented currently by the City under a separate contract."
The success of these major projects reflects the firm's aptitude for satisfying the complex needs of its clients. But W.T. Rich understands that at the heart of every achievement is teamwork and honest communication. Jonathan believes that the company's ability to develop strong and long-lasting relationships is one of the most critical factors behind its ongoing growth trajectory.
"We consider our clients as well as architects, owner project managers and subcontractors, as 'construction partners' because collaboration and communication are critical to understanding each other's needs and delivering a successful project," Jonathan remarks. "We know that if issues come up, raising those points and working together on the best way to navigate them is really important.
"Our goal is really simple: we want our construction partners to be absolutely thrilled with W.T. Rich Company. We want them to be singing our praises at the end of each and every project. If we can do that, then life will be easy.
"Along with partnership building, we are now invested in a new initiative around client satisfaction, which focuses on feedback channels and making sure people can speak freely to us if they have areas they think we should improve on. We want our projects and our construction partners to be successful; we will do everything we can to make that happen."
W.T. Rich Company is determined to remain a market leader and build upon its achievements by growing its portfolio of complex projects and expanding its construction relationships in the years ahead. Jonathan believes one of the keys to maintaining the firm's continued success in an inherently competitive sector is playing a more active, supporting role post-construction. This means helping customers better understand, operate and maintain their new buildings' systems and critical infrastructure for the decades that follow initial turnover.
"The buildings we deliver are getting more and more sophisticated, as are their mechanical systems for heating and cooling, electrical infrastructure, and control systems,"
Jonathan notes. "Most of these properties are designed with a 50-year life cycle in mind, but a lot of the focus in the construction industry has been on the construction process and the initial handover to the owner. We want to look beyond this and, as a result, have created a program we call Building Performance for Owners (BPO). Focusing on three core areas – Prepare, Turnover and Perform – we are providing clients with peace of mind that their experience, the value they receive, and the actual performance of their building systems will meet or exceed their expectations for decades to come."
Like the hundreds of projects that make up the company's portfolio, W.T. Rich was built to last, and the firm plans to remain that way. While Jonathan and his team don't necessarily have any specific targets regarding the future volume size of the organization, they are certain that we can expect to see more healthy expansion from W.T. Rich during the next five years as the business becomes more widely recognized within the Massachusetts public sector as the best, most reliable, and highest performing construction manager on the market.
"So many people we work with already feel this way about W.T. Rich," Jonathan says of the above statement, "but now we really want to broaden that perspective of our ability. If you asked the average businessperson in Boston to name some construction companies, our name might not come up because we don't do private work or have big billboards, but within our industry focus, we hope to be viewed as the best."
The last 18 months have brought unprecedented circumstances that required adaptability and transformation. Jonathan maintains the utmost confidence in W.T. Rich Company and its team members to continue navigating even the toughest obstacles with the same devotion to performance, quality and integrity that has driven the firm forward since 1968. "We have a very dedicated, hard-working group of people here at W.T. Rich, with some exciting young talent coming through to support them," Jonathan declares. "Our current mid-level people are becoming leaders and the younger staff are becoming more experienced in how we operate. The progress is clear and the future is bright."
W.T. Rich
www.wtrich.com
Services: Construction management company
Images: © 2021 Damianos Photography